From Falastin, Sami Tamimi and Tara Wigley recall a memorable Palestinian detour.
While creating Falastin – a contemporary collection of over 110 Palestinian recipes – Sami Tamimi and Tara Wigley were aware of a tension between past and present. After all, dishes that have remained staples of the Palestinian people for hundreds of years are not to be trifled with. Food is not always just about the dish itself: it's about tradition and identity and ownership of stories. Throughout his esteemed career in cooking, Tamimi has balanced his loyalty to tradition against his desire to keep ideas fresh and relevant. And the recipes in Falastin are a reflection of this philosophy: some unchanged through the generations, and others reworked for a modern home kitchen.
'Writing these stories – indeed writing a Palestinian cookbook – feels like a big responsibility,' the duo write in Falastin's introduction. 'All the food and hospitality that a recipe book celebrates must be served, in the case of Palestine, against a very sobering backdrop. We want this backdrop to be properly painted – things cannot be changed until they are fully seen – but, also, our hope is that everyone will come around the table to cook, eat and talk. When Jerusalem was published, Sami was asked many times, with varying degrees of irony to seriousness, about the role hummus could play in the Middle Eastern peace process. On the one hand, as Sami used to say, it's only food. It's chickpeas, it's lemons, it's tahini. At the same time, though, food can mean more. Sharing food is not just about sharing food. It's about sharing time, space, ideas and stories.'
Falastin is a cookbook. But it is also a celebration of the role food plays in Palestinian culture – a love letter to the land and its people. Travelling through Bethlehem, East Jerusalem, Nablus, Haifa, Akka, Nazareth, Galilee and the West Bank, Tamimi and Wigley invite you to experience and enjoy Palestine's regional stories and flavour combinations. In the passage below, the duo get lost before finding something truly special.  
Meeting up with 'the yoghurt-making ladies of Bethlehem' felt a bit like doing a deal. Our friend Vivien Sansour, who was in London when we were in Bethlehem, WhatsApped the number of her friend Siham Kalibieh to our friend Raya Manaa, who was driving us around. Siham, we were told, would point us in the right direction. We met Siham by what felt like chance. We were meant to meet on a street corner on the outskirts of Bethlehem, but relying on Waze – our navigational tool of choice – was not always, we quickly found, entirely reliable. Sat nav, it turns out, can get just as confused as the next person trying to get its head around the geography of the area. We might be in what we thought of as Palestine as we drove around Bethlehem. Waze, on the other hand, rather than focusing in on any useful directions, just informed us that we were 'entering an area of high risk'. The evidence, looking around us, bore no relation to the warning.
Happenstance, however, was on our side. After a few left turns, a few right turns and a few going-around-in-circles turns, we spotted the shop we'd been told to keep an eye out for and Siham was standing outside. Happily, in she hopped and, happily, sat nav was turned off in favour of our local in tow and in-the-know! Up a winding hill we went – more lefts and rights and bends – what a view! – before we were 'handed over', package-like, to another lady, Majida Shaalan. She, in turn, led us through the main entrance to a block of flats, up several flights of stairs and into her small flat. It's here, finally, that we met the local crew to see and sample the goods: 'the yoghurt-making ladies of Bethlehem' and their range of white (and yellowy-white) offerings.
From where it was spread out on the easy-wipe plastic tablecloth in her immaculate kitchen, Majida scooped up a tablespoon of butter for us to try straight away. It was incredibly rich and intense: delicious but full-on. Easier to snack on were the balls of labneh, made from yoghurt which has been salted, hung and strained of much of its liquid. The yoghurt left behind, after 24 hours or so, is then thick enough to shape into balls. Stored in jars and preserved by being covered in oil, these balls can be rolled in all sorts of things: za'atar, sumac, shatta, chilli flakes, red pepper flakes or nigella seeds before being eaten. They're also delicious as they are, without any coating: rich, as with the butter, but with a tartness and saltiness that cuts through to allow for continued snacking.
Much of the tartness of these products comes from the fact that it's generally sheep or goats that are being milked locally, rather than cows with their creamier milk. Kishek (also known as jameed) was also on display for us and offered up for tasting. Kishek are hard discs of sun-dried fermented yoghurt and cracked bulgur wheat. Before refrigeration was available, these discs were a way to conserve and use milk throughout the year. Nowadays, though, they are still widely used: crumbled into stews or savoury pastries or sprinkled over pulses, grains and salads. In Gaza, kishek is flavoured with dill seeds and red pepper flakes. The version we try, on the outskirts of Bethlehem, is plain, allowing the full force of its sharp, sour nature to punch through.
Sitting down on one of the three large velvet sofas which line the otherwise bare walls, little glasses of thick drinking sheep's yoghurt (laban) appear, to continue the dairy theme. It's rich and refreshing at once, smooth and sharp. Slightly yellow versions of all the products sit alongside their white counterparts: they are the same product, just with turmeric or safflower, a spice which is used instead of (but which is not nearly as good as) saffron. Ramallah prefers the white yoghurt, Majida says, Bethlehem prefers the yellow.
Sipping on our laban, Majida tells us about the network of women – the cooperatives – who get together to make the yoghurt, the labneh, the butter and the kishek. The milking is either done by the husband (who then hands the milk over to his wife to carry on the next stages) or else the woman does the milking as well and is in control at every stage: the milking, drying, hanging and shaking. Someone seriously in control of their game is grandma Noura Shaalan, who does it all. Noura has ten sons, five daughters, twenty-five sheep and sixty-five grandchildren, half of whom (the grandchildren, not the sheep) appear at the door as we are sitting around and chatting. Conversation flows as quickly as our plates are replenished when they come close to being emptied. 'Force of nature' is an understatement. 'I've had enough, thank you' is an ignored statement.
Typically, ladies like Noura and Majida sell their produce locally: they have around twenty local customers who buy from them regularly or sell to one or two shops in Bethlehem, Beit Sahour or Ramallah. The operations are small scale but their importance to the community is large. These are women who look out for each other, granddaughters sitting on the laps of their mothers and grandmothers, daughters bonding with their mothers-in-law, aunties, cousins, sisters. When they're not making dairy products, some of the ladies lead women's empowerment groups, who might do a craft activity like embroidery to sell cards, bags, shawls, cushions or tapestries to local tourists. We are all given a little embroidered card to take away with us: an olive tree with the word 'Palestine' sewn below it. Offers of payment are waved away, little glasses of yoghurt are topped up, someone says something to someone else, in Arabic, which makes everyone laugh. Tara misses the meaning of the words but recalls her own 'stitch and bitch' group back in London, smiling to think of the power of women, of connection, of sewing and chatting and making and doing and how much all these things truly mean. We might have lost our way with Waze but sitting there, for that moment, it all feels very much like home.
---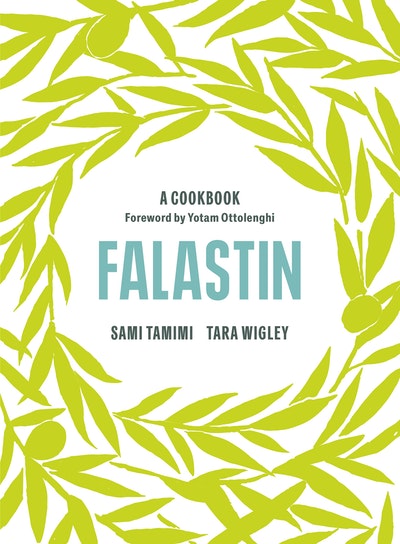 A ground-breaking Middle Eastern cookbook from the co-author of Ottolenghi: The Cookbook and Jerusalem, and co-founder of the innovative Ottolenghi delis.
Buy now
Buy now
---