Style tips from Caroline de Maigret and Sophie Mas.
In Older But Better, But Older Caroline de Maigret and Sophie Mas offer wordly advice and savvy observations on the Parisian art of growing up. Interspersed with stunning photography, tips and tricks, this gorgeous, tongue-in-cheek guide astutely illuminates what it means to be a fully-fledged woman.
'You know things aren't what they used to be when you're told that you're "damn hot for your age".' write de Maigret and Mas. In the passage below they take us through their style philosophy and their muses.
Diana Vreeland, the famous editor-in-chief of American Vogue, said time and again: 'The eye has to travel.' In the sixties, when this iconic woman was at its helm, Vogue paid a lot of attention to artists and intellectuals. And it wasn't just for show. Their presence makes sense on a very profound level, reflecting an essential back-and-forth between form and substance. Because inspiration never comes down to fashion alone – otherwise, we'd only ever talk about clothes, not style.
Borrowing from art, style is a way of knowing. Of accepting our own imperfections and making the best of them. It's a philosophy that always guides our steps, varying with the muses of the moment.
Style is a way of taking on the world, of breathing in its scent. We filter it through our own unique, different tastes, making it our own.
Three muses we steal from:
When we slip into a jacket we like, but whose strict cut flirts with old-lady territory, we ask ourselves one simple question: what would Keith Richards do? He'd probably have worn it with lowrise trousers and a half-unbuttoned shirt, showing off his chest and a tangle of necklaces with no fear of overdoing it.
Mark Rothko: What's a painter doing on this list? Rothko teaches us about colour and how the red is reinforced by the presence of its complementary colour – a strong concept when taking, for example, an overly blue outfit to the next level. Balancing it out with an accessory in the orange scale will produce interesting and original results. Let's be clear, we don't immediately think of Rothko when opening up our closets. But thanks to the time we spend in museums, among other places, some things sink in, germinate, and inspire us from afar.
Grace Jones embodies the idea that age can be liberating. That we can get away with not one but two strong fashion statements at the same time, without worrying that we're going too far. The very red lipstick + the shoulder pads or fluorescent leggings + the tomboy haircut . . . make a statement and attract attention. Do what you want, the way you want – as long as you own it.
---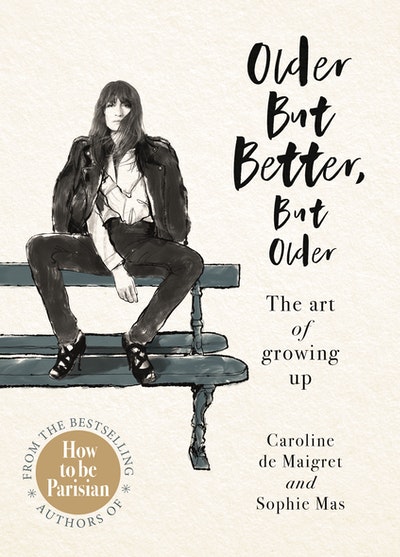 The new book from the authors of How to Be Parisian – the international bestseller from renowned model and muse Caroline de Maigret. More than 30,000 copies sold in Australia and New Zealand. This humour gift book will appeal to fans of Dolly Alderton, Daisy Buchanan, Bryony Gordon and Nora Ephron's I Feel Bad About My Neck.
Buy now
Buy now
---