Inspiration for no-fuss, full-flavour meals.
Chris Bavin's first solo cookbook Good Food, Sorted is packed with simple recipes and delicious meal ideas for time-pressed families. Take a sneak peek at some of the nutritious dinner recipes below, including many that are perfect for freezing, and taste great as leftovers.
1. Quick spicy sausage ragu 
This spicier twist on the classic ragu is tasty, satisfying, and quick to prepare and cook. Try experimenting with different sausages to find your favourite flavour combination.
2. Prawn and summer vegetable risotto 
Think you'll be hungry for more? Not only is this dish incredibly simple to make – it works great to freeze and enjoy later.
3. Slow roasted lamb shoulder with capsicum and tomatoes
This lighter version of lamb roast is very easy to make thanks to the long, slow roast, and leftovers work great as part of a stir-fry or curry.
4. Chicken kebabs with mint and yogurt dressing
Everyone loves a kebab and these lightly spiced chicken ones take no time at all to prepare. They're a perfect mid-week treat but also special enough for a weekend lunch or dinner with friends – simply serve alongside a bowl of rice for a more substantial meal.
5. Chicken pie
Make and serve this delicious pie in the same pan, so there's hardly any washing up.
6. Smoked salmon and horseradish fish cakes recipe with garlic and lime mayo​
Plenty of people have a jar of horseradish sauce in the fridge for a roast beef on Sunday, but not so many know it's a great flavour to match with smoked fish – as this recipe demonstrates beautifully.
7. Teriyaki salmon
The sauce in this dish has such a depth of flavour that you can coat the salmon in it and cook it straight away for a delicious meal. However, if you want to prep ahead and make the salmon even tastier, you can marinate it in the sauce overnight for the following day.
8. Sweet potato wedges with rocket and blue cheese
Have some leftovers of this delicious dish? Assemble them on top of a flatbread and warm in the oven with a bit of cheese for a quick lunchtime pizza.
9. Open leek and sage pie
This lighter pie dish cuts back on the pastry and ups the veg, making a lovely starter or lunch dish.
10. Vegan chilli
This vegan chilli is packed with flavour and perfectly spiced – meat eaters certainly won't be left feeling hungry.
---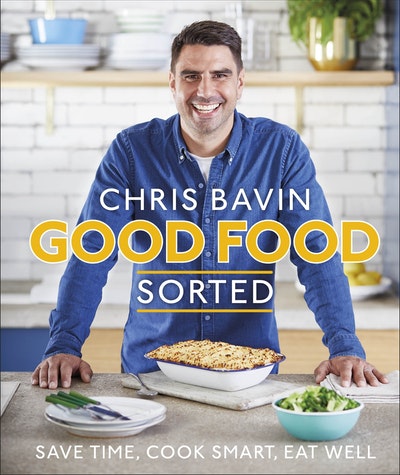 The first solo cookbook from TV presenter and chef Chris Bavin.
Buy now
Buy now
---