How the Rip Curl story mirrored surfing's emergence from its countercultural shadow.
Beside the communal fire at Torquay back beach in 1969, Doug 'Claw' Warbrick and Brian 'Sing Ding' Singer shook hands over an informal business partnership. Little did either of these knockabout surfers know at the time, the result of this handshake would be a wild ride on the back of what would become the mother of global surf brands, Rip Curl.
Claw and Sing Ding's approach to business was unconventional from the outset. 'No one has ever been sacked from Rip Curl for going surfing,' remains a proud company boast. But the tale of their success is no happy accident: it came down to the passion, entrepreneurial instincts and authenticity of these founding fathers. In his book The Rip Curl Story, Tim Baker tracks 50 years of perfect surf, international business, wild characters and the search for the ultimate ride. In the passage below, Baker takes us to the heart of the competitive surfing in Australia, the Bells Beach Rip Curl Pro, at a time when surfing was awkwardly transitioning from the margins to the global mainstream.
It's 1985 and I'm a keen young cadet reporter for the Melbourne Sun News-Pictorial covering the big stories: fruit and vegetable prices, shipping movements and country lawn bowls results. But I have an audacious scheme to make this dull newspaper gig serve my salt-water kink.
I succeed in convincing my chief-of-staff to send me down to Bells Beach to cover the annual Rip Curl Pro. I'm ecstatic. This is something of a coup for a lowly cadet fresh out of high school, in an age when the paper's sports coverage rarely extends beyond footy, cricket, horseracing and the odd notable boxing bout.
I hightail it to Torquay in the mustard-yellow, vinyl-roofed office Cortina – with my meals, a cheap motel and petrol money covered for the Easter long weekend – barely able to believe my luck. The first person I run into is a police reporter from our sister afternoon paper the Herald (when afternoon papers were still a thing, before the Herald and Sun were merged five years later into – you guessed it – the Herald-Sun).
'What are you doing here?' I ask the police reporter, a little indignantly. 'I could file for the Herald if you need a story. And besides, you're a police reporter. What are you doing at a surf contest?'
He casts me a knowing sneer, and has a brooding, inner-city, post-punk air of menace about him that's weirdly out of place by the beach. 'It's a quiet Easter. Figured I'd come down in case there was a drug bust or a riot at the Torquay pub.'
Twenty-three years after the Bells Easter Rally was first staged, and 12 years after local wetsuit company Rip Curl tipped in a few grand to make the event professional, the world's longest running surf contest was still regarded in some quarters as a potential crime scene rather than a major sporting event.
Fast-forward another 30 years and the Rip Curl Pro is now trumpeted as one of Victoria's six hallmark sporting events, promoted by Tourism Victoria alongside the Melbourne Cup, the AFL Grand Final, the Australian Open, the motorcycle Grand Prix and the Formula One Grand Prix. Today the surfing event is webcast live to a global audience of millions and beamed into millions more homes on cable TV. Thousands brave the frigid southern climes and line the clifftops and narrow ribbon of beach to soak up the action each Easter. The top competitors pocket hundreds of thousands of dollars in prize money and sometimes millions more in sponsorship deals.
The journey of surfing and Rip Curl, from marginalised coun­terculture ratbaggery to mainstream acceptance and respectability, has long fascinated me. And, in one way or another, I've been documenting it ever since my trip as a cadet to Bells Beach. As Rip Curl's 50th anniversary approached and I was commissioned to record the company's rich and colourful history, it seemed like the task I'd been training for my whole working life.
My police reporter colleague's hopes of unearthing disgrace­ful surfer behaviour were already, in 1985, a hangover from a bygone era. When the sleepy fishing town of Torquay, with its fibro cottages and tea-tree fences, came to prominence by hosting the 1970 world surfing titles, at which time Rip Curl was barely a year old, there were scandals aplenty. Drug busts, dust-ups at the Torquay pub and surfers expelled from the event for these and other misdemeanours.
The mid-'80s, when I pulled off my first of many surfing junkets in the name of gainful employment, were an intriguing transition period for surfing, Rip Curl and its storied Bells contest: a pimply adolescent taking its first tentative steps into the grown-up world, not entirely sure if it really wanted to leave its carefree, delinquent past behind but dazzled by the prospects of adulthood. Ratbag­gery was still in evidence, but for the most part it was carried out well away from the prying eyes of mainstream sports reporters.
The next year I managed to get myself down to Bells again for Easter, but this time I had an appointment with then-Tracks magazine editor Nick Carroll to be interviewed for a position as associate editor of the irreverent surf mag I had grown up devouring. While Occy and Tom Curren surfed a memorable semi-final in the Bells Bowl I was grilled by the crew-cut, chisel-jawed Tracks editor, his expression impossible to read behind his mirrored aviator sunnies. I was fortunate that his publisher had decreed they hire a 'proper' journalist who surfed a bit, rather than a proper surfer who wrote a bit, and I landed the job. I spent the next 13 Easters at Bells Beach, now well and truly immersed in the residual ratbag­gery that tradition demanded.
While the surfing world fixated on the passing parade of mighty surfing champions and their graceful exertions on Bells' wide, inviting walls, I was at least as fascinated by the jovial, knockabout, slightly mysterious characters at the helm of this lurching pleasure cruise. Rip Curl founders Doug Warbrick and Brian Singer, known to all as Claw and Sing Ding, came across as the kind of down-to-earth, blokey, salt-encrusted characters you could find around surfboard factories in grimy industrial estates all over the country – except that they presided over one of the most successful surf companies in the world.
---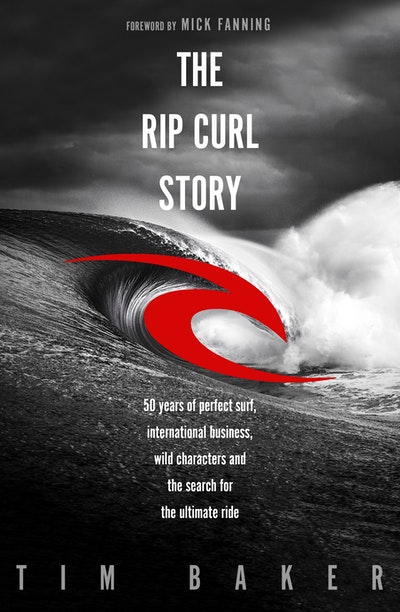 50 years of perfect surf, international business, wild characters and the search for the ultimate ride
Buy now
Buy now
---