Five early career turning-points revealed in Olivia Newton-John's Don't Stop Believin'.
In Don't Stop Believin', Olivia Newton-John takes readers on her journey from Australian schoolgirl to becoming one of the world's best-selling recording artists and beyond. With great generosity and insight, for the first time she shares her biggest personal triumphs and challenges, reveals her journeys with cancer and outlines the motivations behind her tireless charity work.
While we're all familiar with her smash-hit performances across airwaves and on screen, many readers may be surprised by some early forks in the road that sent Australia's sweetheart on a trajectory to international stardom. In Olivia's words, here we reveal five key moments from the burgeoning career of a soon-to-be household name.
 
First Song (circa 1960)
I always found my peace in music and writing poetry. It wasn't long before my poems turned into songs. The first song I ever wrote was with my godmother Pearl's daughter Cara. I was around twelve years old.
Why, oh, why did you go away from me?
It seems like years to me.
Why does it have to be?
My heart is a-breaking
'Cause you've been a-taking
The love you said was meant for me.
And darlin', love ain't meant for three.
Looking back, those are pretty heavy lyrics for twelve!
 
First Accolade (1963)
My boundaries were allowed to stretch when I hit the road and trav­elled to Sydney to take part in another talent show that I had auditioned for in Melbourne called Sing, Sing, Sing, hosted by none other than Johnny O'Keefe…
I was thrilled when I made the final cut of Johnny's talent contest singing my favourites by Dionne Warwick. Little did I know then that later in my life, I would actually sing with her on a TV special! On that day, I crooned the hit 'Anyone Who Had a Heart'. To my amazement, I ended up winning the talent contest, and the grand prize was a trip to England by boat and some spending money.
 
First Heartbreak (1964)
Swinging London in the 1960s was in the middle of a youth-driven cultural revolution, with a flourishing art, music and fashion scene that influenced the entire world. Exports included The Beatles, and miniskirts worn by Twiggy and Jean Shrimpton. There was a new 'mod' way of living, and music was at the fore­front of the scene thanks to The Who, The Kinks and The Rolling Stones, to name a few.
What a time to grow up, and what a place to do it.
If only I felt that way. I forgot to mention that my boyfriend [Ian Turpie, subsequently of Supermarket Sweep fame] had given me a three-month ultimatum: if I wasn't back by then he'd start dating other people.
It was my first heartbreak – with many more to come!
 
First Single (1966)
In 1966, on Decca Records, I recorded my first single called Till You Say You'll Be Mine (with the B-side For-Ever). I met these young guys who were producers and they wanted to do a track with me. Unfortunately, the song sounded like it was cut in someone's bathroom. One of the reviews said I should, 'stick with a career as an airline hostess'. It wasn't exactly a great production, but it was a start.
You have to learn to deal with criticism, and I was learning. It was hard at that time, though, because I didn't have the success to balance out the harsh words, so they would linger.
 
First Album (1971)
We cut the album at the legendary Abbey Road Studios where I spent my days with dog Geordie at my feet. There was a moment when he actually knocked the mic stand during a guitar solo in If Not For You. We left the sound on the album and it still makes me smile when I hear it.
It also makes me smile when I remember that The Beatles were in the next studio with George Martin recording their new album. I was lucky enough to meet them all as Bruce [Welch, Olivia's then fiancé] was good friends with the most famous band of all time. In fact, he told me that Paul offered him his publishing on a song, but first he would want to give it a listen. Paul pulled his guitar out of his car boot and played a few bars of the song to Bruce, who turned it down. It had a different working title then, but it was Yesterday!
One day I walked in and found John and Yoko sitting around with their arms and legs entwined, young and in love. It's a beau­tiful memory. I wouldn't see Yoko again until many years later when I was on my honeymoon. By then, John was gone. So tragic.
In November of 1971, at the age of twenty-one, I released my debut studio album, If Not For You. The single of that name was written by Bob Dylan and was a major hit. George Harrison had also done a version of it. London disc jockeys, along with romantics everywhere, embraced it. It was an excellent song for lovers of any age.
Decades later, I would find out that it's my husband John's favourite song.
It was exciting to have an album out and the next months went by in a blur of getting-to-know-you promotional appear­ances on television shows across Europe, the UK and Australia, along with a stage tour. Perhaps I was too young to handle it all, but I went down a path that I would later regret, which led to Bruce and me breaking off our engagement.
---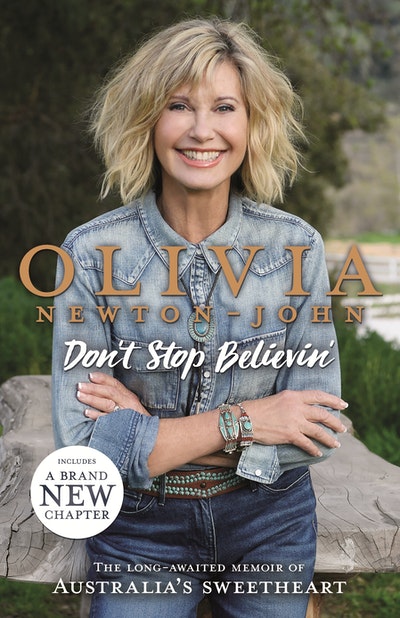 The long-awaited memoir of Australia's sweetheart, Olivia Newton-John, covering everything from Grease to her journeys with cancer to her tireless charity work.
Buy now
Buy now
---