Darren Longbottom and Tim Rushby-Smith share the intricacies of co-writing a book.
Darren 'Daz' Longbottom was destined to surf. Born into a surfing family, living on the beach in Cronulla and with a surfboard manufacturing pioneer for a father, it didn't take Daz long to discover that surfing feeling. Following early successes in competitive surfing. He became a father and ran a successful business, which made life feel easy as he negotiated a path of pure happiness. Then, in a split second, everything changed. 
British author and journalist Tim Rushby-Smith was a lover of the great outdoors: a passionate mountain-biker, hiker and climber, and enthusiastic in the waves. In 2005, Tim fell from a tree while working as a tree surgeon and suffered a spinal cord injury that resulted in instant paraplegia. 
Together they have written Beyond the Break – the true story of Daz's epic rescue from a remote surf break in Indonesia. It is the tale of a freak accident, a terrifying rescue and the long and painful journey home. It is a story of coming to terms with the life-changing consequences of riding a single wave.
 
Could you explain your collaborative process?
TIM: Collaborative writing was a new experience for me, and I quickly discovered that it was important to establish a way of working that suited us both.
Our routine was pretty straightforward. After a few initial conversations, we worked out the ground we wanted to cover and then convened once a week for two to three hours of conversation. We talked a lot. Not just covering the subject matter, but disappearing off on tangents too. This was important, as helped to maintain the comfortable atmosphere that suits good storytelling.  This went on for several months, and I recorded and then transcribed almost every word. While doing the transcription myself was time consuming (I'm no touch typist), I found it helped me to fix details and also to start structuring the chapters, as well as picking up more nuanced details and keeping Darren's voice in my head throughout the process of writing.
Once I had drafted a chapter, we would bounce it back and forwards in written form, refining and fine-tuning details until we were both happy.  But even then, the structure of the book was up for grabs, and we were happy to push things around to suit the overall structure, while still staying faithful to the narrative arc.
 
What's the best thing about collaborating with someone else?
DAZ: The best thing about collaborating is that it allows you to speak the story, along with your colleague diving deeper and pulling information out of you that may have never reached the surface if you were writing alone.
TIM: Collaborating with someone else means being engaged with the process of telling rather than writing the story. This is the way most stories are shared, and it creates a more natural feel to the narrative that makes the voice come to life in the reader's head.
 
What's the hardest thing about collaborating with someone else?
DAZ: The hardest thing would be trusting your colleague to listen to your own voice and for them to execute it respectfully and truthfully while keeping the correct tone.
TIM: I soon learned that there were a couple of things that I had to be mindful of.
Firstly, no-one tells a story in chronological order. It's quite natural to jump around, and even to re-tell sections in a slightly different way, so I had to be careful to draw all the versions of any incident together and to create the best blend, choosing elements that complemented each other.
Secondly, if writing in the first person, the voice with which the story is told must be that of the person to whom the story belongs. The first chapter I wrote was great. But it sounded like me, so I started again, and from then on I was careful to always keep Darren in my head as the storyteller.
---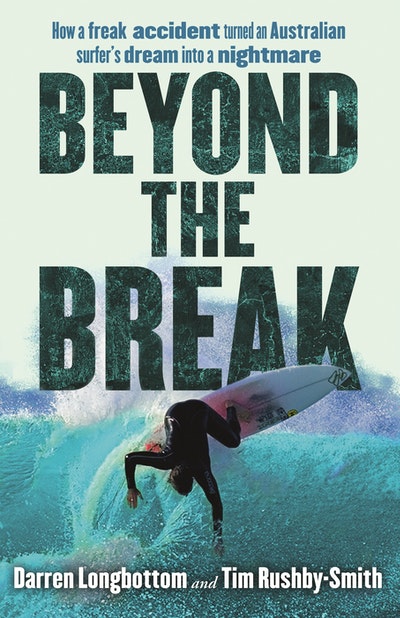 The story of Australian surfer Darren Longbottom's epic rescue from a remote surf break in Indonesia
Buy now
Buy now
---