Waste warrior Anita Vandyke shares her practical advice on how to shop sustainably.
Since I started buying produce at bulk stores, farmer markets and local businesses, grocery shopping has become a joy. I take the time to talk to shopkeepers and growers, I've gained a genuine appreciation for food and I get to avoid the 'noise' of excess packaging and the marketing that comes with it.
Some people think that shopping zero waste makes you a nuisance but I've found shopkeepers and customers love when I ask questions and always say they wish more people engaged the same way. In all honesty, initially finding zero waste options can take a bit more preparation, but it's all about working out a routine that suits you. By changing my habits, I have found a shopping routine that balances materialism and environmentalism, excess and frugality, convenience and conscious living. It has allowed me to embrace the confines of a plastic-free life and be creative with simple alternatives that fit into my lifestyle. Remember, consumption should not consume you.
 
Your Zero Waste Shopping Kit
Reusable grocery bags – ideally these should be made of cotton, but use what you have. You can buy more at the end of the month if you need
Reusable produce bags – you can sew your own or buy them online. Weigh them and write their empty weight on the bag.
Reusable jars or containers – use any you may have at home. Recycle and use your old jars before you buy anything new!
 
How to do a Zero Waste Shop
Do your research
• Are there any bulk or health food stores nearby? If not, what is your closest one?
• Are there any farmers' markets? When are they open?
• Are there fruit and vegetable delivery services in your area? What is their delivery schedule?
• Go into your local supermarket. Is there a bulk aisle? What foods are available plastic-free
 
Write a shopping list
• Take a look in your pantry and plan your meals for the next week. Write down everything you need to buy.
• Plan ahead. Are there package-free options for what you want to buy? What and how many containers or bags do you need to bring?
 
Give it a go
• The first shop is about exploring your options; it should be a fun exercise to get to know what's available and what works for you.
• Check out your closest bulk store. Educate yourself on its protocols, which differ from store to store – you may need to weigh containers before filling them and write codes on jars. Write off your first trip as a learning experience – subsequent trips will be easier and quicker. The shop assistants are usually very helpful and if you have kids, you can get them involved in this more interactive shopping environment.
• Have a chat with the fishmonger or the butcher to explain why you are bringing your own containers. Local businesses are incredibly knowledgeable about their food and are more than happy to help!

You might not be zero waste the first time you shop, but I can guarantee that you'll automatically reduce your waste drastically by being a more conscious consumer!
---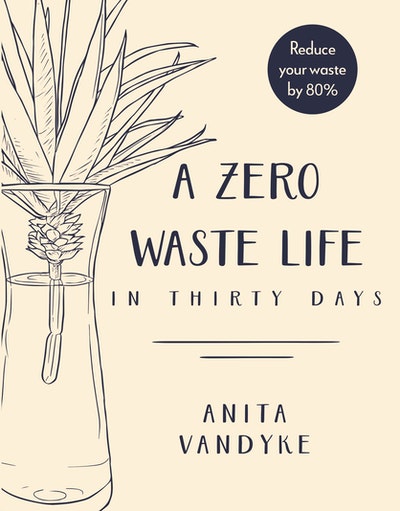 Want to make a change but don't know where to start? The practical thirty-day guide to radically reducing your waste by 80%, from waste warrior Anita Vandyke.
Buy now
Buy now
---