Rusty Young discusses the inspiration that sustained his ten-year Colombiano writing marathon.
Colombiano was written over ten years and in multiple countries, but it all started with the incredible sense of inspiration I felt upon arriving in Bogotá, Colombia.
The year was 2001. I was a longhaired, scruffy backpacker with both my credit cards maxed out, and I had just spent four months staying voluntarily in Bolivia's San Pedro prison. I reached the sprawling capital city of Bogotá on my 26th birthday, having crossed the border by bus from Ecuador.
Colombia was considered one of the most dangerous countries in the world. To outsiders, it was known only through dramatic news headlines about kidnapping, cocaine and its four-decade civil war. The Australian and US governments had issued travel warnings. Essentially this: Don't go! But if you do, and something happens to you, don't expect to be rescued.
I settled in the historical downtown suburb of La Candelaria (which at the time had only one hostel) with Thomas McFadden – a former inmate of San Pedro, imprisoned for drug trafficking, who I'd travelled halfway around the world to write a book about. Immediately, I set about writing Marching Powder.
Despite its reputation, I found Colombia inspirational – the language, the food, the stunning landscapes, the beautiful women, and the big parties. But above all, it was the people I was drawn to. Despite all their suffering, Colombians are incredibly warm, optimistic and joyful.
'Why would anyone want to visit here?' they wondered when they saw foreign tourists. While I myself wondered, 'In such a beautiful country, why would they want to fight each other?'
I'd quickly fallen in love with the nation. And since few foreigners travelled there, I felt we had the country all to ourselves. By the time I'd finished the first draft of Marching Powder, I already knew what I wanted to write about next: Colombia.
But exactly what would I write about?
I began conducting dozens of interviews, searching for the best possible story. They were all amazing, and yet all completely different. I knew there were many, many books to write here.
  Marching Powder had taken all my concentration and passion, but since the story was true, and was told to me by a masterful storyteller, it had flowed out easily in only a year. That was a sprint compared with the marathon I now embarked upon.
This next story was far more complex. I found Colombia confusing and beguiling – learning about it required deep research of subjects on which there was little publicly available information.
That changed when I was offered a job working for the US government in counter terrorism. This led me to meet people who wouldn't ordinarily cross a writer's path: undercover intelligence agents, special forces soldiers and members of the two vicious terrorist groups that were tearing the country apart, the FARC and the Autodefensas. I also met child soldiers who'd been rescued from, or managed to escape, these brutal organisations. I was both moved and fascinated by their stories and I decided my next book would focus on them.
Initially, I intended it to be non-fiction. However, the more I learned, the more I realised the difficulty of combining so many disparate stories without the narrative becoming disjointed. So I switched to fiction, which can sometimes capture the 'truth' of things better than a cold reiteration of facts.
Nevertheless, while fiction freed me from the rigid constraints of truth-telling, it meant that much of the story also had to come from my imagination, as I tried to weave many true tales and facts I'd learned into a compelling plot. So it ended up taking ten years, and required increasing help from friend and story consultant, Simone Camilleri, as well as a large team of supporters.
Eventually, I left Colombia, and continued travelling around the world, always writing. I took up residence in Philippines, France, Montenegro, Spain and India. To friends and family, it probably seemed I was on a permanent vacation. But I never stopped writing.
Being a writer requires discipline, stamina, and above all a passion for what you're writing about. It was this passion that sustained me – my passion for Colombia.
Although I didn't realise it at the time, the country was on the brink of change. The rebels have just signed a peace treaty and surrendered their arms. The president was awarded the Nobel Prize for Peace. Most of Colombia is now extremely safe for travellers. Foreigners are now flocking down in droves. Bogotá was ranked by the New York Times as a top travel destination. And our beautiful suburb, La Candelaria, now boasts over fifty hostels…
I feel privileged to have been there during that time of rapid change, and to have written a book that will hopefully serve as a reminder of a dark period in the history of a county that is fast becoming a tourist mecca.
---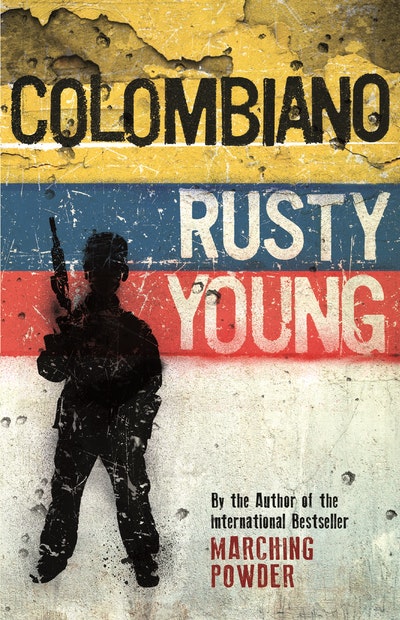 A heart-thumping journey into the violent and unpredictable world of post-Escobar Colombia, from the author of the international bestseller MARCHING POWDER.
Buy now
Buy now
---