A family favourite from Rebecca Wilson.
A cosy warming dish to huddle around on a cold autumnal day. Rich Bolognese ragu is topped with a firm, cheesy polenta topping.
Serves 2 adults and 3 kids
Prep 25 minutes
Bake 25 minutes
1 tsp garlic-infused oil
500g (1lb 2oz) lean beef or lamb mince
1 brown onion, grated or finely diced
2 large garlic cloves, finely grated
500g (1lb 2oz) tomato passata (strained tomatoes)
1 low-salt beef stock cube
2 tsp dried mixed herbs
2 tbsp Worcestershire sauce (optional)
2 tsp smoked paprika
1 tsp sugar (optional) freshly ground black pepper
For the polenta topping
1 low-salt chicken stock cube
1 litre (35fl oz) milk
180g (6¼oz) fi ne polenta (cornmeal)
30g (1oz) unsalted butter
100g (3½oz) smoked Cheddar cheese, grated
2 tbsp breadcrumbs
Preheat the oven to 200ºC fan (220ºC/425ºF/Gas 7).
Heat the oil in a large frying pan, add the mince and fry for 3 minutes, breaking it into small pieces with a spatula as you go. Add the onion and continue to cook for another 3 minutes. Once the meat has browned all over, add the garlic and tomato passata. Fill the empty passata tin or carton a quarter full and swill the water around to catch as much tomato as you can, then add that to the pan too. Crumble in the beef stock cube and add the mixed herbs, Worcestershire sauce, if using, smoked paprika, sugar, if using, and a little black pepper. Stir and allow the sauce to bubble away while you make the polenta.
Crumble the chicken stock cube into a large saucepan, add the milk and allow it to come up to a simmer. Meanwhile, measure the polenta into a mug. Once the milk is just starting to show little bubbles, with a whisk in one hand and the polenta in another, sprinkle in the polenta while whisking continuously to avoid lumps forming. Allow it to cook for around 5 minutes, stirring often, until it thickens to a very thick creamy porridge.
Remove the polenta from the heat, add the butter and two thirds of the cheese and stir to melt them into the polenta. You can now serve this alongside your mince Bolognese, but it's even tastier if you combine the two and bake it in the oven.
Pour the Bolognese into a large baking dish large enough to fit it all in with a little space left above for the polenta. Dollop spoonfuls of the polenta on top, leaving some little gaps between each spoonful to let the sauce come up and bubble around it.
Place the dish on a large baking tray to catch any tomato splatters, sprinkle over the remaining cheese and the breadcrumbs, and finish with another good grinding of black pepper. Bake in the oven for 20–25 minutes until the polenta has set and there is a delicious golden crust.
Serve with steamed or boiled green veg.
Leftovers will keep for 2 days in the fridge, or 3 months in the freezer. Reheat in the oven until piping hot.
Hungry for more recipes? Sign up to our foodie email here
---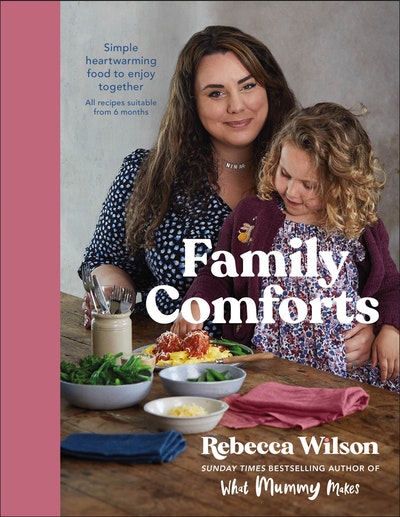 100+ simple comfort food recipes for all the family that are suitable for babies from 6 months!
Buy now
Buy now
---