Debut author Jessica Seaborn shares a few things that helped her get her debut novel, Perfect-ish, published.
What was your writing process like for Perfect-ish? Did you have a writing routine or any regular rituals?
I started writing the first draft in March 2020, shortly after COVID struck and the world shut down. I suddenly found myself with a lot more time, nowhere else I could be and the realisation that if I wanted to be an author, I no longer had any excuses not to be writing.
In April 2020, Curtis Brown Creative admitted me to a three-month writing course. I wrote 1,000 words every day, alongside coursework, and finished the first draft by August 2020.
I always write in the mornings, often early. For most of Winter 2020, I set my alarm hideously early (3:00 or 4:00 am), with the mantra that once I finished my 1,000 words, I could go back to bed. I wrote about five or six drafts of Perfect-ish before submitting it to the Curtis Brown Australia slush pile. I gave most of my attention to rewrites rather than the initial first draft.
Now that the world is (somewhat) back to normal, I wake at 5:00 am and write before leaving for work. It's the only way I could ever deliver a manuscript on time. For some reason, I'm not as productive if I try and write after work.
How did you first come up with the idea for the book? 
The book was the amalgamation of a few ideas.
I've always been fascinated by societal tendencies to project the best part of our lives onto others. I've certainly been guilty of hiding different aspects of my life on social media, and when COVID hit, I realised just how many others were doing it as well. Friends gushing about their husbands were suddenly leaving them, believing they were never in love with them to begin with. Friends with enviable jobs were realising they were unhappy with the direction of their careers. And friends who always insisted on living in the inner-city were suddenly moving further away, seeking a different lifestyle.
I also found it interesting how anxious people can get as they approach thirty. The desire to own property, get married or have children seems to accelerate the closer we get to exiting our twenties. I certainly had a habit of continually reassessing my life as I progressed through my twenties. I had moved to Sydney and left a relationship to work in publishing but only made it five years before realising that I no longer wanted the career I thought I did.
The book also explores loneliness, something I experienced when I moved to Sydney at twenty-one. It was incredibly hard to form new friends when I moved, and it wasn't until I got older that I realised how many others are going through the same thing. You can be living what appears to be an amazing life – living in Sydney, working in book publishing – but still feel unhappy if you don't feel you have many people around you.
What was the publishing process like (finding an agent, submitting manuscripts, etc.)?
The first person to read my manuscript, beginning to end, was my would-be literary agent Caitlan. 
I worried that even though I loved my manuscript, no one else would. And I felt embarrassed about anyone I know reading it (the thought of them hating it but pretending to like it for my sake was enough to keep me awake at night). So I thought, 'I'll submit it to the Curtis Brown slush pile, and if I get rejected, well, I won't feel embarrassed because I don't know anyone who works there.'
In February 2022, I submitted the book's opening to the CB slush pile. Luckily, they liked what they read and offered me representation after reading the full manuscript. From there, my book went out on submission, and I was lucky enough to receive interest from multiple Australian publishers. I signed with Penguin Random House, and here we are.
How long have you been working on this book?
I started writing in March 2020, so it will be almost three and a half years by the time the book hits shelves.
What most excites you about your book being published in 2023? 
This is something I've been interested in since I was in my teens. In my final year of high school, when I decided to study a Bachelor of Fine Arts (Creative and Professional Writing), a lot of classmates asked me what kind of job I would get from that. And whilst it took me ten years, I'm incredibly proud that I stuck to my dream of being a writer. It's quite wild to think my debut novel is coming out this year.
Do you have a favourite book or author?
Ooft, hard to pick just one. I love Marian Keyes, Mhairi McFarlane, Dolly Alderton, Maggie O'Farrell, Genevieve Novak, Clare Fletcher, Karina May and Curtis Sittenfeld. And most people don't know this, but I'm a big fan of historical fiction. In particular, I love Natasha Lester and Kelly Rimmer.
What inspired you to become a writer?
As a child, I was always a big reader – I remember devouring the Harry Potter series, the Enid Blyton books and The Sleepover Club tales. Perhaps it was natural that I'd eventually want to write my own stories. I'm fascinated by motivations and why people act the way they do. I use the notes app on my phone to write down funny moments in a conversation or something I overheard that I know I'll put in a story one day. I think I naturally want to capture elements of society that interest me.
What did you want to be when you grew up and why?
For a long time, I wanted to act. I only studied Creative Writing at university after failing to be offered a place in any of the major acting schools in Australia. But writing turned out to be of much greater interest than acting ever was.
If you could go back in time and give your past self one piece of advice, what would it be and why?
I wish I started being more observant earlier in my life. For the past few years, I have kept a file on my notes app where I jot down funny conversations I overhear or interesting stories. I wish I started doing that years earlier! Almost everything I write down makes it into a story at some point.
What is the best writing lesson/ tip you ever received? 
Perfect-ish may be the first manuscript I ever tried to get published, but it certainly isn't the only manuscript I've written.  
I saw Hanya Yanagihara speak at the Sydney Writers Festival in 2016, and she said that the first book you finish writing doesn't necessarily need to be the book you try and get published. Just because you finish writing a book doesn't mean you need to spend the rest of your life trying to get that book published. Perhaps you needed to write that book for the experience, and perhaps you have a better book in your future.
At that point, I had already written three or four young adult manuscripts that never seemed to work. I wasn't overly passionate about them. And listening to her say that made me realise I needed to shelve them. Just because I finished them (and spent months editing them!) doesn't mean I needed to try and get them published.
Years later, when I finished writing and editing Perfect-ish, I realised that it was a manuscript I wanted to try and get published. There was something about this story that I felt much more passionate about and energetic to tell.  
Jessica Seaborn will be celebrating the launch of Perfect-ish on August 15 in Sydney. Learn more here.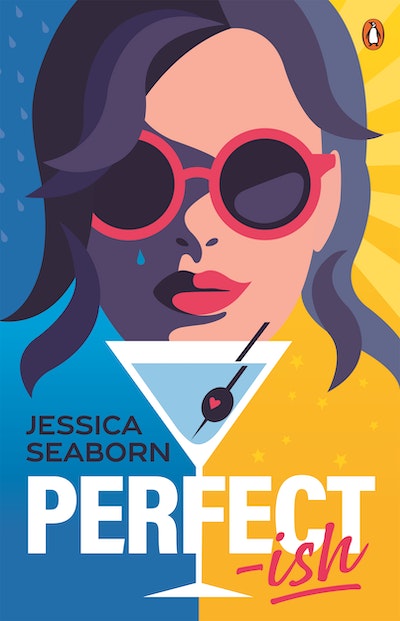 Perfect-ish
A smart, funny and heartfelt anti-romcom by a bright new voice in Australian fiction.
Read more