Find out how she was inspired by her experience as a makeup artist and woman living in modern Trinidad.
What was your writing process like for The God of Good Looks? Did you have a writing routine or any regular rituals?
I wrote The God of Good Looks while working a full-time job and also taking on a lot of freelance work to help my mom financially. It was the early days of Covid, and she'd lost the small business she'd run for over twenty years. 
Writing happened late at night; I'd start at ten and keep going until three in the morning. My writing rituals were all about banishing stress so I could work on something that (I hoped) would be fresh and funny. I'd light a scented candle, and put on some music. Then I'd re-read what I'd written previously so that I could get into the voice of the character. 
The first half hour was the hardest, but once I settled in, I never wanted to stop. 
How did you first come up with the idea for the book? 
When I was sixteen, I was shopping for a graduation dress with my mother. 
While trying on outfits, the shop owner came up to me. He exclaimed, 'Wow! This is a beautiful woman!' Then he conducted a head-to-toe analysis of my body that included observations like 'such perky boobs' and 'nice long legs'. He started bombarding me with questions like, 'Can you walk?' and 'Can you talk?' 
Confused, I asked my mom what was happening and she told me that he worked with pageant queens for the Miss Universe franchise. 
As a teenager, someone thinking that I could be Miss Trinidad and Tobago seemed like a huge compliment.
But when I was leaving, he asked casually, 'How much do you weigh?'
I told him, 'Maybe 130 or 131 pounds' and his face dropped. 'You should never weigh above 125.'
After we left, it was like all the good stuff had been erased and I was left with the message that I was too fat. 
Later, I became a professional makeup artist and saw the ways that my clients and I were riddled with insecurities about our looks. 
All these questions about beauty were percolating in my brain. Is there a way to do makeup that celebrates your individuality? Or will the beauty industry always rely on female insecurities to keep making billions? Who or what deserves to be called beautiful? 
I didn't have any answers, then in 2018, this book came about almost by accident. 
That year, the Bocas Lit Fest and the Caribbean Literary Heritage Project commissioned me to take part in 'Inspired by the Archives.'
I had to explore literary archives in Trinidad and Tobago and write something based on what I'd read. Derek Walcott had an unexpectedly hilarious personal journal; he even conducted a self-interview, which began:
W: Why have you succumbed to this self-interview?
W: For the money.
Those became the first lines in my commission.
I imagined my protagonist, Bianca Bridge, as a Walcott-esque aspiring writer with a razor wit and tongue-in-cheek cleverness. This whole other world gushed onto the page. 
I never consciously decided to set this story in the Trinidadian beauty industry but, at that time, I couldn't write about anything else. Bianca was a model, and in a fictionalized version of my own experience, Obadiah Cortland tells her that she'll never make it in the industry unless she loses weight. 
Long after the commission finished, I kept thinking about my characters. I wanted to know more about them and discover if they could find happiness. I still had a lot of thoughts about beauty that I wanted to unpack and the only way to do that was to keep writing.
What was your big break into publishing?
This book is my big break! 
I previously won The Caribbean Writer's David Hough Literary Prize and I've been shortlisted for writing prizes like the Commonwealth Short Story Prize, the Glimmer Train Fiction Open, the BCLF Elizabeth Nunez Award for Writers in the Caribbean, and the Derek Walcott Writing Prize. I have also published a collection of short stories called Where There Are Monsters with Peepal Tree Press. I think those were all important steps on my literary journey, but things seem to be happening on a bigger scale now.
How long have you been working on this book?
It took five years, but this book has been in the making my whole life. It's a work of fiction, but it's rooted in so many of my lived experiences. My mother refuses to read it because – after hearing me read certain sections – she recognized too many real-life situations. It got to the point where she thinks everything that happened to the characters happened to me and she couldn't cope with that. 
What was the publishing process like (finding an agent, submitting manuscripts, etc.)?
Finding an agent was incredibly challenging. This was partly my fault because I queried with a pure first draft. 
I felt so much excitement about my characters and the possibility of being published that I wasn't as critical of the book as I should have been. I may have sent out about ten queries and eight agents wrote back, many of them immediately, to say they'd love to see the full manuscript. I thought, one of these people must make an offer of representation, but the best I got was offers to re-read an edited version of the novel.
I returned to the book and gave it a thorough makeover. When I was querying with the new and improved version, I encountered a different set of problems. Some agents and beta readers felt as if the depiction of modern Trinidad wouldn't appeal to international audiences. For example, crime is an important component of the book; one agent loved the manuscript but felt that I should take out the crime so that readers would recognize the sun, sea, and sand island paradise of the Caribbean. This felt incredibly inauthentic to me, especially since Trinidad has the sixth-highest crime rate in the world. But – at the same time – I didn't know when or if another agent would take this sort of interest in my work again. (I've since written an essay on this experience in Lit Hub.) 
After a year and a half of querying, I got the agent of my dreams. Ironically, I had never queried her because I saw the authors she represented, and I didn't think I'd stand a chance, but it worked. She loved that the book was borne out of my experiences as a professional makeup artist and a woman living in modern Trinidad and she was fiercely protective of that authenticity. 
Once we submitted the manuscript, I was delighted to discover that there was a lot of interest from so many different publishers. Seeing the book go to auction was a dream-come-true moment for me and I could not be happier with the literary homes it found.
What most excites you about your book being published in 2023? 
I am so excited for readers to meet my characters. Characters are always my way into a story as a writer and as a reader. When I was writing this, Bianca and Obadiah both felt so real to me. It gives me a quiet kind of joy to think of them out there in the world.
Do you have a favourite book or author?
I have several favourite books, but I don't think I could pick just one. There's The Book of Night Women by Marlon James, Such A Fun Age by Kiley Reid, The Tiger's Wife by Téa Obreht, Miguel Street by V.S. Naipaul and Catch-22 by Joseph Heller. It's an eclectic mix with no rhyme or reason discernible to me; but if I could only take five books on a desert island, it would be those! 
What inspired you to become a writer?
I grew up surrounded by stories and storytellers. Our house was full of books. My mom was always reading to me, and my grandmother and old aunt had an arsenal of stories, sometimes featuring terrifying Trinidadian folklore characters who stole little children away in the night. In school, a series of amazing English teachers only made me love stories more. 
Because of all these griots, I wanted to tell stories too. When my brother and I were growing up, he would make games with original characters, inspired by Pokémon and Yu-Gi-Oh! trading cards. I would write and illustrate stories for him based on his characters. I think there's still a box in my house filled with those old copybooks and my terrible illustrations. 
What did you want to be when you grew up and why?
I had a moment when I wanted to be an Ear Nose and Throat Specialist. I used to swim a lot and I had some incredibly painful problems with my ears. The ENT doctor made it all better; so, I thought, I want to help people feel better too. This dream was swiftly stymied by the fact that I had no actual interest in science at school. 
The other thing I wanted to do was be a writer. I said I wanted to be a novelist/ poet in my school yearbook. And, although my poetry is unpublishable, being a novelist is the realisation of a lifelong dream.
If you could go back in time and give your past self one piece of advice, what would it be and why?
I'm a classic overthinker who, when things are going wrong, second-guesses every decision I've made. 
I'll think oh maybe if I did X instead of Y, things would be better right now. I'm working on it! 
So, I'd tell past Breanne not to focus so much on things she can't control and just enjoy the journey. All that worrying isn't going to change a single thing anyway. 
What is the best writing lesson/ tip you ever received? 
I think, like many writers, a concept would be so wonderful in my head and then I'd get it down on the page and the first draft would be appallingly bad. 
The discrepancy between my imagined world and the actual writing often led to writer's block. It was safer to let characters and plots live in my mind where they were always perfect. I read this quote from Malcolm Gladwell that really changed the game for me. He said:
'I deal with writer's block by lowering my expectations. I think the trouble starts when you sit down to write and imagine that you will achieve something magical and magnificent – and when you don't, panic sets in. The solution is never to sit down and imagine that you will achieve something magical and magnificent.'
So now, my philosophy is 'anything worth doing is worth doing badly.' I try to silence that inner critic that always hates my first draft and just get the words on the page. It can always get better with editing, but you can't edit what isn't there.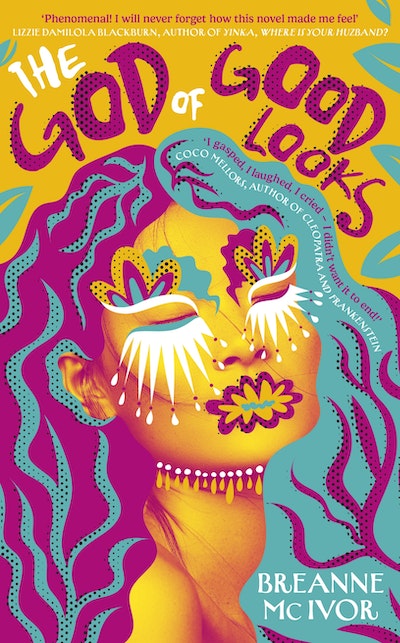 The God of Good Looks
A joyously satisfying will-they-won't-they love story about a young woman finding her feet and forging her own destiny, set against the backdrop of the Trinidadian beauty industry.
Read more