The author of The Boy in the Striped Pyjamas discusses his latest novel, A Ladder to the Sky.
You've written about dark characters in the past but none quite like Maurice Swift. Can you tell us a little about where your inspiration for his character and his story came from?
I wanted to write about ambition and how it can be both a positive and negative thing. My only real experience of that subject is in the literary world and, after almost twenty years of publishing, I've observed a lot about how people behave to achieve their goals. The novel came about after a personal experience that upset me quite badly. A young, aspiring writer attached himself to me over a couple of years, exploiting my affection for him as he built a large network of contacts. Quite a few of my friends could recognise what he was doing and spoke to me about it but I was blind to it until one day, when it suddenly became all too obvious to me. I challenged him on his behaviour and he didn't even bother to deny it. The whole thing hurt me greatly and it bothered me that I had been so easily taken in by someone who was, as another writer friend described him, 'just an operator'. But every bad experience can be useful for a writer, and he became the basis of the character Maurice Swift, the amoral young man at the heart of A Ladder to the Sky.
 
Would you say that this is typical of all of your novels? 
I don't think I have a typical novel but I think there are two themes that run through a lot of them and both are reflected here. The first is the juxtaposition of the powerful and the powerless. In novels such as Mutiny on the Bounty, The House of Special Purpose and The Boy at the Top of the Mountain, I create situations where a youthful character finds himself close to a figure of authority – in the case of those three books, Captain Bligh, Tsar Nicholas II and Adolf Hitler respectively – and is influenced by them in some way. The second is the theme of betrayal, and in almost all my novels there's a moment where a character is badly betrayed by someone they trusted. It happens with Bruno and Shmuel in The Boy in the Striped Pyjamas, when Bruno denies his friendship with Shmuel in the face of the aggressive Lt Kotler, and in The Absolutist, when Tristan betrays Will. Both those things happen in this novel. Maurice finds himself connected to older, more powerful novelists and ultimately betrays them at every point. However, I don't think these are things that I intentionally put into novels; rather, one finishes the book and can identify the themes recurring again and again.
 
Is there a particular book by another author that you wish you'd written? 
There are hundreds. Probably thousands. But, off the top of my head, here are ten:
- LP Hartley, The Go-Between
- Donna Tartt, The Secret History
­- Jonathan Coe, What A Carve Up!
­- Patricia Highsmith, The Talented Mr Ripley
- Rose Tremain, The Gustav Sonata
- Sarah Waters, The Paying Guests
- Kate Atkinson, Life After Life
- Anne Tyler, Saint Maybe
- Philip Hensher, The Northern Clemency
­- Belinda McKeon, Tender
 
Some of your cast of characters in A Ladder to the Sky are real people and writers, whose work your readers may be familiar with - what was it like to write their scenes?
Actually, it was a lot of fun. Again, it's something I have some experience of doing. Across my novels, real life figures such as Charlie Chaplin, Buffalo Bill, Dr Crippen, Edward VIII, Rasputin, and many other all make appearances and I enjoy recreating these people in fiction and imagining who they might have been and how they might have behaved in any particular circumstance. I've always been a fan of Gore Vidal, both of his work and his public persona, and I worked very hard on the section in which he appears, wanting to find the right mix of humour, wisdom and ennui that I feel Vidal had. Also, I thought it was important that Vidal would be the only person in the book who would see through Maurice.
 
What for you was the biggest challenge while writing this novel?
The changing points of view. As it starts with a first-person narrative, then moves to third, then to second, then back to third, and finally finishes as it began with a first, it was tricky to keep a sense of fluidity between them all. I needed all the voices to sound different but no discordant that the novel would feel clunky. But I think it's always important to challenge myself with each book and to try to take on something that I haven't done before. In The House of Special Purpose, for example, I experimented with time, using a forward and backward driven narrative, while in This House is Haunted I used a female narrator for the first time.
 
Finally, for anyone tempted to follow Maurice's example, what advice would you give to other writers struggling for ideas? 
Ideas are all around us. If a person is reading and writing all the time, I believe that the brain is more open to ideas when they land. We don't actually have to follow Maurice's example and either steal other people's stories or use others to get ahead, we can just identify ideas in daily life. We find them in newspapers, in the stories our friends tell us, in conversations overheard on public transport. The trick is grabbing on to the right one and knowing how to use it in an original and interesting way.
---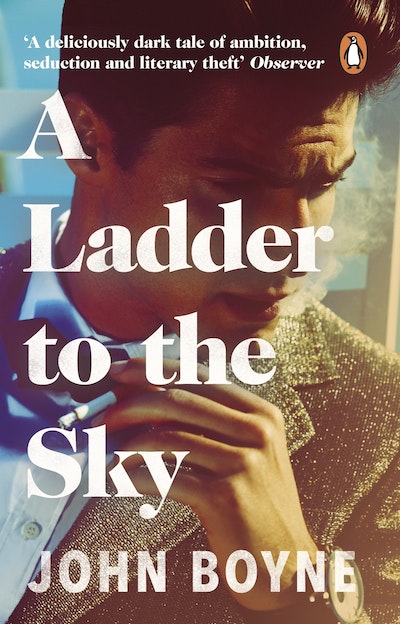 Maurice Swift is an aspiring novelist struggling to come up with the story that will make his name, and he doesn't care where that story comes from. Even if he has to beg, borrow, steal or worse, he will make it to the top. Whatever the cost...
Buy now
Buy now
---