Minnie Darke admits it … she's a shameless thief. Her most recent heist was the 'theft' of 121 Harrington Street, Hobart, as one of the key settings for her new novel, With Love from Wish and Co. You probably know the building: it's that gorgeous little heritage weatherboard with the triple-arched windows, up near the intersection with Bathurst Street, that was once featured on the ABC's Restoration Australia. 
With Love from Wish & Co. the follow-up to Star-crossed and The Lost Love Song, features Marnie Fairchild, a gift-buyer who has her heart set on moving her gift-buying business to the heritage building once owned by her grandfather. Her plans are complicated when she makes an uncharacteristic error – switching the gifts for her the mistress and the wife of her best client, Brian Charlesworth. Soon Brian is scrambling to save his marriage and Marnie is trying to work out how to save her professional reputation. The last thing she really needs, at this point, is to get into a relationship with the Charlesworths' gorgeous son, Luke.
To celebrate the release of the novel, Minnie is hosting a small soiree at 2.30pm, Saturday, August 13 at 121 Harrington Street, and you're invited.  The ticket price includes a copy of With Love from Wish & Co, signed by Minnie Darke and personally gift-wrapped by Jennifer 'Perfect Corners' Wood. It also includes a glass of bubbles (or something soft if you prefer), a cupcake, and the chance to spend some time with Minnie, who will share a reading from With Love from Wish & Co.
The space is petite, so tickets are limited. Be quick! (And if you can't make the soiree on August 13, panic not, because there will be a launch at Hadleys Hotel on Saturday, August 20, featuring Minnie's heroine, the magnificent Carmel Bird.)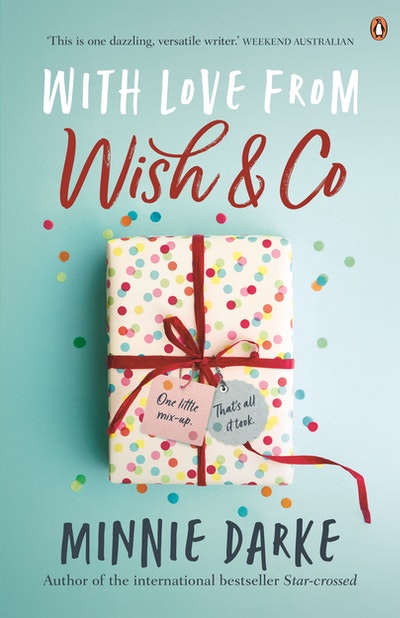 With Love From Wish & Co
From the author of the international bestsellers Star-crossed and The Lost Love Song comes a captivating novel about a young woman whose one little mix-up sets off an unexpected chain of events, with repercussions for her business . . . and her love life.
Read more