Dr Anita Heiss is an award-winning author of non-fiction, historical fiction, commercial women's fiction, children's novels and blogs. She is a proud member of the Wiradjuri Nation of central New South Wales, an Ambassador for the Indigenous Literacy Foundation, the GO Foundation and Worawa Aboriginal College. Anita is a board member of University of Queensland Press and Circa Contemporary Circus, and is a Professor of Communications at the University of Queensland. As artist in residence at La Boite Theatre in 2020, Anita began adapting her novel Tiddas (S&S, 2014) for the stage. Her novel Barbed Wire and Cherry Blossoms (S&S 2016) set in Cowra during World War II, was the 2020 University of Canberra Book of the Year. Anita enjoys eating chocolate, running and being a 'creative disruptor'.
GET YOUR COPY OF ANITA'S BOOK ON THE DAY! Anita's books will be for sale on the day and she will be available for book signing. Buy one for yourself and one for a friend. Readings Book Store will also have other books for sale by First Nations authors
Lunch provided by the Moroccan Soup Bar This a community event money from ticket sales will go to support Aboriginal organisations. Discounted tickets for First Nations People.
Winner of the Vic Premier's Award for Indigenous Writing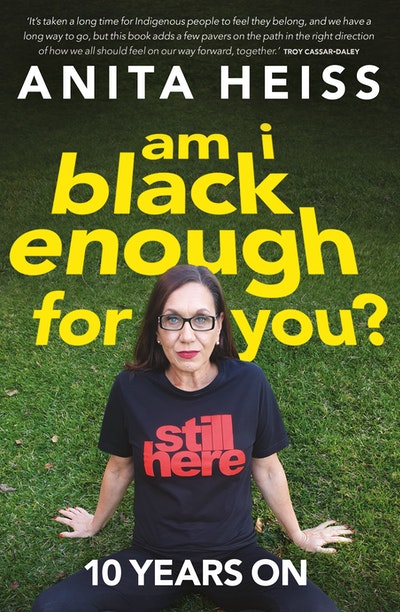 Am I Black Enough For You?
The story of an urban-based high achieving Wiradyuri woman working to break down stereotypes and build bridges between black and white Australia.
Read more