Tasmanian born and bred writers Kyle Perry and Poppy Gee join forces to discuss their literary thrillers, both set in pristine central Tasmania. They'll talk about mystery and crime in the Apple Isle, and why a beautiful wilderness might be the perfect place to bury a body.
Perry's debut novel The Bluffs became a bestseller when it was released in July this year. When a school group of teenage girls goes missing in the remote wilderness of Tasmania's Great Western Tiers, the people of Limestone Creek are immediately on alert. Three decades ago, five young girls disappeared in the area of those dangerous bluffs, and the legend of 'the Hungry Man' still haunts locals to this day.
Now, authorities can determine that the teacher, Eliza Ellis, was knocked unconscious, so someone on the mountain was up to foul play. Jordan Murphy, the local dealer and father of missing student Jasmine, instantly becomes the prime suspect. But Detective Con Badenhorst knows that in a town this size – with corrupt cops, small-town politics, and a teenage YouTube sensation – everyone is hiding something, and bluffing is second nature.
When a body is found, mauled, at the bottom of a cliff, suspicion turns to a wild animal – but that can't explain why she was discovered barefoot, her shoes at the top of the cliff, laces neatly tied.
Vanishing Falls, Poppy Gee's second novel, was published in the USA in August, and will be published in Australia/NZ in November.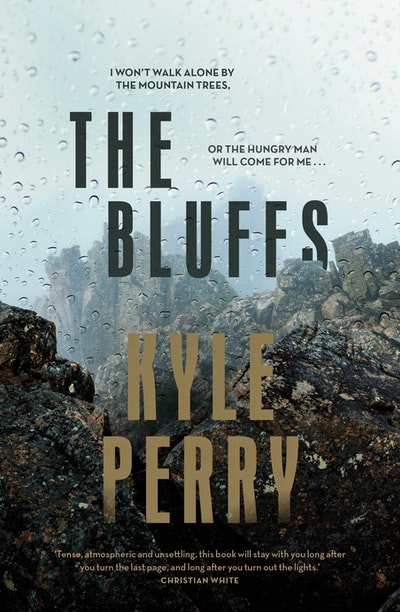 The Bluffs
LONGLISTED – ABIA General Fiction Book of the Year SHORTLISTED – Indie Book of the Year - Debut Fiction SHORTLISTED – Dymocks Book of the Year
Read more