All of our Masterclasses are recorded and available for four weeks, so if you can't make it live, register anyway we'll send you the video later.
In today's world, how you manage your PR can either make or break your career or business. PR – or Public Relations – is about managing the relationship between you and your audience. And no matter who you are – a graduate starting out, an employee, or a business owner – you have an audience. It may be your bosses or board, your colleagues, your clients or customers, your social media followers, the media – any stakeholder who's important to you.
So how do you manage that relationship to leverage the very best outcomes and opportunities for you?
In this masterclass, Founder and Managing Director of The Comms Department, Bec Brown, will teach you how PR works in 2020, and share her secrets on how to best work the media and your personal professional brand to achieve success.
In this masterclass you'll learn:
How PR works and what it can do for you or your business – in normal times or during a crisis.
Why your personal professional brand and reputation is so important, and the knowledge and skills you'll need to learn and develop to best manage it.
How to best work with the media to promote your personal brand or business.
About Bec
Bec has been working as a professional communicator for twenty years, beginning as a vocalist and vocal coach, then retraining to become a PR professional. Bec is the founder and Managing Director of The Comms Department, a PR, corporate communications and crisis management agency, where she and her team work with some of Australia's biggest and best-known media, entertainment, travel and lifestyle brands.  Her first book You've Got This – the essential career handbook for creative women is available for pre-order now.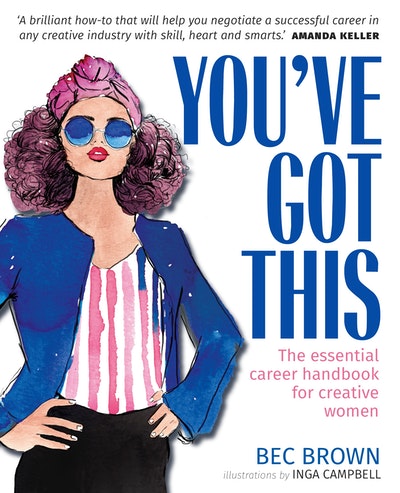 You've Got This
Build your dream career in any creative industry by following the practical, achievable and 100 per cent proven steps outlined in this book.
Read more