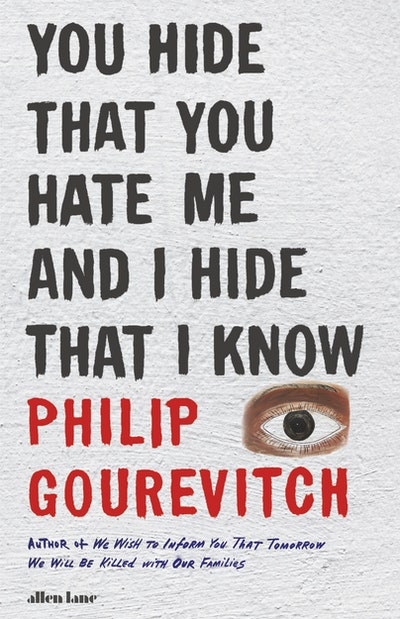 Published:

1 January 2023

ISBN:

9780241337042

Imprint:

Allen Lane

Format:

Hardback

Pages:

304

RRP:

$45.00
You Hide That You Hate Me and I Hide That I Know
---
---
Twenty years after the genocide, the author of the definitive, award-winning book on Rwanda returns
Philip Gourevitch's modern classic We Wish to Inform You That Tomorrow We Will Be Killed With Our Families opened our eyes to the 1994 genocide of Rwanda's Tutsi minority: close to a million people murdered by their neighbours in one hundred days. Now Gourevitch brings us an intimate exploration of how killers and survivors live together again in the same communities, grappling with seemingly impossible burdens of memory and forgetting, vengefulness and forgiveness.
A powerful literary reckoning, You Hide That You Hate Me and I Hide That I Know is the culmination of twenty-five years of reporting. The book takes its title from a Rwandan adage that speaks to the uneasy trade-offs that reconciliation demands. Since the genocide, Rwanda has engaged in the most ambitious and sweeping process of accountability ever undertaken. 'Truth Heals' was the slogan. But truth also wounds. And truth is always contested.
As Gourevitch returns to the same families in one small hillside village, their accounts of killing and surviving inform and enlarge one another, illuminating the ways that we seek, individually and collectively, to negotiate our irreparable pasts. This moving book continuously invites us - as only great writing can - to think, and to think again.

Published:

1 January 2023

ISBN:

9780241337042

Imprint:

Allen Lane

Format:

Hardback

Pages:

304

RRP:

$45.00
Praise for You Hide That You Hate Me and I Hide That I Know
PRAISE FOR WE WISH TO INFORM YOU THAT TOMORROW WE WILL BE KILLED WITH OUR FAMILIES:

-
This soul-searching, painfully lyrical book rises above its grisly subject.

Evening Standard
Magnificent, terrifying ... Gourevitch's account is factual, unemotional - and utterly gut-wrenching.

Irish Times
Philip Gourevitch has written the book which is the key to these dramatic and terrifying events ... Should be compulsory reading for all UN officials involved in peace-keeping operations and humanitarian aid, from the Secretary General on down.

Guardian
[It is the] sobering voice of witness that Gourevitch has vividly captured in his work.

Wole Soyinka, New York Times Book Review
[Gourevitch] has the mind of a scholar along with the observative capacity of a good novelist, and he writes like an angel. I think there is no limit to what we may expect from him.

Robert Stone
A sparkling jewel that shone no matter what angle you looked at it from.

Amanda Foreman