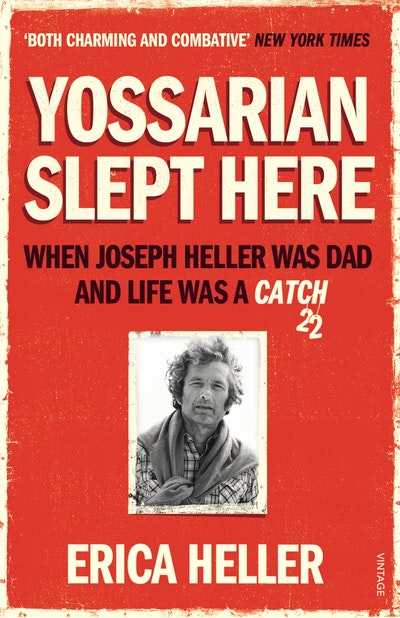 Published:

1 December 2011

ISBN:

9780099570080

Imprint:

Vintage

Format:

Paperback

Pages:

288

RRP:

$19.99
Yossarian Slept Here
When Joseph Heller was Dad and Life was a Catch-22
---
---
A fascinating, moving and witty memoir by Joseph Heller's daughter, about life with her famous father.
'You're Joseph Heller's daughter? How terrific!'
But was there a catch?
Like his most famous work, Joseph Heller was a study in contradictions: eccentric, brilliant and voracious, but also mercurial, competitive, and stubborn, with a love of mischief that sometimes cut too close to the bone. Yossarian Slept Here is a daughter's darkly funny, poignant memoir about growing up a Heller - from her colourful family members and her parents' tumultuous marriage, to her father's celebrity friends and the family's eccentric neighbours.
This is a story about achieving a dream, about fame and its aftermath, about squandered opportunities, lasting love and family.
Published:

1 December 2011

ISBN:

9780099570080

Imprint:

Vintage

Format:

Paperback

Pages:

288

RRP:

$19.99
Praise for Yossarian Slept Here
An affectionate, no-punches-pulled, often hilarious memoir

Herald
Both charming and combative

New York Times
As soon as I read the opening I was determined and eager to consume everything that followed, up to and including the Pot Roast

Christopher Hitchens, author of Hitch-22
Heller's domestic side is evoked with painful detail by his daughter, Erica, in her well written, occasionally harrowing memoir, Yossarian Slept Here

Sunday Times
A likeable memoir...Yossarian Slept Here gives us the gruff, arrogant big shot; the smug cocky fellow who sometimes showed up to friend's cocktail parties for the sheer fun of insulting them'

Financial Times
Erica Heller...seems to have weathered her girlhood better than most daughters of celebrated literary lions... Heller's book shows a robust acceptance of her father's overbearing personality and Don Draperesque approach to marriage and fatherhood... The New York of the period leaps off the page

Independent
With wit punctuating lambent nostalgia, Erica Heller brings her father to life in an animated, absorbing fashion, documenting his quirky habits, celebrity, and "invisible, unfathomable inner cycle," but also her parents' divorce and Heller's suffering with Guillain-Barre syndrome. The total effect is akin to leafing through a bulging family scrapbook where one finds a few blurry images among many snapshots in sharp focus. Erica Heller has inherited her father's finely tuned flair with words

Publishers Weekly
Intimate, yet well-researched..comedic and poignant, her many-faceted memoir is rendered in high-definition as Heller recounts meals, travels, parties, arguments, lies, and the serious illnesses that afflicted her and her parents. Writing with wit, compassion, aplomb, and no little wonder at what her father wrought and her mother endured and how this legacy shaped her, Heller presents an involving and invaluable work of personal and cultural history.

Booklist
Heller's family memoir brims with warm reflections right from the opening chapters... An affectionate family scrapbook crafted with a bittersweet blend of humor and pathos

Kirkus Reviews
Erica Heller to me is like a Carrie Fisher on the East Coast. She is as authentic as they come

Richard Lewis, comedian, actor, author
Erica Heller has a story to tell and I for one am eager to see it in print. I think this is going to be one hell(er) of a memoir

Christopher Buckley, author of Losing Mum and Pup
The New York of the period leaps off the page

Emma Hagestadt, Independent
Heller's domestic side is evoked with painful detail by his daughter, Erica, in her well written, occasionally harrowing memoir, Yossarian Slept Here

Sunday Times
Likeable memoir...just as Daugherty is blind to the limitations of Heller's work so he appears resistant to personal criticism of Heller or rebuke. Just One Catch is no hagiography but, of these two biographical accounts on Yossarian Slept Here gives us the gruff, arrogant big shot; the smug cocky fellow who sometimes showed up to friend's cocktail parties for the sheer fun of insulting them

Leo Robson, Financial Times
As an insight into the creative process, this little memoir is quite brilliant...offering the reader a poignant moral parable of the many ways a talent for writing can, in the end rob you of the talent for living.

Jonothan Dawson, Sunday Tasmanian
A finely crafted, wonderfully observed reminiscence on an extraordinary, often traumatic life

Independent on Sunday
It's a sad story but an invaluable supplement to one of the 20th century's best novels.

Daniel Herborn, Sun Herald, Sydney