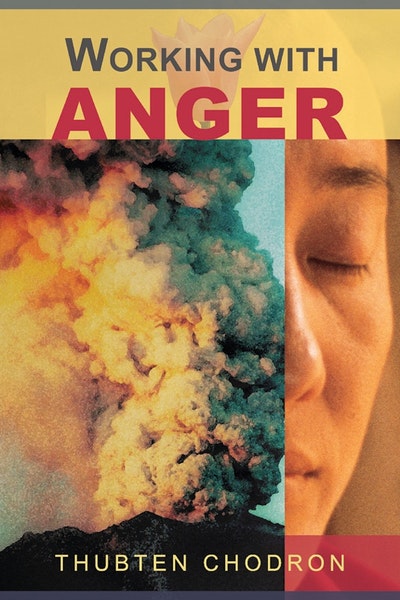 Published:

15 February 2013

ISBN:

9781559391634

Imprint:

Snow Lion

Format:

Paperback

Pages:

176

RRP:

$40.00
Working With Anger
---
---
Anger plagues all of us on a personal, national, and international level. Yet we see people, such as the Dalai Lama, who have faced circumstances far worse than many of us have faced—including exile, persecution, and the loss of many loved ones—but who do not burn with rage or seek revenge. How do they do it?
Working with Anger presents a variety of Buddhist methods for subduing and preventing anger not by changing what is happening, but by framing it differently. No matter what our religion, learning to work with our anger is effective for everyone seeking personal happiness as well as world peace.
Working with Anger was chosen for a Spirituality and Health Magazine Award as one of the Best Spiritual Books of 2001.
Published:

15 February 2013

ISBN:

9781559391634

Imprint:

Snow Lion

Format:

Paperback

Pages:

176

RRP:

$40.00
Praise for Working With Anger
"Combining the teachings drawn from Shantideva and the lojong teachings of Tibetan Buddhism with present-day examples, Chodron presents a compelling and accessible guide for practitioners in the Western dharma community."—Sangha Journal

"Thubten Chodron offers her insights on anger, the ways that it manifests in our lives, and the ways that we can skillfully work to transform it. Both inspiring and humble in its approach, this book is sure to be a help to many."—Sharon Salzberg, meditation teacher and author of Lovingkindness: The Revolutionary Art of Happiness

"Presented with clarity, wit, anecdotes, and examples, the material is easy to read and to absorb. If you have an anger problem (who doesn't?) or are dealing with someone who does (who isn't?), you will be glad you found this book."—Light of Consciousness

"Thubten Chodron is one of our freshest voices of the dharma. Echoing the clarity of H.H. the Dalai Lama's own teachings on forgiveness and healing, in Working With Anger she brings us helpful, practical insights from her deep training in Himalayan wisdom traditions. Written in clear, user-friendly language, this superb handbook offers us concrete strategies for dealing effectively with the painful afflictions of anger, criticism, and betrayal in contemporary life situations. Can we ever tire of such necessary, good advice?"—Trevor Carolan, David See-Chai Lam Centre for International Communication

"By presenting in everyday language the Buddhist methods for overcoming and preventing anger, Bhikshuni Thubten Chodron has made accessible time-tested practical guidelines that can be helpful for everyone."—Alexander Berzin, author of Relating to a Spiritual Teacher and Developing Balanced Sensitivity

"In Working with Anger, Thubten Chodron offers us a kind and genuinely helpful guide to handling one of the greatest challenges in living an emotionally intelligent life."—Daniel Goleman, author Emotional Intelligence

"Working with Anger is a wonderful, wise, and life-changing book. Written in Ani Thubten Chodron's characteristic accessible style, generously laced with examples drawn from daily life, the book is filled with practical strategies on how to free ourselves from anger, resentment, and envy. If you are looking for a practical guide to overcome anger and live with greater tolerance, love, and forgiveness, I highly recommend this book."—Howard C. Cutler, MD, coauthor of The Art of Happiness

"Here we have a psychology that leads to true liberation. . . . What I like here is that this work is not just about moralizing and sermonizing, but gives practical, useable techniques to neutralize anger. . . . It has a clarity and simplicity that can only come from someone who actually lives what she writes. Highly recommendable."—Diamond Fire