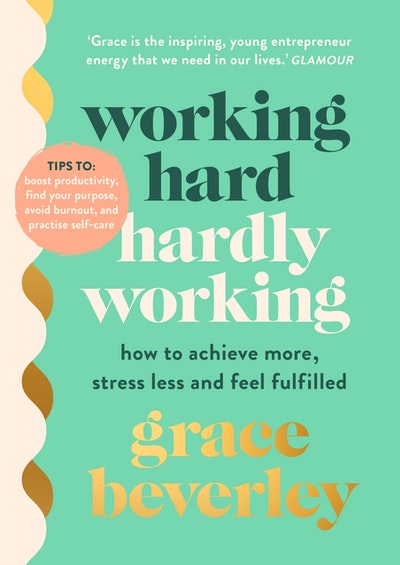 Published:

13 April 2021

ISBN:

9781786332868

Imprint:

Hutchinson

Format:

Trade Paperback

Pages:

224

RRP:

$35.00
Working Hard, Hardly Working
How to achieve more, stress less and feel fulfilled: The #1 Sunday Times bestseller
---
---
---
From a young entrepreneur shaking up the archaic business world comes a book about why productivity and self-care aren't on opposing sides, and how to find the balance we all need.
THE #1 SUNDAY TIMES BESTSELLER
'Excellent.' The Times
'Offers a fresh take on how to create your own balance, be more productive and feel fulfilled in the high-pressure social media age.' Cosmopolitan, 12 BEST NEW BOOKS TO READ
'Serves some serious inspiration for the business-minded.' Bustle, TOP DEBUT BOOKS OF 2021
'Pinpoints and unpacks the confusing and impossible messages we are all fed about modern work, how we are supposedly meant to be "nailing" all areas of our life all at once.' Emma Gannon
'Essential reading for anyone who takes their working life seriously.' Anna Codrea-Rado________________
We all know the pressure of feeling like we should be grinding 24/7 while simultaneously being told that we should 'just relax' and take care of ourselves, like we somehow have to decide between success and sanity. But in today's complex working world, where every hobby can be a hustle and social media is the lens through which we view ourselves and others, this seemingly impossible choice couldn't be further from our reality.
In Working Hard, Hardly Working, entrepreneur and self-proclaimed 'lazy workaholic' Grace Beverley challenges this unrealistic and unnecessary split, and offers a fresh take on how to create your own balance, be more productive and feel fulfilled.
Insightful, curious and refreshingly honest, Working Hard, Hardly Working will make you reflect on what you want from your life and work - and then help you chart your path to get there.
________________
A BOOK TO HELP YOU:
Create your own Productivity Method:Work smart and do more of what you love
Make your routine work for you: Optimise your habits and reap the benefits
Understand your value: Get into your flow and enjoy your everyday
Engage in effective self-care: How stepping back can help you move forwards
________________
Real comments from Grace's readers:
'A truly important read'
'A refreshing and honest perspective I could really relate to'
'You should read this book!'
'So well-informed, funny and REAL'
'I got so much out of this lovely book'
'Incredibly wise, practically helpful and inspirational'
'A really helpful and insightful book'
'Every single person can benefit from this book'
'You will not regret buying this book'
A #1 Sunday Times bestseller, April 2021
Published:

13 April 2021

ISBN:

9781786332868

Imprint:

Hutchinson

Format:

Trade Paperback

Pages:

224

RRP:

$35.00