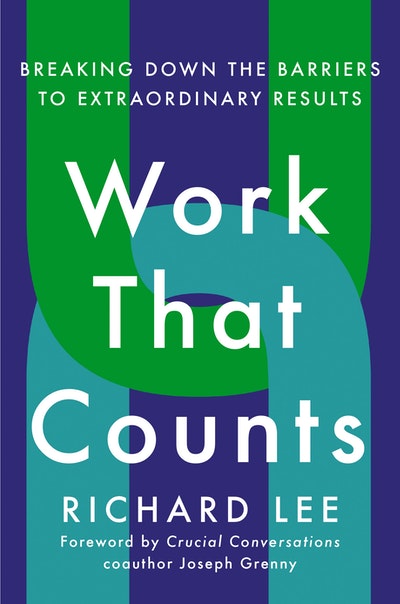 Published:

13 January 2021

ISBN:

9780593191460

Imprint:

Portfolio

Format:

Hardback

Pages:

288

RRP:

$55.00
Work That Counts
Breaking Down the Barriers to Extraordinary Results
---
---
One of Silicon Valley's top leadership trainers proves that you don't need to reengineer your entire organization to maximize its potential; you only need to give your people the tools to succeed inside it.
From siloes and micromanagers to managers who don't give their employees enough decision-making power, barriers to impact arise in every complex organization, preventing teams from getting the kind of results they're capable of. Most leaders have come to believe that they need to overhaul their entire organization in order to overcome these barriers, but this is simply not true. Rather than needlessly devote resources to major systemic change, they need to figure out how to ensure people and their teams are empowered, aligned and able to partner in and across teams to leverage their full potential.
Richard Lee's framework for leveraging impact has enabled teams to successfully overcome these challenges--without pulling the rug up from underneath them. Drawing on examples from companies he's worked with, including Google, Facebook, and Big Tech giants Amgen and Genentech/Roche, Lee provides practical solutions to the problems that hold people back in nearly every organization. Among other crucial skills, you'll learn:
How a team leader can hold team members accountable without micromanaging, along with what the team member needs to do concurrently, to earn the team leader's trust.
How to get support for your objectives from other teams--even when they don't report to you or your division or business unit.
How to partner with others, within your team and across with other teams, to achieve the results you want.
Leverage Your Impact is a commonsense yet groundbreaking guide, filled with assessments and real world examples that allows organizations to make the most of their people and become more than the sum of their parts.
Published:

13 January 2021

ISBN:

9780593191460

Imprint:

Portfolio

Format:

Hardback

Pages:

288

RRP:

$55.00