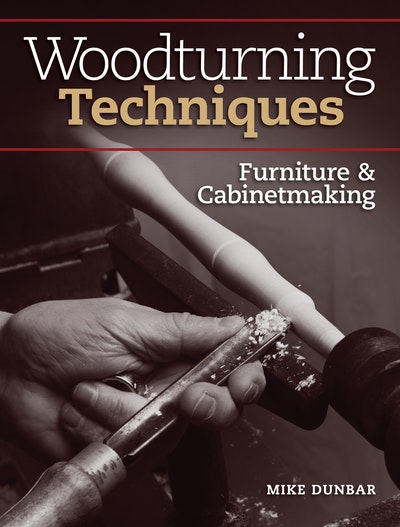 Published:

2 March 2017

ISBN:

9781440349515

Imprint:

Penguin

Format:

Paperback

Pages:

189

RRP:

$49.99
Woodturning Techniques - Furniture & Cabinetmaking
---
---
Create your own turned furniture elements!
Woodturning is a subject many furniture makers shy away from, opting for factory-turned furniture parts. But investing in a lathe and a modest collection of turning tools can open up a wide array of options. Turned legs, spindles, rails, knobs and pulls adorn such classic furniture styles as Sheraton, Chippendale and Shaker. Learning to turn your own furniture elements gives you the keys to the kingdom when it comes to period style--and it's not as difficult as you might think.
This book by award-winning furniture maker Mike Dunbar gives you a complete course on turning furniture parts. You'll learn how to create chair and table legs, staircase balusters, bedposts, rails and stiles--even if you've never worked on a lathe before. Essential techniques covered include spindle turning, duplication, reeding, fluting and spiral turning. In addition you'll learn:
   • The ins and outs of lathe operation, maintenance and safety
   • Which tools you should invest in and which ones you can take a pass on
   • Proper tool sharpening and honing procedures
   • Woodturning techniques such as creating beads, coves, urns and vases
   • How to turn duplicates
   • And much more!
Previously published as "Woodturning for Cabinetmakers," this reissue of a woodworking classic gives you the skills you need to turn your back on inferior factory-made components and turn your own parts that you can be proud of.
Published:

2 March 2017

ISBN:

9781440349515

Imprint:

Penguin

Format:

Paperback

Pages:

189

RRP:

$49.99