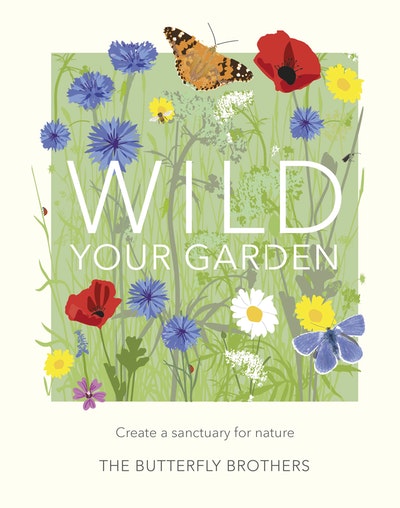 Published:

21 July 2020

ISBN:

9780241435816

Imprint:

Dorling Kindersley

Format:

Hardback

Pages:

192

RRP:

$32.99
Wild Your Garden
Create a sanctuary for nature
---
---
Rewild your outdoor space with inspirational projects and practical advice from Gardeners' World and Springwatch guests The Butterfly Brothers.
"It's up to every single one of us to do our bit for wildlife, however small our gardens, and The Butterfly Brothers know just how that can be achieved." - Alan Titchmarsh
Join the rewilding movement and fill your outdoor space with nature. If we all made a place for wildlife in our garden, we'd boost biodiversity and help combat wildlife habitat loss, plummeting pollinator numbers, and carbon emissions. But it's not just a question of letting the weeds take over - there's an art and balance to rewilding a garden well so that you can enjoy it too.
The Butterfly Brothers are experts at designing wildlife-friendly gardens, and in Wild Your Garden, they show you how to work with nature, support wildlife, and create a self-maintaining outdoor space. Transform a paved-over yard into an oasis, create refuges for endangered species, or turn a high-maintenance lawn into a mini-meadow with the potential to absorb carbon and air pollution.
The projects don't require specialist gardening knowledge or lots of land. Whether you have a large garden or an urban balcony, with the Butterfly Brothers' help, you can rewild your own little corner of the planet.
Published:

21 July 2020

ISBN:

9780241435816

Imprint:

Dorling Kindersley

Format:

Hardback

Pages:

192

RRP:

$32.99
Praise for Wild Your Garden
Learn how to turn your outdoor space into a haven for wildlife with easy-to-follow projects from The Butterfly Brothers

Gardens Illustrated
Re-wilding the garden is a real buzz topic among gardeners, and this latest book by The Butterfly Brothers goes into great depth about how to do it.

Garden Answers
This new book by The Butterfly Brothers shows how to unlock the potential in your garden and boost local biodiversity. From transforming a paved area into a lush oasis to support native species to turning a lawn into a nectar-rich mini meadow, the brothers guide you every step of the way.

Woman's Weekly
Loaded with ways to promote biodiversity, the hardback will help you boost the fauna in your outdoor space, whether it's a palatial plot or a bijou balcony. balcony. From digging your own pond to building an insect hotel, the brothers will show you how to create a lush oasis for nature, and reduce your carbon footprint too.

Your Home