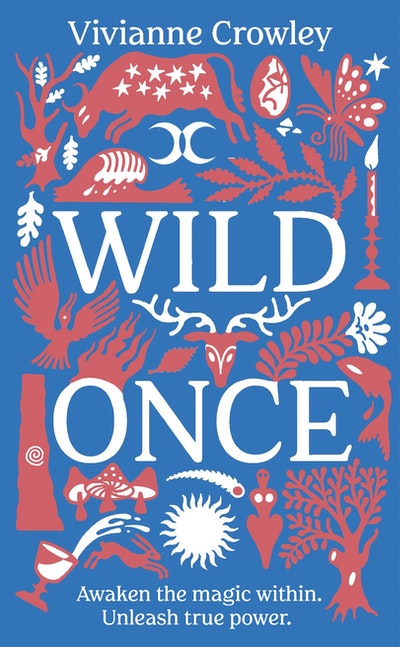 Published:

12 April 2022

ISBN:

9781529124903

Imprint:

Century

Format:

Trade Paperback

Pages:

320

RRP:

$29.99
Wild Once
---
---
---
A powerful and inspiring memoir about discovering inner wildness through witchcraft
What secret power is hiding within you?
There is an untamed wildness within each of us. Once found and nurtured, this wild power can lead to true and boundless freedom, creativity and purpose, and discovery of your deepest inner wisdom.
Witch, high priestess, doctor of psychology: Vivianne Crowley has been given many labels over the years. Wild Once is the extraordinary and inspiring memoir of a life lived magically, of adventures into the unknown and of finding spiritual nourishment through reconnection with the natural world. It shows what can happen when you have the courage to step into the unexplainable and live untamed.
It is also an evocative, intricate account of a hidden world, a rich tour of modern magical practices, from meditation to manifestation, shamanism to spellwork. Magic is waiting to be discovered. It is here, just beneath the surface, if only you know where to look...
We all have wild magic within us; this book will inspire you to find it.
Published:

12 April 2022

ISBN:

9781529124903

Imprint:

Century

Format:

Trade Paperback

Pages:

320

RRP:

$29.99
Utterly contemporary, yet drawing on ancient wisdom, this book speaks to all who are concerned about the fate of humanity and who are looking for meaning in their lives.

Philip Carr-Gomm, author of 'The Prophecies' and 'DruidCraft: The Magic of Wicca & Druidry'
This is the best book on the experience of magic that I have ever read, a result made possible by the author's equal prowess as a scientist and a poet, and her extraordinary variety of training and practice in different traditions.

Ronald Hutton, author of The Pagan Religions of the Ancient British Isles
I can wholeheartedly recommend Wild Once. Her notion that magic is not an arcane and secretive discipline, but a practical sensibility that she calls 'Magical Spirtuality', which can be acquired by almost anyone and leads to a fundamentally richer and more rewarding life matches my own experience. When writing The Book of English Magic I interviewed over twenty people (Vivianne included) who had made this journey and could explain in simple terms what it involves. Inevitably I took to following their examples and my life changed for ever. Read the book and the same thing may happen to you.

Richard Heygate, author of The Book of English Magic
Wild Once will take you inside the soul of one of the most famous of modern witches. Filled with anecdotes and insights that are both wonderfully inspirational and highly practical - if you have ever wondered what it's like to be a witch in Real Life, just read this book!

Rodney Orpheus, member of The Cassandra Complex
Fortunately, there are luminous guides like Vivianne Crowley who know how to show us the hidden path to ancient magic, Wicca and Paganism. In "Wild Once" she combines profound spiritual knowledge with personal experiences and takes us on a magical journey. A field guide to the realm of magic and simply a must read.

Oliver Satyr, member of Faun
Wild Once is a delightful memoir of a magical life, a coming of age tale of mysteries, secrets, inner awakenings and outer experiences that offers entry ways into our own untapped potential for the mystical, beautiful, and sacred. From discovering the hidden life of nature to casting spells, Vivianne Crowley leads the reader into some unusual places indeed, and provides a friendly guide to getting to know their inhabitants. But surely the title is misleading? The author was clearly wild more than once. And if the reader of this book hasn't been, she soon will be after reading it.

Gary Lachman, former Blondie bassist, author of Aleister Crowley: Magick, Rock and Roll, and the Wickedest Man in the World, Jung the Mystic, and The Secret Teachers of the Western World.
Vivianne Crowley, a wise Witch and Priestess, has crafted a memoir of beautifully told tales about her magical and well-lived life that will awaken the magic within and guide you to the enchanted adventure that awaits.

Phyllis Curott, Priestess of Ara, author of The Witches' Wisdom Tarot
All over the developed world, young people are seeking wisdom, spirituality, enlightenment. Women in particular have been reclaiming their identity as witches - clumsily, but also intuitively, hopefully. There could be no better guide for all such seekers than Vivianne Crowley. In this heartfelt and often beautiful memoir, she shares her own story, without dogma, but with an enormous and tolerant wisdom. Witches, look no further! This is the guide you need.

Diane Purkiss