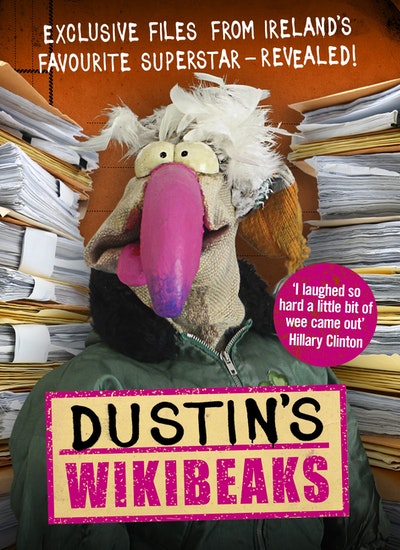 Published:

15 November 2017

ISBN:

9781848272446

Imprint:

Transworld Ireland

Format:

Trade Paperback

Pages:

128

RRP:

$27.99
Wikibeaks
---
---
The first ever book from Ireland's biggest feathered megastar. Nobody is safe from Dustin's poisoned quill.
'If this doesn't win the Man Booker Prize I'll write a follow up' - Dustin
Wikibeaks is the first book from Ireland's biggest megastar, Dustin the Turkey. Destined to see Dustin's name added to the long list of Irish literary greats (Joyce, Yeats, Swift, Banville and Pippa) it will see the feathered one take his mighty pen to the Ireland he has helped shape over his 25 years as a national treasure.
Wikibeaks exposes the real Ireland - and Dustin's central place in it - like no other book has done before. Featuring top secret exposés from the newly released Wikibeaks PIGs files, unreleased entries from the popular KipAdvisor website, and exclusive RTE Guide Dogs interviews with Ireland's top canine celebrities - as well as Dermot Bannon Does the Famine, Beach Yoga with Van Morrison, and much, much less. Dustin also talks about his plans for world domination, one Den presenter at a time; tells all about his notorious love life; and takes us behind the scenes at that Eurovision appearance.
With a foreword from Zig and Zag, Wikibeaks will take the publishing world by storm as many of Dustin's loyal fans find themselves in bookshops for the very first time, robbing copies of a book that will in time make its way on to The Leaving Cert.
Printed on paper from the very same tree from which RTE carved Pat Kenny, this won't just be the publishing event of the decade, it will be so much more, triggering Britain to stop Brexiting, as instead they see sense and offer themselves over to Ireland via a complicated tax deal with Apple and Bono. Wikibeaks will be for Irish publishing what the comments section on thejournal.ie has been for free speech.
Published:

15 November 2017

ISBN:

9781848272446

Imprint:

Transworld Ireland

Format:

Trade Paperback

Pages:

128

RRP:

$27.99