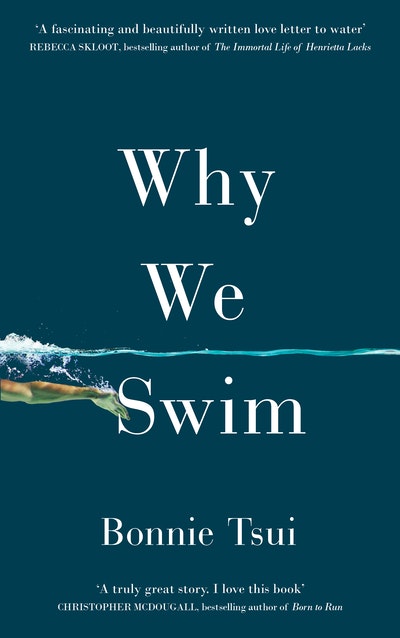 Published:

16 April 2020

ISBN:

9781846046599

Imprint:

Rider

Format:

Trade Paperback

Pages:

288

RRP:

$35.00
Why We Swim
---
---
---
A fascinating exploration into the human relationship to swimming and our innate connection to water.
'An enthusiastic and thoughtful work' The New York Times
'A beautifully written love letter to water and a fascinating story. I was enchanted.' Rebecca Skloot, bestselling author of The Immortal Life of Henrietta Lacks
Take a dive into the deep with writer and swimmer Bonnie Tsui and discover what it is about water that seduces us, heals us and brings us together.
Our evolutionary ancestors swam for survival. Now we swim in freezing Arctic waters, wide channels, and piranha-infested rivers just because they are there. Swimming is an introspective and quiet sport in a chaotic age. It is therapeutic for those who are injured and it is one route to that elusive, ecstatic state of Flow.
Propelled by stories of polar swim champions, a Baghdad swim club, Olympian athletes, modern-day samurai swimmers and even an Icelandic fisherman who improbably survived a six-hour swim in the wintry Atlantic, Why We Swim takes us around the globe in a remarkable, all-encompassing account of the world of swimming.
Published:

16 April 2020

ISBN:

9781846046599

Imprint:

Rider

Format:

Trade Paperback

Pages:

288

RRP:

$35.00
Magnificent. Only a truly great story can hold my attention and Why We Swim had me nailed to the chair . . . I love this book.

Christopher McDougall, bestselling author of Born to Run
A beautifully written love letter to water and a fascinating story. I was enchanted.

Rebecca Skloot, bestselling author of The Immortal Life of Henrietta Lacks
The only thing better than reading Bonnie Tsui's writing about swimming is swimming itself-and both are sublime. Why We Swim is an aquatic tour de force, a captivating story filled with adventure, meditation, and celebration.

Susan Casey, New York Times bestselling author of The Wave and Voices in the Ocean
This is a jewel of a book, a paean to the wonders of water and our place within it.

James Nestor, author of Deep: Freediving, Renegade Science, and What the Ocean Tells Us about Ourselves
Why We Swim is a gorgeous hybrid of a book. Bonnie Tsui combines fascinating reporting about some of the world's most remarkable swimmers with delightful meditations about what it means for us naked apes to leap in the water for no apparent reason. You won't regret diving in.

Carl Zimmer, author of She Has Her Mother's Laugh: The Powers, Perversions, and Potential of Heredity
Drawing on personal experience, history, biology, and social science, [Tsui] conveys the appeal of 'an unflinching giving-over to an element.' An absorbing, wide-ranging story of humans' relationship with the water

Kirkus Reviews
Eclectic, well-crafted . . . Readers will enjoy getting to know the people and the facts presented in this fascinating book

Publishers Weekly
Tsui is a poetic writer whose flowing, immersive prose and colorful storytelling will hold significant appeal for readers--especially swimmers--of all curiosities

Shelf Awareness
Tsui's history of the human relationship with water is compelling and profound, in writing so fluid it mimics the flow of her subject

BuzzFeed
Why We Swim is a celebration of the many varieties of joy that swimming brings to our oxygen-breathing species

Foreword Reviews
A thoughtful, moving, beautifully written ode to the aquatic art

San Francisco Chronicle
An enthusiastic and thoughtful work ... glorious

The New York Times
A thoughtful inquiry into human nature

Bustle
Why We Swim flows beautifully ... Tsui is an excellent storyteller and she captures the narrative quality of swimming: the way you move through your swim, whether in a pool or lake or ocean, as your rhythm constantly changes, or the birds fly overhead, or your mind drifts from counting strokes to daydreaming

Literary Review
A love letter to the healing qualities and timeless joy of slipping into the water

The Irish Times