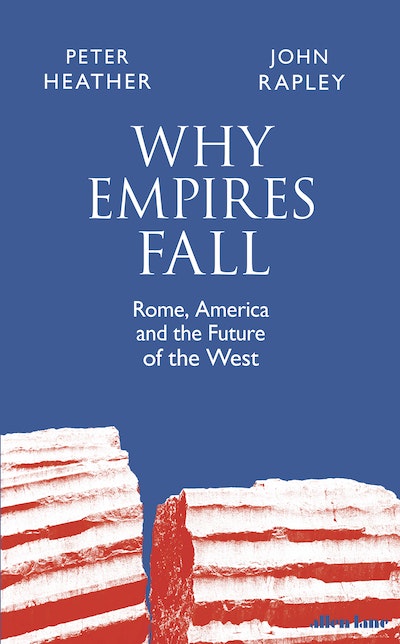 Published:

29 August 2023

ISBN:

9780241407493

Imprint:

Allen Lane

Format:

Hardback

Pages:

208

RRP:

$45.00
Why Empires Fall
Rome, America and the Future of the West
---
---
---
Why did Rome fall - and what can it teach us about the decline of the West today? A historian and a political economist investigate
Over the last three centuries, the West rose to dominate the planet. Then, suddenly, around the turn of the millennium, history reversed. Faced with economic stagnation and internal political division, the West has found itself in rapid decline.
This is not the first time the global order has witnessed such a dramatic rise and fall. The Roman Empire followed a similar arc from dizzying power to disintegration - a fact that is more than a strange historical coincidence. In Why Empires Fall, historian Peter Heather and political economist John Rapley use this Roman past to think anew about the contemporary West, its state of crisis, and what paths we could take out of it.
In this exceptional, transformative intervention, Heather and Rapley explore the uncanny parallels - and productive differences - between the two cases, moving beyond the familiar tropes of invading barbarians and civilizational decay to learn new lessons from ancient history. From 399 to 1999, the life cycles of empires, they argue, sow the seeds of their inevitable destruction. The era of western global domination has reached its end - so what comes next?
Published:

29 August 2023

ISBN:

9780241407493

Imprint:

Allen Lane

Format:

Hardback

Pages:

208

RRP:

$45.00
Praise for Why Empires Fall
Two experienced scholars lucidly engage in contemporary debates about the future of the West and its parallels to the Roman Empire. This is comparative history done right.

David Potter, author of DISRUPTION: WHY THINGS CHANGE
Two experienced scholars lucidly engage in contemporary debates about the future of the West and its parallels to the Roman Empire. This is comparative history done right.

David Potter, author of DISRUPTION: WHY THINGS CHANGE
Two experienced scholars lucidly engage in contemporary debates about the future of the West and its parallels to the Roman Empire. This is comparative history done right.

David Potter, author of DISRUPTION: WHY THINGS CHANGE
Two experienced scholars lucidly engage in contemporary debates about the future of the West and its parallels to the Roman Empire. This is comparative history done right.

David Potter, author of DISRUPTION: WHY THINGS CHANGE
Two experienced scholars lucidly engage in contemporary debates about the future of the West and its parallels to the Roman Empire. This is comparative history done right.

David Potter, author of DISRUPTION: WHY THINGS CHANGE
A useful post-Gibbonian primer in why things went wrong for the Romans - Heather's scholarship shines through its pages ... an interesting polemic.

Simon Heffer, Daily Telegraph
A useful post-Gibbonian primer in why things went wrong for the Romans - Heather's scholarship shines through its pages ... an interesting polemic.

Simon Heffer, Daily Telegraph
A useful post-Gibbonian primer in why things went wrong for the Romans - Heather's scholarship shines through its pages ... an interesting polemic.

Simon Heffer, Daily Telegraph
A useful post-Gibbonian primer in why things went wrong for the Romans - Heather's scholarship shines through its pages ... an interesting polemic.

Simon Heffer, Daily Telegraph
A useful post-Gibbonian primer in why things went wrong for the Romans - Heather's scholarship shines through its pages ... an interesting polemic.

Simon Heffer, Daily Telegraph
A fascinating, informative and deeply thoughtful work.

Linda Colley, Financial Times
A fascinating, informative and deeply thoughtful work.

Linda Colley, Financial Times
A fascinating, informative and deeply thoughtful work.

Linda Colley, Financial Times
A fascinating, informative and deeply thoughtful work.

Linda Colley, Financial Times
A fascinating, informative and deeply thoughtful work.

Linda Colley, Financial Times
Enlightening ... Heather and Rapley's book is not pessimistic. It does not predict a collapse of the West analogous to the tragic collapse of Rome in the fifth century. On the contrary, it offers a penetrating historical analogy as a tool for reading the present, so that it can help us avoid the political mistakes of the late empire.

Carlo Rovelli, Corriere della Sera
Enlightening ... Heather and Rapley's book is not pessimistic. It does not predict a collapse of the West analogous to the tragic collapse of Rome in the fifth century. On the contrary, it offers a penetrating historical analogy as a tool for reading the present, so that it can help us avoid the political mistakes of the late empire.

Carlo Rovelli, Corriere della Sera
Enlightening ... Heather and Rapley's book is not pessimistic. It does not predict a collapse of the West analogous to the tragic collapse of Rome in the fifth century. On the contrary, it offers a penetrating historical analogy as a tool for reading the present, so that it can help us avoid the political mistakes of the late empire.

Carlo Rovelli, Corriere della Sera
Enlightening ... Heather and Rapley's book is not pessimistic. It does not predict a collapse of the West analogous to the tragic collapse of Rome in the fifth century. On the contrary, it offers a penetrating historical analogy as a tool for reading the present, so that it can help us avoid the political mistakes of the late empire.

Carlo Rovelli, Corriere della Sera
Enlightening ... Heather and Rapley's book is not pessimistic. It does not predict a collapse of the West analogous to the tragic collapse of Rome in the fifth century. On the contrary, it offers a penetrating historical analogy as a tool for reading the present, so that it can help us avoid the political mistakes of the late empire.

Carlo Rovelli, Corriere della Sera
[A] provocative short book . . . with a novel twist.

The Economist
[A] provocative short book . . . with a novel twist.

The Economist
[A] provocative short book . . . with a novel twist.

The Economist
[A] provocative short book . . . with a novel twist.

The Economist
[A] provocative short book . . . with a novel twist.

The Economist
[A] fascinating book.

Martin Wolf, Financial Times, 'Best Summer Books of 2023: Economics'
[A] fascinating book.

Martin Wolf, Financial Times, 'Best Summer Books of 2023: Economics'
[A] fascinating book.

Martin Wolf, Financial Times, 'Best Summer Books of 2023: Economics'
[A] fascinating book.

Martin Wolf, Financial Times, 'Best Summer Books of 2023: Economics'
[A] fascinating book.

Martin Wolf, Financial Times, 'Best Summer Books of 2023: Economics'
A short, sober (and sobering) account of where we are now and where we might be heading ... lucid and absorbing ... jaw-dropping facts and figures.

Carlos F. Noreña, Times Literary Supplement
A short, sober (and sobering) account of where we are now and where we might be heading ... lucid and absorbing ... jaw-dropping facts and figures.

Carlos F. Noreña, Times Literary Supplement
A short, sober (and sobering) account of where we are now and where we might be heading ... lucid and absorbing ... jaw-dropping facts and figures.

Carlos F. Noreña, Times Literary Supplement
A short, sober (and sobering) account of where we are now and where we might be heading ... lucid and absorbing ... jaw-dropping facts and figures.

Carlos F. Noreña, Times Literary Supplement
A short, sober (and sobering) account of where we are now and where we might be heading ... lucid and absorbing ... jaw-dropping facts and figures.

Carlos F. Noreña, Times Literary Supplement
This essay has changed my view both of the past and the present ... It's convincing and relevant to the west today.

Carlo Rovelli, The Observer
This essay has changed my view both of the past and the present ... It's convincing and relevant to the west today.

Carlo Rovelli, The Observer
This essay has changed my view both of the past and the present ... It's convincing and relevant to the west today.

Carlo Rovelli, The Observer
This essay has changed my view both of the past and the present ... It's convincing and relevant to the west today.

Carlo Rovelli, The Observer
This essay has changed my view both of the past and the present ... It's convincing and relevant to the west today.

Carlo Rovelli, The Observer