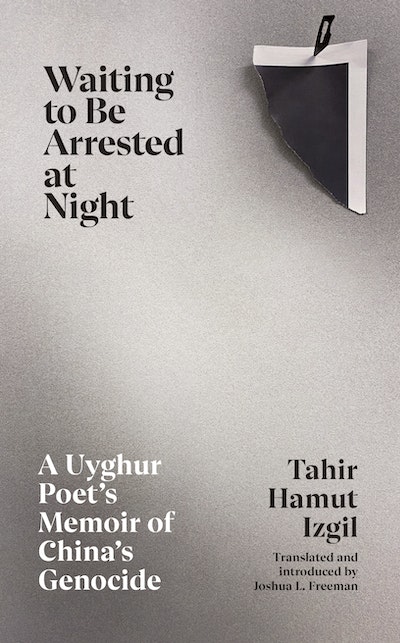 Published:

31 October 2023

ISBN:

9781787334021

Imprint:

Jonathan Cape

Format:

Trade Paperback

Pages:

272

RRP:

$36.99
Waiting to Be Arrested at Night
A Uyghur Poet's Memoir of China's Genocide
---
---
---
A Uyghur poet's piercing memoir of life under the most coercive surveillance regime in history
A Uyghur poet's piercing memoir of life under the most coercive surveillance regime in history
***LITHUB'S #1 BEST-REVIEWED NON-FICTION BOOK OF 2023***
'Essential reading'
AI WEIWEI, author of 1000 Years of Joys and Sorrows
'Deserves to be read widely'
FINANCIAL TIMES
If you took an Uber in Washington DC a few years ago, there's a chance your driver was one of the greatest living Uyghur poets, and one of only a handful from his minority Muslim community to escape the genocide being visited upon his homeland in western China.
A successful filmmaker, innovative poet and prominent intellectual, Tahir Hamut Izgil had long been acquainted with state surveillance and violence, having spent three years in a labour camp on fabricated charges.
But in 2017, the Chinese government's repression of its Uyghur citizens assumed a terrifying new intensity: critics were silenced; conversations became hushed; passports were confiscated; and Uyghurs were forced to provide DNA samples and biometric data.
As Izgil's friends disappeared one by one, it became clear that fleeing the country was his family's only hope.
Escape to America spared Izgil's family the internment camps that have swallowed over a million Uyghurs. It also allowed this rare personal testimony of the Xinjiang genocide to reach the wider world.
Waiting to Be Arrested at Night charts the ongoing destruction of a community and a way of life. It is a call for the world to awaken to a humanitarian catastrophe, an unforgettable story of courage, escape and survival, and a moving tribute to Izgil's friends and fellow Uyghurs whose voices have been silenced.
Published:

31 October 2023

ISBN:

9781787334021

Imprint:

Jonathan Cape

Format:

Trade Paperback

Pages:

272

RRP:

$36.99
Praise for Waiting to Be Arrested at Night
This powerful and poignant memoir is an instant classic. He lays bare the vicious genocidal persecution of the precious Uyghur people in a very personal and persuasive way

Cornel West, author of Democracy Matters
This powerful and poignant memoir is an instant classic. He lays bare the vicious genocidal persecution of the precious Uyghur people in a very personal and persuasive way

Cornel West, author of Democracy Matters
This powerful and poignant memoir is an instant classic. He lays bare the vicious genocidal persecution of the precious Uyghur people in a very personal and persuasive way

Cornel West, author of Democracy Matters
This powerful and poignant memoir is an instant classic. He lays bare the vicious genocidal persecution of the precious Uyghur people in a very personal and persuasive way

Cornel West, author of Democracy Matters
Elegiac and deeply courageous, a most powerful literary indictment of the unfettered power of the state. A remarkable book

Philippe Sands, author of East West Street
Elegiac and deeply courageous, a most powerful literary indictment of the unfettered power of the state. A remarkable book

Philippe Sands, author of East West Street
Elegiac and deeply courageous, a most powerful literary indictment of the unfettered power of the state. A remarkable book

Philippe Sands, author of East West Street
Elegiac and deeply courageous, a most powerful literary indictment of the unfettered power of the state. A remarkable book

Philippe Sands, author of East West Street
To call this merely 'a good book' is an understatement - it is essential reading

Ai Weiwei, author of 1000 Years of Joys and Sorrows
To call this merely 'a good book' is an understatement - it is essential reading

Ai Weiwei, author of 1000 Years of Joys and Sorrows
To call this merely 'a good book' is an understatement - it is essential reading

Ai Weiwei, author of 1000 Years of Joys and Sorrows
To call this merely 'a good book' is an understatement - it is essential reading

Ai Weiwei, author of 1000 Years of Joys and Sorrows
I was riveted and chastened by Tahir Hamut Izgil's memoir. Izgil's crystalline, courageous prose is a wake-up call for everyone invested in the myth - and also the possibility - of freedom

Tracy K. Smith, Poet Laureate of the United States of America
I was riveted and chastened by Tahir Hamut Izgil's memoir. Izgil's crystalline, courageous prose is a wake-up call for everyone invested in the myth - and also the possibility - of freedom

Tracy K. Smith, Poet Laureate of the United States of America
I was riveted and chastened by Tahir Hamut Izgil's memoir. Izgil's crystalline, courageous prose is a wake-up call for everyone invested in the myth - and also the possibility - of freedom

Tracy K. Smith, Poet Laureate of the United States of America
I was riveted and chastened by Tahir Hamut Izgil's memoir. Izgil's crystalline, courageous prose is a wake-up call for everyone invested in the myth - and also the possibility - of freedom

Tracy K. Smith, Poet Laureate of the United States of America
A terrifying, compelling read of one family's efforts to escape the jaws that were closing around them

Ian Johnson, author of The Souls of China
A terrifying, compelling read of one family's efforts to escape the jaws that were closing around them

Ian Johnson, author of The Souls of China
A terrifying, compelling read of one family's efforts to escape the jaws that were closing around them

Ian Johnson, author of The Souls of China
A terrifying, compelling read of one family's efforts to escape the jaws that were closing around them

Ian Johnson, author of The Souls of China
Even if we can't comprehend why this tragedy is happening in Xinjiang, Tahir Hamut Izgil reminds us why it matters

Peter Hessler, author of River Town
Even if we can't comprehend why this tragedy is happening in Xinjiang, Tahir Hamut Izgil reminds us why it matters

Peter Hessler, author of River Town
Even if we can't comprehend why this tragedy is happening in Xinjiang, Tahir Hamut Izgil reminds us why it matters

Peter Hessler, author of River Town
Even if we can't comprehend why this tragedy is happening in Xinjiang, Tahir Hamut Izgil reminds us why it matters

Peter Hessler, author of River Town
An essential testimony to one of the defining crimes against humanity of the twenty-first century so far. The poet Tahir Hamut Izgil is one of the few Uyghurs who escaped just in time to tell us

Philip Gourevitch, author of We Wish to Inform You That Tomorrow We Will Be Killed With Our Families
An essential testimony to one of the defining crimes against humanity of the twenty-first century so far. The poet Tahir Hamut Izgil is one of the few Uyghurs who escaped just in time to tell us

Philip Gourevitch, author of We Wish to Inform You That Tomorrow We Will Be Killed With Our Families
An essential testimony to one of the defining crimes against humanity of the twenty-first century so far. The poet Tahir Hamut Izgil is one of the few Uyghurs who escaped just in time to tell us

Philip Gourevitch, author of We Wish to Inform You That Tomorrow We Will Be Killed With Our Families
An essential testimony to one of the defining crimes against humanity of the twenty-first century so far. The poet Tahir Hamut Izgil is one of the few Uyghurs who escaped just in time to tell us

Philip Gourevitch, author of We Wish to Inform You That Tomorrow We Will Be Killed With Our Families
An exceptionally powerful, profoundly lyrical and beautifully translated book - I urge you to read it

Julia Lovell, author of Maoism: A Global History
An exceptionally powerful, profoundly lyrical and beautifully translated book - I urge you to read it

Julia Lovell, author of Maoism: A Global History
An exceptionally powerful, profoundly lyrical and beautifully translated book - I urge you to read it

Julia Lovell, author of Maoism: A Global History
An exceptionally powerful, profoundly lyrical and beautifully translated book - I urge you to read it

Julia Lovell, author of Maoism: A Global History
A vital and urgent book about the tragedy of the Uyghur people, abandoned by the world and brutally oppressed by the Chinese government. The voice of Tahir Hamut Izgil is one that must be heard

Janine di Giovanni, author of The Morning They Came for Us
A vital and urgent book about the tragedy of the Uyghur people, abandoned by the world and brutally oppressed by the Chinese government. The voice of Tahir Hamut Izgil is one that must be heard

Janine di Giovanni, author of The Morning They Came for Us
A vital and urgent book about the tragedy of the Uyghur people, abandoned by the world and brutally oppressed by the Chinese government. The voice of Tahir Hamut Izgil is one that must be heard

Janine di Giovanni, author of The Morning They Came for Us
A vital and urgent book about the tragedy of the Uyghur people, abandoned by the world and brutally oppressed by the Chinese government. The voice of Tahir Hamut Izgil is one that must be heard

Janine di Giovanni, author of The Morning They Came for Us
A lived-in page-turner with the slow, grim boil of a Le Carré novel (no shooting, but no hope of justice either, with plenty of code words and offstage violence). Lucid and quietly terrifying

Washington Post
A lived-in page-turner with the slow, grim boil of a Le Carré novel (no shooting, but no hope of justice either, with plenty of code words and offstage violence). Lucid and quietly terrifying

Washington Post
A lived-in page-turner with the slow, grim boil of a Le Carré novel (no shooting, but no hope of justice either, with plenty of code words and offstage violence). Lucid and quietly terrifying

Washington Post
A lived-in page-turner with the slow, grim boil of a Le Carré novel (no shooting, but no hope of justice either, with plenty of code words and offstage violence). Lucid and quietly terrifying

Washington Post
More than just a memoir... It is also the story of the Uyghur people and the political, social, and cultural destruction of their homeland by the Chinese state

TIME
More than just a memoir... It is also the story of the Uyghur people and the political, social, and cultural destruction of their homeland by the Chinese state

TIME
More than just a memoir... It is also the story of the Uyghur people and the political, social, and cultural destruction of their homeland by the Chinese state

TIME
More than just a memoir... It is also the story of the Uyghur people and the political, social, and cultural destruction of their homeland by the Chinese state

TIME
An outlier among books about human rights. This is in effect a psychological thriller, although the narrative unfolds like a classic horror movie as relative normalcy dissolves into a nightmare

Barbara Demick, author of Nothing to Envy, New York Times
An outlier among books about human rights. This is in effect a psychological thriller, although the narrative unfolds like a classic horror movie as relative normalcy dissolves into a nightmare

Barbara Demick, author of Nothing to Envy, New York Times
An outlier among books about human rights. This is in effect a psychological thriller, although the narrative unfolds like a classic horror movie as relative normalcy dissolves into a nightmare

Barbara Demick, author of Nothing to Envy, New York Times
An outlier among books about human rights. This is in effect a psychological thriller, although the narrative unfolds like a classic horror movie as relative normalcy dissolves into a nightmare

Barbara Demick, author of Nothing to Envy, New York Times
So much more than a thrilling account of a great escape. It is nothing less than a call to the West not to look away from one of the most terrible genocides of our times

Sunday Times
So much more than a thrilling account of a great escape. It is nothing less than a call to the West not to look away from one of the most terrible genocides of our times

Sunday Times
So much more than a thrilling account of a great escape. It is nothing less than a call to the West not to look away from one of the most terrible genocides of our times

Sunday Times
So much more than a thrilling account of a great escape. It is nothing less than a call to the West not to look away from one of the most terrible genocides of our times

Sunday Times
A heart-wrenching but beautifully written memoir

Daily Telegraph
A heart-wrenching but beautifully written memoir

Daily Telegraph
A heart-wrenching but beautifully written memoir

Daily Telegraph
A heart-wrenching but beautifully written memoir

Daily Telegraph
Izgil's memoir is a story about how to survive in, and to negotiate one's way through, a society in which repression has become routine, and the power of the state is unfettered. The book's restraint is also its strength

Guardian
Izgil's memoir is a story about how to survive in, and to negotiate one's way through, a society in which repression has become routine, and the power of the state is unfettered. The book's restraint is also its strength

Guardian
Izgil's memoir is a story about how to survive in, and to negotiate one's way through, a society in which repression has become routine, and the power of the state is unfettered. The book's restraint is also its strength

Guardian
Izgil's memoir is a story about how to survive in, and to negotiate one's way through, a society in which repression has become routine, and the power of the state is unfettered. The book's restraint is also its strength

Guardian
A compelling account of Izgil's ultimately successful escape to the US. It is a story of mounting fear, as friends disappear one by one, and he and others take to sleeping next to a pile of warm clothes that they can hastily put on if the doorbell rings in the night

Prospect
A compelling account of Izgil's ultimately successful escape to the US. It is a story of mounting fear, as friends disappear one by one, and he and others take to sleeping next to a pile of warm clothes that they can hastily put on if the doorbell rings in the night

Prospect
A compelling account of Izgil's ultimately successful escape to the US. It is a story of mounting fear, as friends disappear one by one, and he and others take to sleeping next to a pile of warm clothes that they can hastily put on if the doorbell rings in the night

Prospect
A compelling account of Izgil's ultimately successful escape to the US. It is a story of mounting fear, as friends disappear one by one, and he and others take to sleeping next to a pile of warm clothes that they can hastily put on if the doorbell rings in the night

Prospect
In the elegant, elliptical poems that appear throughout the text – translated, like the rest of the memoir, with great skill and subtlety by Joshua L. Freeman – Tahir both acknowledges and transforms the worsening political situation. Perhaps one of the most remarkable aspects of the book is its refreshing lack of political rhetoric: there are no pronouncements on the great evil of the Chinese state. Tahir lets the awful facts speak for themselves

Times Literary Supplement
In the elegant, elliptical poems that appear throughout the text – translated, like the rest of the memoir, with great skill and subtlety by Joshua L. Freeman – Tahir both acknowledges and transforms the worsening political situation. Perhaps one of the most remarkable aspects of the book is its refreshing lack of political rhetoric: there are no pronouncements on the great evil of the Chinese state. Tahir lets the awful facts speak for themselves

Times Literary Supplement
In the elegant, elliptical poems that appear throughout the text – translated, like the rest of the memoir, with great skill and subtlety by Joshua L. Freeman – Tahir both acknowledges and transforms the worsening political situation. Perhaps one of the most remarkable aspects of the book is its refreshing lack of political rhetoric: there are no pronouncements on the great evil of the Chinese state. Tahir lets the awful facts speak for themselves

Times Literary Supplement
In the elegant, elliptical poems that appear throughout the text – translated, like the rest of the memoir, with great skill and subtlety by Joshua L. Freeman – Tahir both acknowledges and transforms the worsening political situation. Perhaps one of the most remarkable aspects of the book is its refreshing lack of political rhetoric: there are no pronouncements on the great evil of the Chinese state. Tahir lets the awful facts speak for themselves

Times Literary Supplement
Deserves to be read and listened to widely... This is a beautiful read. Izgil's poetic gaze, and the elegant translation by Joshua L Freeman, together produce a compact, compelling prose that pushes you to keep reading on, even as you blink back tears

Financial Times
Deserves to be read and listened to widely... This is a beautiful read. Izgil's poetic gaze, and the elegant translation by Joshua L Freeman, together produce a compact, compelling prose that pushes you to keep reading on, even as you blink back tears

Financial Times
Deserves to be read and listened to widely... This is a beautiful read. Izgil's poetic gaze, and the elegant translation by Joshua L Freeman, together produce a compact, compelling prose that pushes you to keep reading on, even as you blink back tears

Financial Times
Deserves to be read and listened to widely... This is a beautiful read. Izgil's poetic gaze, and the elegant translation by Joshua L Freeman, together produce a compact, compelling prose that pushes you to keep reading on, even as you blink back tears

Financial Times
An urgent tale of survival and subversion

Economist, *Books of the Year*
An urgent tale of survival and subversion

Economist, *Books of the Year*