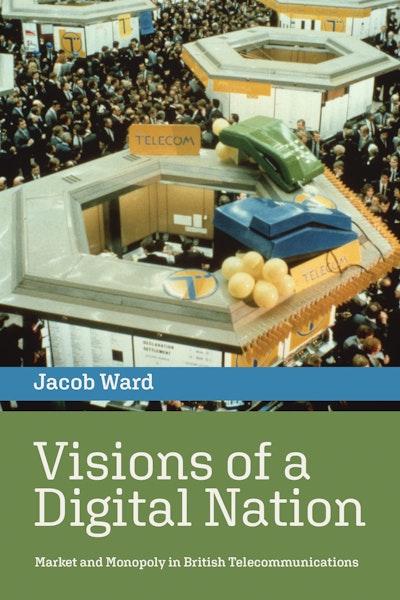 Published:

12 March 2024

ISBN:

9780262546294

Imprint:

MIT Press Academic

Format:

Paperback

Pages:

344

RRP:

$110.00
Visions of a Digital Nation
Market and Monopoly in British Telecommunications
---
---
Why the privatization of British Telecom signaled a pivotal moment in the rise of neoliberalism, and how it was shaped by the longer development and digitalization of Britain's telecommunications infrastructure.
When Margaret Thatcher sold British Telecom for £3.6 billion in 1984, it became not only, at the time, the largest stock flotation in history, but also a watershed moment in the rise of neoliberalism and deregulation. In Visions of a Digital Nation, Jacob Ward offers an incisive interdisciplinary perspective on how technology prefigured this pivot. Giving due consideration to the politicians, engineers, and managers who paved the way for this historic moment, Ward illustrates how the decision validated the privatization of public utilities and tied digital technology to free market rationales.
In this examination of the national and, at times, global history of technology, Ward's approach is sweeping. Utilizing infrastructure studies, environmental history, and urban and local history, Ward explores Britain's nationalist and welfarist plans for a digital information utility and shows how these projects contested and adapted to the "market turn" under Margaret Thatcher. Ultimately, Visions of a Digital Nation compellingly argues that politicians did not impose neoliberalism top-down, but that technology, engineers, and managers shaped these politics from the bottom up.
Published:

12 March 2024

ISBN:

9780262546294

Imprint:

MIT Press Academic

Format:

Paperback

Pages:

344

RRP:

$110.00