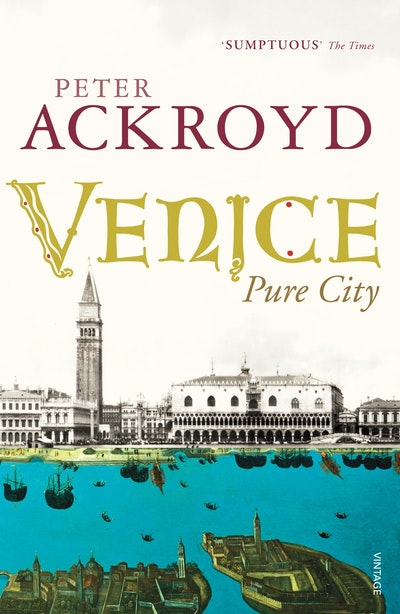 Published:

1 September 2010

ISBN:

9780099422563

Imprint:

Vintage

Format:

Paperback

Pages:

512

RRP:

$35.00
Venice
---
---
Peter Ackroyd at his most magical and magisterial – a glittering, evocative, fascinating, story-filled portrait of Venice: ultimate city.
In this sumptuous vision of Venice, Peter Ackroyd turns his unparalleled skill at evoking place from London and the River Thames, to Italy and the city of myth, mystery and beauty, set like a jewel in its glistening lagoon.His account is at once romantic and packed with facts, conjuring up the atmosphere of the canals, bridges and sunlit squares, the churches and the markets, the fiestas and the flowers.He leads us through the history of the city, from the first refugees arriving in the mists of the lagoon in the fourth century to the rise of a great mercantile state and a trading empire, the wars against Napoleon and the tourist invasions of today.
Everything is here: the merchants on the Rialto and the Jews in the ghetto; the mosaics of St Mark's and the glass blowers of Murano; the carnival masks and the sad colonies of lepers; the doges and the destitute and the artists with their passion for colour and form – Bellini, Titian, Tintoretto, Tiepolo. There are wars and sieges, scandals and seductions, fountains playing in deserted squares and crowds thronging the markets.And there is a dark undertone too, of shadowy corners and dead ends, prisons and punishment.
The language and way of thinking of the Venetians sets them aside from the rest of Italy. They are an island people, linked to the sea and to the tides rather than the land.'The moon rules Venice,' Ackroyd writes: 'It is built on ocean shells and ocean ground; it has the aspect of infinity.It is the floating world… changing and variable and accidental.'This book, like a magic gondola, transports its readers to thatsensual, surprising realm. We could have no better guide – reading Ackroyd's Venice is, in itself, a glorious journey and the perfect holiday.
Published:

1 September 2010

ISBN:

9780099422563

Imprint:

Vintage

Format:

Paperback

Pages:

512

RRP:

$35.00
Peter Ackroyd has the gift of transmuting other men's sober research into the golden sentences that make his books on men and cities so irresistible, entrancing, occasionally weird but undeniably grand...Ackroyd...has turned their diligence into effulgent, mesmeric, satisfying prose

Richard Davenport-Hines, Literary Review
Combative, omnivorous and beady-eyed as ever, the author has no trouble in persuading us, nonetheless, that the 'pure city' is not quite ready to collapse into its primal mud

Jonathan Keates, The Spectator
Decent book ... Ackroyd is acute ...

Tobias Jones, Sunday Times
It is all here, in Ackroyd's dense and articulate prose. He writes in short, sharp sentences, firing out facts with machine-gun speed. He pulls the reader through the city's winding calli on a vivid, frenzied journey of discovery. It is an ever-shifting scenery of stern-faced Dogi, secretive statesman, canny merchants, thieve, whores, artists, geniuses: all jostling for favour in Ackroyd's city of intrigue.... Highly evocative...he writes beautifully and succinctly.

Sarah Vine, Times
We could not have a better tour guide to take us on a journey through the colourful history of 'the bride of the sea. Ackroyd's fans will love his vision of this glorious city

Books Quarterly
Ackroyd has managed... to give us a beautifully crafted, ruminative, well-illustrated, and utterly readable volume...vibrant and evocative

David Laven, History Today
Elegant and erudite

Sebastian Shakespeare, Tatler
Ackroyd's view of Venice is not that of an infatuated lover... but more the magisterial distillation of much knowledge and reading, conveyed in prose that aspires to the glassy elegance of La Serenissima herself

Harry Eyres, Financial Times, Travel books of the year
Opulent, shimmering prose

Celia Brayfield, The Times, Christmas books
Ackroyd, hugely intelligent and industrious, has produced an encyclopaedic account of the sumptuous Italian city

Daily Telegraph
Ackroyd does Venice, his sonorous, scene painting prose advancing in rhythmic columns until no quarter of the city has escaped assimilation.

Ian Pindar, Guardian
Ackroyd's achievement is to bring the city back to life and help you to experience differently. Take it with you next time you visit.

Kate Quill, The Times
His dark tapestry ... deserves a place in every visitor's luggage

Independent
Ackroyd writes about Venice as an idea, with stylish meditations on such topics as time, light, water, sexuality, politics and psychopathology...he writes so well that at times he'd drive you mad - "Venice represented an idea that was itself eternal" - but if you just climb into his gondola and go where he takes you, the rewards are great indeed

Arminta Wallace, The Irish Times
Many books have been written about Venice by authors like Mary McCarthy and Jan Morris. Ackroyd's advantage is his poetic eye

Colin Waters, Sunday Herald
Ackroyd writes beguilingly as he weaves his way around the lagoon, supplying interesting details en route...

Jane Knight, The Times
Yet another wonderful biography of a city

Lesley McDowell, The Independent on Sunday
Ackroyd takes an erudite and entertaining look at the city of doges, gondolas, carnival masks and canals

Eithne Farry, Marie Claire