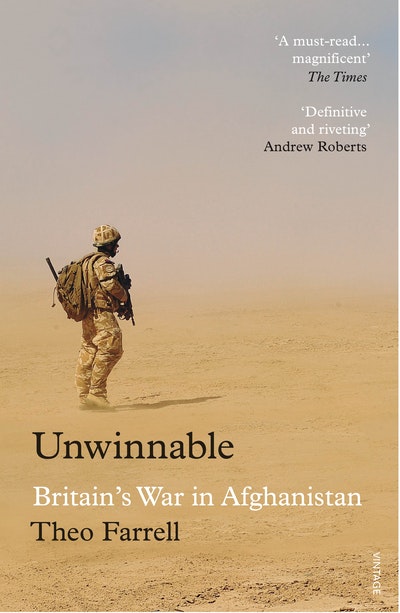 Published:

15 September 2018

ISBN:

9781784701321

Imprint:

Vintage

Format:

Paperback

Pages:

608

RRP:

$35.00
Unwinnable
Britain's War in Afghanistan, 2001–2014
---
---
The definitive, chilling account of Britain's involvement in Afghanistan and the first book to document the entire conflict, from the leading academic expert on the subject.
Afghanistan was an unwinnable war. As British and American troops withdraw, discover this definitive account that explains why.
It could have been a very different story. British forces could have successfully withdrawn from Afghanistan in 2002, having done the job they set out to do: to defeat al-Qaeda. Instead, in the years that followed, Britain paid a devastating price for their presence in Helmand province.
So why did Britain enter, and remain, in an ill-fated war? Why did it fail so dramatically, and was this expedition doomed from the beginning? Drawing on unprecedented access to military reports, government documents and senior individuals, Professor Theo Farrell provides an extraordinary work of scholarship. He explains the origins of the war, details the campaigns over the subsequent years, and examines the West's failure to understand the dynamics of local conflict and learn the lessons of history that ultimately led to devastating costs and repercussions still relevant today.
'The best book so far on Britain's...war in Afghanistan' International Affairs
'Masterful, irrefutable... Farrell records all these military encounters with the irresistible pace of a novelist' Sunday Times

Published:

15 September 2018

ISBN:

9781784701321

Imprint:

Vintage

Format:

Paperback

Pages:

608

RRP:

$35.00
Theo Farrell has written the definitive history of what was effectively the Fourth Anglo-Afghan War. His encyclopaediac knowledge of the thirteen-year-long struggle derives from interviewing many of the key decision-makers – on both sides - as well as an intimate knowledge of all the written sources. Well-sourced, well-written and riveting, Unwinnable should be studied by politicians and in military academies across the West. 'How to' books abound; this is the ultimate 'How not to' book.

Andrew Roberts, author of NAPOLEON THE GREAT
Theo Farrell has written the definitive history of what was effectively the Fourth Anglo-Afghan War. His encyclopaediac knowledge of the thirteen-year-long struggle derives from interviewing many of the key decision-makers – on both sides - as well as an intimate knowledge of all the written sources. Well-sourced, well-written and riveting, Unwinnable should be studied by politicians and in military academies across the West. 'How to' books abound; this is the ultimate 'How not to' book.

Andrew Roberts, author of NAPOLEON THE GREAT
A powerful, perceptive and authoritative account of Britain's military failure in Afghanistan. Farrell delivers a forensic dissection of what went wrong, and why. Unwinnable should be required reading for soldiers, strategists and policymakers for years to come.

Jason Burke, author of THE NEW THREAT FROM ISLAMIC MILITANCY
A powerful, perceptive and authoritative account of Britain's military failure in Afghanistan. Farrell delivers a forensic dissection of what went wrong, and why. Unwinnable should be required reading for soldiers, strategists and policymakers for years to come.

Jason Burke, author of THE NEW THREAT FROM ISLAMIC MILITANCY
Highly readable and penetrating account ... Many of those who served in Afghanistan will wish that they had known some of what Theo has uncovered. For anyone who did not serve there, they could not hope for a better survey of the campaign.

Lt-Gen. Jonathon Riley, Former Deputy Commander of the International Security Assistance Force, Afghanistan
Highly readable and penetrating account ... Many of those who served in Afghanistan will wish that they had known some of what Theo has uncovered. For anyone who did not serve there, they could not hope for a better survey of the campaign.

Lt-Gen. Jonathon Riley, Former Deputy Commander of the International Security Assistance Force, Afghanistan
This penetrating and superbly researched book explains how the United Kingdom came to intervene in Afghanistan, how it tried to meet its objectives, and why these objectives could not be achieved.

Professor Sir Lawrence Freedman, author of STRATEGY: A HISTORY
This penetrating and superbly researched book explains how the United Kingdom came to intervene in Afghanistan, how it tried to meet its objectives, and why these objectives could not be achieved.

Professor Sir Lawrence Freedman, author of STRATEGY: A HISTORY
Masterful. With lucid, pacey prose Theo Farrell brilliantly reveals the political neglect, military hubris and ultimate fallacy of Britain's long war in Afghanistan. Unwinnable captures the frustrating reality of Helmand with remarkable accuracy and will surely be the definitive account for years to come.

Patrick Bury, author of CALLSIGN HADES
Masterful. With lucid, pacey prose Theo Farrell brilliantly reveals the political neglect, military hubris and ultimate fallacy of Britain's long war in Afghanistan. Unwinnable captures the frustrating reality of Helmand with remarkable accuracy and will surely be the definitive account for years to come.

Patrick Bury, author of CALLSIGN HADES
There is a small mountain of books on Britain's Fourth Afghan War and this one stands atop them all; the best single account of the whole conflict. Clear and simply written without ever being simplistic; understanding the courage and resolve of the military without ever being in thrall to it; excoriating political leadership without ever being unfair, this book is a masterclass in world class research as well as being a thoroughly good read.

Professor Michael Clarke, Former Director General of the Royal United Services Institute
There is a small mountain of books on Britain's Fourth Afghan War and this one stands atop them all; the best single account of the whole conflict. Clear and simply written without ever being simplistic; understanding the courage and resolve of the military without ever being in thrall to it; excoriating political leadership without ever being unfair, this book is a masterclass in world class research as well as being a thoroughly good read.

Professor Michael Clarke, Former Director General of the Royal United Services Institute
Remarkable… It is full of anecdotes gleaned from hundreds of diligent interviews with the players on the ground. And for a devotee of military history, it is a delight… Farrell's masterpiece of a must-read… Magnificent

Sherard Cowper-Coles, The Times
Remarkable… It is full of anecdotes gleaned from hundreds of diligent interviews with the players on the ground. And for a devotee of military history, it is a delight… Farrell's masterpiece of a must-read… Magnificent

Sherard Cowper-Coles, The Times
Masterful, irrefutable… [Farrell] records all these military encounters with the irresistible pace of a novelist.

Justin Marozzi, Sunday Times
Masterful, irrefutable… [Farrell] records all these military encounters with the irresistible pace of a novelist.

Justin Marozzi, Sunday Times
A devastating account of the Afghan saga

Simon Jenkins, Guardian
A devastating account of the Afghan saga

Simon Jenkins, Guardian
Authoritative and provocative… For its range and breadth, it is a tour de force and a must read

Robert Fox, Evening Standard
Authoritative and provocative… For its range and breadth, it is a tour de force and a must read

Robert Fox, Evening Standard
Salutary reading for politicians and generals alike

Sir David Bell, Times Higher Education Supplement
Salutary reading for politicians and generals alike

Sir David Bell, Times Higher Education Supplement
As a reminder of how not to prosecute a war in far-off place that has confounded the best efforts of many foreign powers over the centuries, Theo Farrell's Unwinnable: Britain's War in Afghanistan 2001-2014…is surely the last word on the subject

Justin Marozzi, Evening Standard
As a reminder of how not to prosecute a war in far-off place that has confounded the best efforts of many foreign powers over the centuries, Theo Farrell's Unwinnable: Britain's War in Afghanistan 2001-2014…is surely the last word on the subject

Justin Marozzi, Evening Standard
With its broad scope and detail, Unwinnable is akin to an official history in the finest of British historical tradition. In fact, whenever the official history does come out, it will find itself in stiff competition with Farrell's work.

Carter Malkasian, Joint Force Quarterly
With its broad scope and detail, Unwinnable is akin to an official history in the finest of British historical tradition. In fact, whenever the official history does come out, it will find itself in stiff competition with Farrell's work.

Carter Malkasian, Joint Force Quarterly
There have been many books written on this subject, but Farrell's stupendous research, clear vision and succinct writing are likely to outlast them all

Ahmed Rashid, Prospect
There have been many books written on this subject, but Farrell's stupendous research, clear vision and succinct writing are likely to outlast them all

Ahmed Rashid, Prospect
The best book so far on Britain's recent war in Afghanistan...also beautifully written...the new material which Farrell has unearthed is remarkable

Tim Willasey-Wilsey, International Affairs
The best book so far on Britain's recent war in Afghanistan...also beautifully written...the new material which Farrell has unearthed is remarkable

Tim Willasey-Wilsey, International Affairs