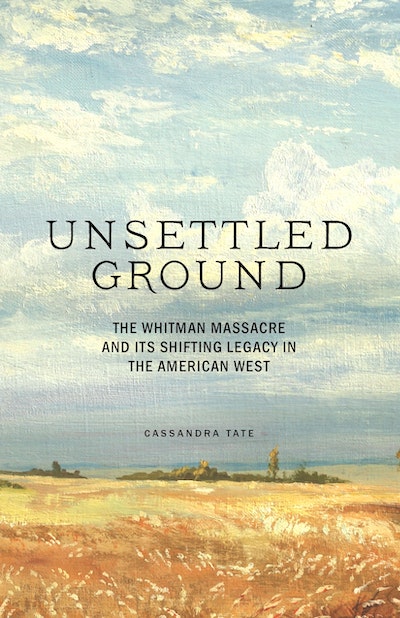 Published:

4 May 2021

ISBN:

9781632172501

Imprint:

Sasquatch

Format:

Hardback

Pages:

304

RRP:

$49.99
Unsettled Ground
The Whitman Massacre and Its Shifting Legacy in the American West
---
---
A nineteenth-century attack by Native Americans on a Presbyterian mission in what would become the Oregon Territory proved to be a turning point in the history of the American West. This book examines the tangled legacy of that event.
"A highly readable, myth-busting, fact-based story. [A] tale for all who love the West, its history and its truths."
—The Inlander
Historian and journalist Cassandra Tate takes a fresh look at the personalities, dynamics, disputes, social pressures, and shifting legacy of the Whitman Massacre—a pivotal event in the history of the American West—including the often-missing Indian point of view.
In 1836, Marcus and Narcissa Whitman, devout missionaries from upstate New York, established a Presbyterian mission on Cayuse Indian land near what is now the fashionable wine capital of Walla Walla, Washington. Eleven years later, a group of Cayuses killed the Whitmans and eleven others in what became known as the Whitman Massacre. The attack led to a war of retaliation against the Cayuse; the extension of federal control over the present-day states of Washington, Oregon, Idaho, and parts of Montana and Wyoming; and martyrdom for the Whitmans. Today, however, the Whitmans are more likely to be demonized as colonizers than revered as heroes. 
"[A] gripping adventure story...Tate's account is a prism that allows us to see the multiple dimensions of a classic frontier conflict."
—Peter Stark, author of Astoria: John Jacob Astor and Thomas Jefferson's Lost Pacific Empire
"[Tate] tells the Cayuse's side of the story with empathy and clarity...She writes with a flair and transparency unusual in such a meticulously researched book."--The Seattle Times
Published:

4 May 2021

ISBN:

9781632172501

Imprint:

Sasquatch

Format:

Hardback

Pages:

304

RRP:

$49.99
Praise for Unsettled Ground
"Unsettled Ground is both the gripping adventure story of a cross-continental journey and a cultural exploration of the collision of two very different ways of life. . . . Told with depth and insight, Tate's account is a prism that allows us to see the multiple dimensions of a classic frontier conflict." —Peter Stark, author of Astoria: John Jacob Astor and Thomas Jefferson's Lost Pacific Empire "I consider Unsettled Ground one of the most important Northwest history books ever written." —John Hughes, Chief Historian, Washington Secretary of State   "Even well-read aficionados of Western history will be surprised and perhaps dismayed by Tate's comprehensive and masterfully layered narrative." —Shannon Applegate, author of Skookum: An Oregon Pioneer Family's History and Lore and Living Among Headstones: Life in a Country Cemetery   "In this overdue era of righting unbalanced histories, Cassandra Tate reexamines a deadly tragedy from the nineteenth-century American West. Unsettled Ground is a riveting blend of intricate research, fresh cultural perspective, and first-rate storytelling." —Dave Boling, author of Guernica and The Lost History of Stars "....by turns moving, evenhanded and lyrical in its evocation of time and place." —Seattle Times "A highly readable, myth-busting, fact-based story. [A] tale for all who love the West, its history and its truths." —The Inlander "Balanced and deeply researched." —Crosscut