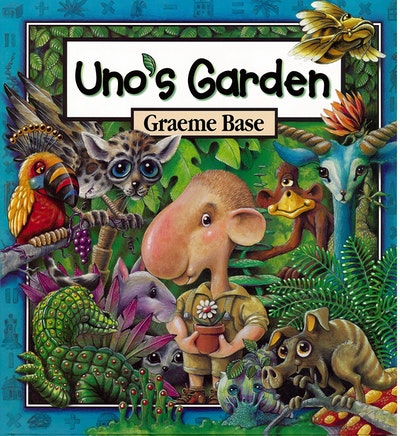 Published:

24 July 2013

ISBN:

9780143501305

Imprint:

Picture Puffin

Format:

Paperback

Pages:

36

RRP:

$19.99
Uno's Garden
---
---
Enter the World of Graeme Base's Magical Forest
Enter the world of Graeme Base's forest, filled with wild and wonderful animals, Uno's unique family and friends – and the elusive Snortlepig!

From the creator of Animalia, The Waterhole, and Jungle Drums, this is no ordinary book. It's an illuminating blend of storybook, puzzle book, and numbers book.


When Uno arrives in the forest one beautiful day, there are many fascinating and extraordinary animals there to greet him. And one entirely unexceptional Snortlepig.

Uno loves the forest so much, he decides to live there. But, in time, a little village grows up around his house. Then a town, then a city . . . and soon Uno realises that the animals and plants have begun to disappear . . .
What Your Child Will Learn and Gain:

This book isn't just a tale; it's an educational experience. Your child will:


*Learn Basic Maths: Understand fundamental numbers and balance.
*Discover Environmental Lessons: See the impact of human activity on nature.
*Explore Ecology: Gain insights into the natural world and its interconnectedness.
*Think Critically: Understand the long-term effects of our choices.
*Foster Compassion: Develop empathy for animals and plants.
*Encourage Problem-Solving: Learn how we can better our surroundings.

Join Graeme Base in this beautifully illustrated, funny and moving story about environment, ecology, and human's ability to affect the world around them — for better and for worse.

Perfect for young children with its cartoon-style, imaginative characters, the book also tackles themes that resonate with older kids, fostering discussions about societal and environmental responsibilities.

Richly detailed illustrations evoke the beauty found in other Base classics, making it a versatile choice as a first reader, a family read-aloud, or a valuable addition to any early-childhood or mid-primary classroom.
'A clever environmental lesson.' Herald Sun
Published:

24 July 2013

ISBN:

9780143501305

Imprint:

Picture Puffin

Format:

Paperback

Pages:

36

RRP:

$19.99