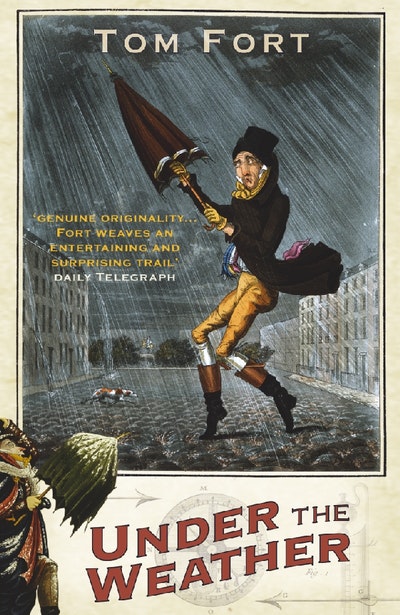 Published:

1 March 2007

ISBN:

9780099461241

Imprint:

Arrow

Format:

Paperback

Pages:

352

RRP:

$27.99
Under the Weather
Us and the Elements
---
---
A humorous journey around Britain discovering the history of the eccentrics, crackpots and visionaries who have tried to measure and predict the weather, meeting people obsessed with the weather today and trying to define the effect of the weather on our national character.
Tom Fort, whose writing has been variously described as 'jocund', 'slightly loopy', ' unbelievably poignant' and 'deeply peculiar', travels around Britain experiencing some of its extremer climates and some of its more typical with a view to explaining what we make and have made of the British weather and what it has made of us.
There are two interlocking strands: the story of those who - moved to an exceptional, sometimes obsessive degree by the fascination felt by so many of us - sought to know and understand our weather; and the story of its impact on us - our history, our culture, the way we think and behave.He focuses on the people - the clergymen, the gentlemen of leisure, the crackpots, visionaries, charlatans and shysters, all now largely or utterly forgotten - who volunteered and toiled for the cause, telling their stories by tracking them down to the places - usually their own gardens - where they indulged their quite passion for measuring rainfall, scrutinising dewdrops, tapping their barometers and peering at their thermometers.Once their age - of the amateur scientist - was over, and the business of weather forecasting was annexed by professionals with state backing it became a less colourful affair.
The historical strand is, in part, a straightforward chronology; an account of the part played by climate in our history; how, when the sun shone and rain fell in gentle abundance, we prospered and multiplied; how, when the climate cooled, bringing wet summers and savage winters, we perished by plague and famine and retreated from places made unbelievable; how in time, as we matured from a rural, peasant society, our weather became less a matter of life and death (though always on absorbing interest).But beyond that there is another dimension to its influence on us - the moral and spiritual one.This is contentious, but intriguing: the extent to which we share as view of 'our weather', and the extent to which it may have shaped us into the people we are.
Published:

1 March 2007

ISBN:

9780099461241

Imprint:

Arrow

Format:

Paperback

Pages:

352

RRP:

$27.99
Praise for Under the Weather
... an entertaining survey of the history of man's ceaseless struggle to answer the big question: do I need to take my Mac?

The Independent
... Good humoured and quietly ... The exchange between Johnson's Englishmen may not, in the end, arrive anywhere in particular, but it goes on to this day.Under the Weather is a worthy addition to that long-lived conversation, and a reminder of how compelling it remains.

Guardian
A great little book about the British obsession with the climate, it's full of fruitful parcels of meteorological lore.

Conde Nast Traveller
... The writing possesses an affable charm and Fort has an appealing layman's enthusiasm for the subject.

Financial Times Magazine
Tom Fort has put together a delightfully discursive book: a gentle rambling through the printed sources interlaced with meetings and outings to give it topicality.

Daily Mail