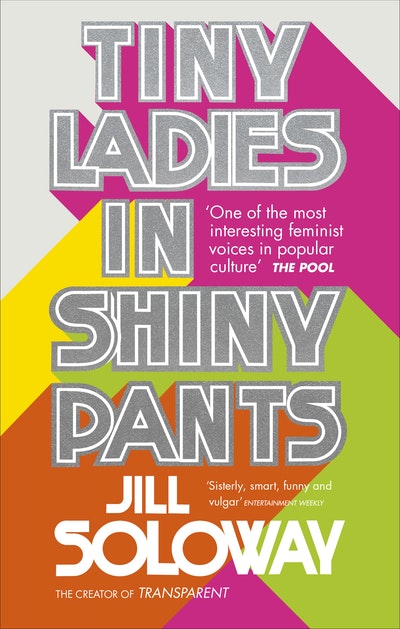 Published:

15 August 2017

ISBN:

9781785032868

Imprint:

Ebury Press

Format:

Paperback

Pages:

272

RRP:

$32.99
Tiny Ladies in Shiny Pants
---
---
A classic collection of hilarious stories from the celebrated writer and director, Jill Soloway.
The unforgettable collection of autobiographical essays from Jill Soloway, the creator and director of Transparent and Emmy-nominated writer for Six Feet Under.
When Jill was just thirteen, she and her best friend donned the tightest satin pants they could find, poufed up their hair and squeezed into Candies heels, then headed to downtown Chicago in search of their one-and-only true loves forever: the members of whichever rock band was touring through town. Never mind that both girls still had braces, coke-bottle-thick glasses and had only just bought their first bras...they were fabulous, they felt beautiful, they were tiny ladies in shiny pants.
But as an all grown up and a successful writer and producer, Jill came to look back on her tiny self and share her shiny tales with fondness, absurdity, and obsessive-compulsive attention to even the most embarrassing details. From the highly personal (conflating her own loss of virginity and the Kobe Bryant accusations), to the political (what she has in common with Monica Lewinsky and Chandra Levy), to the outrageously Los Angelean (why women wear huge diamonds and what they must do to get them),Tiny Ladies in Shiny Pants is a classic genre-defying combination of personal essay and memoir, or a hilarious, unruly and unapologetic evaluation of society, religion, sex and love.
Published:

15 August 2017

ISBN:

9781785032868

Imprint:

Ebury Press

Format:

Paperback

Pages:

272

RRP:

$32.99
Praise for Tiny Ladies in Shiny Pants
Soloway's wickedly entertaining prose and willingness to bare the most amusing, intimate moments of her life reveal the contradictory challenges of being a smart, sexy woman who wants to have it all.

New York Post
Every chapter is a funny and poignant treat. She's not trying to preach, not trying to be a feminist of the moment - she's just figuring out her life in the context of our world, and it transcends.

Sarah Silverman, comedienne
Hilarious, painful, angry and astute - a dryly funny chronicle of one woman's journey to live a meaningful life in an increasingly meaningless culture.

Alan Ball, creator of Six Feet Under
One of the most interesting feminist voices in popular culture

The Pool
Sisterly, smart, funny and vulgar

Entertainment Weekly
A profound delight

Nancy Friday, author of My Secret Garden
Makes you think about feminism in a brand new, completely exciting way

Jane Lynch
Funny, frank

Stylist