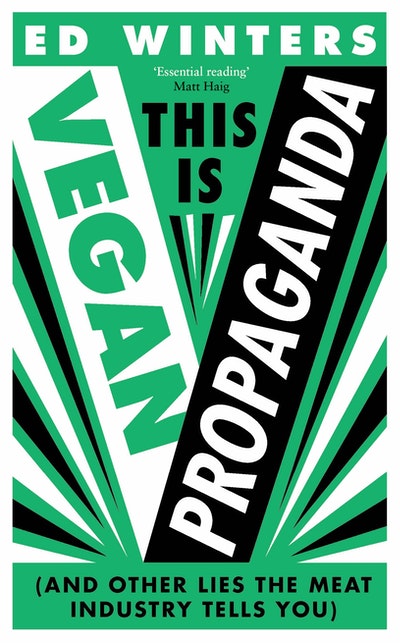 Published:

12 April 2022

ISBN:

9781785043765

Imprint:

Vermilion

Format:

Hardback

Pages:

320

RRP:

$35.00
This Is Vegan Propaganda
(And Other Lies the Meat Industry Tells You)
---
---
---
The first book from vegan activist, educator and influencer, Ed Winters, who has a strong, loyal following on Instagram
Every time we eat, we have the power to radically transform the world we live in.
Our choices can help alleviate the most pressing issues we face today: the climate crisis, infectious and chronic diseases, human exploitation and, of course, non-human exploitation. Undeniably, these issues can be uncomfortable to learn about but the benefits of doing so cannot be overstated. It is quite literally a matter of life and death.
Through exploring the major ways that our current system of animal farming affects the world around us, as well as the cultural and psychological factors that drive our behaviours, This Is Vegan Propaganda answers the pressing question, is there a better way?
Whether you are a vegan already or curious to learn more, this book will show you the other side of the story that has been hidden for far too long. Based on years of research and conversations with slaughterhouse workers and farmers, to animal rights philosophers, environmentalists and everyday consumers, vegan educator and public speaker Ed Winters will give you the knowledge to understand the true scale and enormity of the issues at stake.
This Is Vegan Propaganda is the empowering and groundbreaking book on veganism that everyone, vegan and sceptic alike, needs to read.
Published:

12 April 2022

ISBN:

9781785043765

Imprint:

Vermilion

Format:

Hardback

Pages:

320

RRP:

$35.00
Praise for This Is Vegan Propaganda
Ed has used his vast knowledge regarding meat and dairy production to create a must read book for everyone, vegan and non-vegan alike. His arguments are compelling and grounded in facts and logic. This is Vegan Propaganda (And Other Lies the Meat Industry Tells You) presents an indisputable case for veganism and shows us that there is a far better way of feeding the planet. An eye-opening book of our time.

Moby
Everything you wanted to know about veganism but were afraid to ask. Ed offers a clear insight into the ethical debate around veganism for vegans and non-vegans alike. He explores why the word 'vegan' inspires strong emotions and challenges all of us, whatever our dietary choices, to be aware of the decisions we are making. Ed's approach is to bring logic, philosophy and understanding to a debate that too often descends into chaos. Essential reading.

Matt Haig
If you're looking to learn about veganism from a source that is grounded, truthful and thoroughly knowledgeable, This is Vegan Propaganda (And Other Lies the Meat Industry Tells You) is the first place to go. Ed manages to be compassionate towards people and unsparing about the details of how we exploit animals, and will prompt you to look yourself in the eye and confront your own complicity in humanity's broken relationship with the animal kingdom. His skills of communication are unparalleled and he will teach any aspiring activist how to share their message in a way that reaches and affects people, and opens their minds to adopting a vegan lifestyle.

Evanna Lynch
In this book, Ed shows us exactly how we violate our own values and beliefs every single time we eat animals and animal products. As an academic, I was deeply impressed with his logic, sound reasoning and knowledge. This kind of book has been needed for a very long time; it bridges the gap between theorists and the public audience, leaving us stunned by the truth and hopeful for the future.

Dr Sparsha Saha, Lecturer in the Department of Government, Harvard University
Article