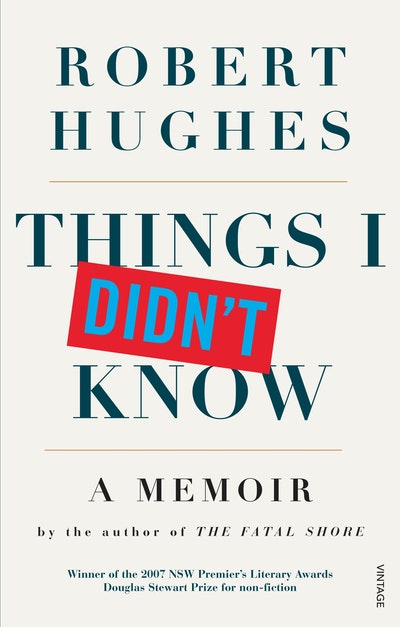 Published:

1 November 2007

ISBN:

9781741664751

Imprint:

Vintage Australia

Format:

Paperback

Pages:

528

RRP:

$22.99
Things I Didn't Know
---
---
Volume I of the recently deceased renowned art critic Robert Hughes's memoirs.
Volume I of the recently deceased renowned art critic Robert Hughes's memoirs.
The opening chapter tells the brutal story of the car accident some years ago that nearly took his life and left him physically and mentally shattered. In this beautifully written and searingly honest opening, that could be a small book in itself, Hughes makes you understand the trauma of devastating physical damage - and most important, he shows us the thought processes that one goes through when confronting death and a reemergence towards life.
Using the experience of the accident to justify the need to explore his past, Hughes then takes us through his childhood. What makes this book extraordinary is that it is not one bit self-indulgent. He writes of intimately personal details, but he uses every aspect of his life to expound on broader, universal subjects. Hughes uses his fractured and incomplete relationship with his father to explore family relationships. He uses his father's heroic deeds as a WW1 pilot to explain the history of modern warfare, which then turns into an eloquent anti-war tract.
Hughes' years at Jesuit Riverview, a Catholic boys boarding school in Sydney, makes for an entertaining and often hilarious chapter - but it also lets him present us with a history of the Jesuits and leads to a virulently anti-religious point of view. His constant, razor-like examination of Catholicism is a controversial element of the book.
Hughes then takes us through his development as an artist and writer, and shows us his beginnings as an art critic, as well as giving us a history and analysis of art criticism and its importance to our culture. We share his growing appreciation for art and his exhilaration as he leaves the confines of Australia in the 60s and finds a new life in Italy and London.
In each instance, Hughes doesn't just take us on a tour of his life, he takes us on a tour of his mind - and like the perfect tour, it is educational, expansive, entertaining and compelling. He does a magnificent job taking us back to the culture of the 60s in swinging London, never veering into sentiment and always looking back with a critical eye to examine a revolutionary period in art, sex and politics.
Published:

1 November 2007

ISBN:

9781741664751

Imprint:

Vintage Australia

Format:

Paperback

Pages:

528

RRP:

$22.99