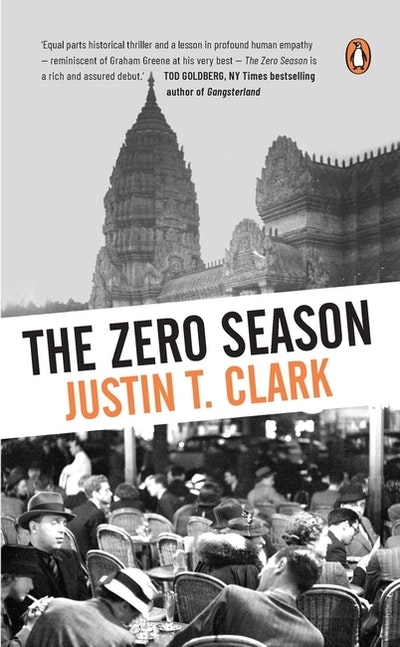 Published:

15 June 2022

ISBN:

9789814954440

Imprint:

PRH SEA

Format:

Paperback

Pages:

216

RRP:

$29.99
The Zero Season
---
---
In post-WWII Paris, a Cambodian student radical and French drifter play a dangerous game of lust and revenge.
It is 1949, and young Etienne Legast is in trouble. Estranged from his pious Catholic family, having fled a messy love affair with an older man at the end of the war, he returns home to Paris for a funeral, only to find himself quick drawn into a deadly debt to a neighborhood gangster and an unexpected romance with Samphan, an orphaned Cambodian student radical. Though the two young men come from different worlds, they soon develop a bond that helps them transcend their respective tragedies - until revolutionary political intrigues and the Parisian underworld threaten to pull them under once more.
Published:

15 June 2022

ISBN:

9789814954440

Imprint:

PRH SEA

Format:

Paperback

Pages:

216

RRP:

$29.99
Praise for The Zero Season
'Equal parts historical thriller and a lesson in profound human empathy — reminiscent of Graham Greene at his very best — The Zero Season is a rich and assured debut.'

- Tod Goldberg, NY Times bestselling author of Gangsterland
'One of Justin Clark's many gifts as a storyteller is the seemingly effortless way he draws the reader into a time and world so different from our own, and yet strikingly rift by the problems the world still faces. Here, we enter a Paris of the early 1950's, just starting to reluctantly face its legacies of colonialism, class, and the outdated social mores of the past. The world Clark invites us into is rich, seductive, and wholly absorbing from the first page, displaying a virtuoso range of complex characters drawn to and from one another across the chasms of culture, politics, sexuality, and loss.'

- Robin Hemley, author of Oblivion: An After Autobiography and Borderline Citizen: Dispatches from the Outskirts of Nationhood.
'Everyone in The Zero Season is carrying around a secret, some more than one—revolutionary thoughts, radical desires—and the novel itself keeps hiding from the reader its true nature: Is it a noirish thriller set in post-War Paris? Is it a romance between two men defying cultural impediments to make possible impossible love? Is it the story of a Cambodian studying abroad who also happens to be an emerging political leader in his zero season, "a rehearsal, before he steps onto the stage of history?" Well, Justin Clark's astonishing debut novel is all this and more: a page-turner in which dreamers resist reality, and hardened pragmatists allow themselves to hope. The Zero Season is a moving story about becoming one's true and future self.'

- Peter Gadol, author of The Stranger Game