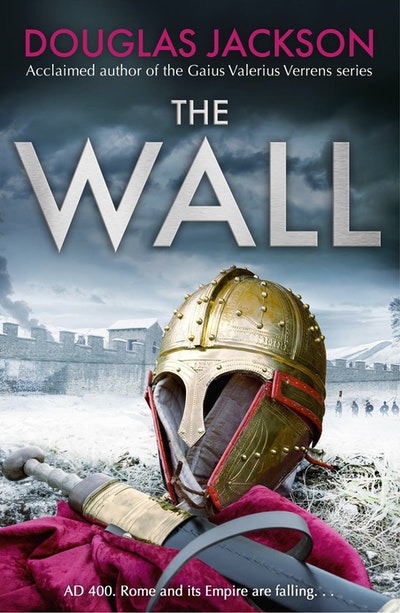 Published:

15 June 2022

ISBN:

9781787634855

Imprint:

Bantam Press

Format:

Trade Paperback

Pages:

432

RRP:

$32.99
The Wall
The pulse-pounding epic about the end times of an empire
---
---
---
Set on and around the UK's best-known and internationally renowned Roman monument - Hadrian's Wall - here is the action-packed and resoundingly authentic new historical novel from a writer consistently acclaimed as one of the genre's very best.
AD 400. Rome and its Empire are failing . . .
Veteran cavalry commander Marcus Flavius Victor sets out with his regiment to make what may be his final tour of the forts along Hadrian's Wall.
Through a combination of military prowess, brutality and bribery, Marcus has spent twenty years keeping the savage Picts at bay. Feared by his enemies and hated by his superiors, his strength of will is the only thing that has held the disgruntled, poorly paid garrisons of the Wall in place as the failing Roman Empire's grip on Britannia weakened.
Yet as this tour of the wall progresses, it becomes increasingly clear that this is much more than a routine inspection. Why is Marcus stripping the defences of cavalry to strengthen his own force? Is he negotiating with the Picts or conspiring with them? And who is the mysterious 'blood-father' who lurks in the shadows?
Segeduno, Cilurno, Brocolitia, Vindolanda: each fort holds a memory, an old friend, hides a rival, or an outright enemy, and it now seems Marcus will betray or cheat any of them to achieve his goal. But what is Marcus Flavius Victor's ultimate objective?
Is he building an army to save Britannia. Or is he willing to risk a bloody civil war to seize the province for himself?
Published:

15 June 2022

ISBN:

9781787634855

Imprint:

Bantam Press

Format:

Trade Paperback

Pages:

432

RRP:

$32.99
Roman historical fiction at its very best.

SUNDAY EXPRESS
Douglas Jackson is one of the finest writers about today, irrespective of genre.

FOR WINTER NIGHTS
Intrigue, murder, politics and plotting . . . it's a tour de force that hits harder than a Pictish axe . . . cements his reputation as not just one of Scotland's best historical fiction writers but one of our best writers. Brilliantly researched and written, The Wall is an all-conquering triumph from the first page to the last.

DAILY RECORD