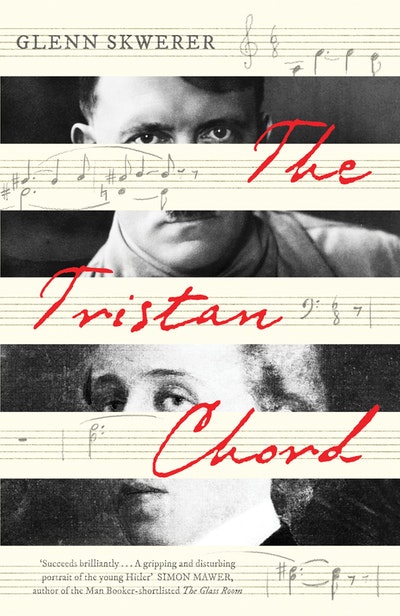 Published:

23 August 2018

ISBN:

9781783525751

Imprint:

Unbound Digital

Format:

EBook

Pages:

384
The Tristan Chord
---
---
This prize-winning novel is a haunting portrait of the future dictator as a young man, told from the viewpoint of Hitler's best friend from adolescence and based on August Kubizek's 1953 memoir The Young Hitler I Knew
'Succeeds brilliantly … a gripping and disturbing portrait of the young Hitler' – Simon Mawer, author of the Man Booker-shortlisted The Glass House
Salzburg, 1945: Eugen Reczek, a middle-aged Austrian desk clerk, is interned by the American occupiers. The reason: he is der Hitlerjugendfreund– 'The Friend of the Fuhrer's Youth'.
An upholstery apprentice by day and fledgling violist by night, Eugen meets the fifteen-year-old Adolf Hitler at the local opera house in Linz in 1905, and for the next four years they see each other almost daily. Eugen is captivated but also troubled by Hitler: his almost complete isolation; his strange hours and feverish routines; his refusal to work; his unusual and profound attachment to his mother; and his obsession with a young woman to whom he has never said a word.
They move together to Vienna – Adolf to study art, Eugen to study music – but as Adolf's money runs low, he becomes intensely irritable and increasingly drawn to the racist gutter press of Vienna; he has become a hater of women, of sex, of all things sensual. When Eugen begins a relationship with the Jewish mother of one of his piano students, it is only a matter of time before their suppressed conflict ignites.
Now, with the Third Reich in ashes, Eugen sits in a barren room in an American internment camp writing his memoir. In a voice by turns intelligent, sceptical, pained, nostalgic and appalled, he tries to come to terms with the course of his own life and with the unfathomable criminality of his boyhood friend.
Based loosely on August Kubizek's 1953 memoir The Young Hitler I Knew, The Tristan Chord recasts the story as fiction, in order to explore both the character and mental attitudes of the adolescent Hitler, and the dilemma of its narrator, Eugen Reczek, a man caught between the bonds of a complex friendship and the vast, tragic forces of history.
Published:

23 August 2018

ISBN:

9781783525751

Imprint:

Unbound Digital

Format:

EBook

Pages:

384
Praise for The Tristan Chord
An intelligent and engrossing fictional account of Hitler's youth in early twentieth-century Austria … [Skwerer] brilliantly captures the banality of the man … and creates a strong sense of anticipation and doom. At a time when antisemitism and intolerance seem once again to be on the rise, The Tristan Chord offers a sobering reminder that evil comes in many guises, and sometimes can be as banal as a humourless sixteen-year-old loner who venerates music more than humanity

Observer
Skwerer draws a fascinating picture of Hitler's youthful obsessions ... never less than engaging

John Boyne, Guardian
This is a remarkable first novel. With an extraordinary assurance and innate grasp of form and character, Glenn Skwerer, a Boston psychiatrist, examines the early life of Adolf Hitler through the presumptive dictator's friendship with an upholsterer's son ... The Tristan Chord deftly and persuasively shows [that] diabolical power is contagious, infecting even those who insist on innocence because their hands are not yet blood-stained

Herald Scotland
Succeeds brilliantly … Without indulging in over-dramatisation, Skwerer has contrived to create a gripping and disturbing portrait of the young Hitler, interweaving historical and fictional material with exemplary ease. A serious novel should make the reader sit up and think, and The Tristan Chord surely does

Simon Mawer, author of the Man Booker-shortlisted The Glass Room
Skwerer rediscovers the real Hitler and reframes him in human dimensions while never losing sight of the grotesque evil he would accomplish … A thoughtful, moral fiction

Ken Kalfus, author of Coup de Foudre and Equilateral
Skwerer's careful psychological insights, expressed against the seductive but problematic world of Wagner's great operas, reward attentive reading … Compelling for anyone interested in exploring the all-too-human roots of destructive totalitarianism

Frederick Taylor, author of Exorcising Hitler
It is hard to imagine a more delicate subject than the youth of the man who would later be identified with absolute evil. Skwerer explores this territory with great sensitivity and surprising wit. Readers will be intrigued and appalled

Tim Parks, author of the Man Booker-shortlisted Europa
All too often we see the Nazis simply as monsters and tend to forget that they were able to commit their crimes precisely because they were humans. This is an uncomfortable read but it will make you think. I read it in a single afternoon

Meike Ziervogel, author of Magda and Clara's Daughter