Introduce your book club to the huge-hearted Quinlan family.
No other authors do home and family quite like Monica McInerney. And with The Trip of a Lifetime she returns to a clan readers have come to know and love. For fans of The Alphabet Sisters and Lola's Secret, the third book in the Quinlan family saga couldn't have arrived soon enough. There's plenty of love, secrets and intrigue to go around, so it's time to share it with your book club kinfolk. Here are some reading group questions to get your next meet-up started.
'But you've had a wonderful life, Lola. A big, beautiful life.' Do you think this is right, that Lola's life can be summed up simply as 'big and beautiful'?
Des tells Lola that home is not just about places, but about people and memories of families. How would you define 'home'?
Is it possible to start life over in a new place, or do you inevitably bring parts of the past with you?
Who did you think was the funnier character, Carrie or Des?
'Lola had hoped the most difficult of her Irish memories had lost their power by now… But it was as if all her memories had been waiting. The trip had prised open a trapdoor in her mind, letting them out one by one.' Did Lola do the right thing going back to Ireland? Is it best to confront difficulties from the past?
Lola is devastated when she arrives in Ireland and convinces herself that there is nothing and no one left for her there. On the contrary, she receives the greatest gift of all. Discuss.
Bett believes that Lola lied about her past for all the right reasons. Is there ever a good reason to lie?
Was Lola right to sell her valuable painting, or was it a foolish act for the short-term benefit of a few?
Discuss the significance of the two settings in the novel, the Clare Valley and Ireland, and their similarities and differences.
Lola likes to be the centre of attention in the Quinlan family. Is this character trait a blessing or a curse?
Geraldine tells Bett that 'keeping secrets runs in the family'. Discuss.
Which is your favourite Quinlan family story by Monica McInerney: The Alphabet Sisters, Lola's Secret or The Trip of a Lifetime?
---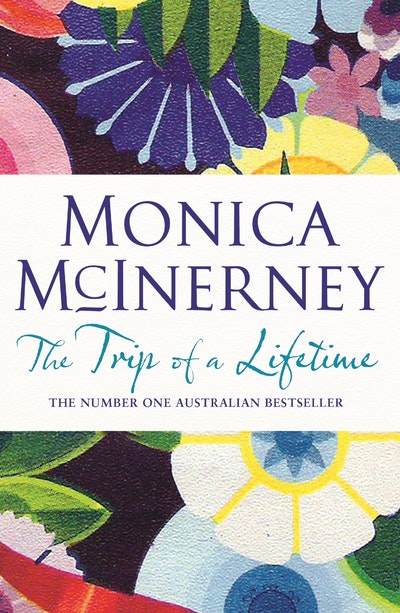 The long-awaited and highly anticipated new novel from one of Australia's most beloved bestselling authors.
Buy now
Buy now
---