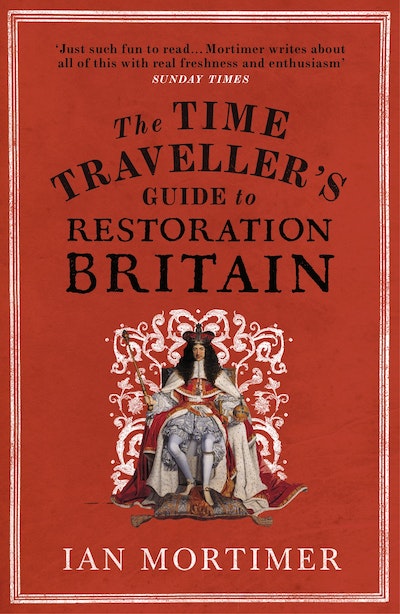 Published:

15 April 2018

ISBN:

9780099593393

Imprint:

Vintage

Format:

Paperback

Pages:

480

RRP:

$24.99
The Time Traveller's Guide to Restoration Britain
Life in the Age of Samuel Pepys, Isaac Newton and The Great Fire of London
---
---
The third in the series of Ian Mortimer's bestselling Time Traveller's Guides
The past is a foreign country: this is your guidebook.
If you could travel back in time, the period from 1660 to 1700 would make one of the most exciting destinations in history. It is the age of Samuel Pepys and the Great Fire of London; bawdy comedy and the libertine court of Charles II - the civil wars are over and a magnificent new era has begun.
But what would it really be like to live in Restoration Britain? Where would you stay and what would you eat? How much should you pay for one of those elaborate wigs? Should you trust a physician who advises you to drink fresh cow's urine to cure your gout? Why are boys made to smoke in school? And why are you unlikely to get a fair trial in court?
The third volume in the series of Ian Mortimer's bestselling Time Traveller's Guides answers these crucial questions and encourages us to reflect on the customs and practices of daily life. This unique guide not only teaches us about the seventeenth century but makes us look with fresh eyes at the modern world.
Published:

15 April 2018

ISBN:

9780099593393

Imprint:

Vintage

Format:

Paperback

Pages:

480

RRP:

$24.99
Praise for The Time Traveller's Guide to Restoration Britain
Ian Mortimer manages to inform and delight in equal measure

Sue Baker, Bookseller
Ian Mortimer is a historical truffle hound. The Time Traveller's Guide to Restoration Britain is just such fun to read. Mortimer writes with real freshness and enthusiasm,... His book is a delightful read.

Andrew Holgate, Sunday Times
This entertaining tourist guide brings the late 17th century alive.The latest Time Traveller's Guide will entertain and inform anyone with an interest in this extraordinary period

Andrew Taylor, The Times
Ian Mortimer is among the best: a conjuror who is always bright, engaging and well-informed. Any tour of late 17th-century Britain is guaranteed to be exhilarating. And with Mortimer in charge, one always travels first class

John Adamson, Mail on Sunday
Enthralling and detailed

Roger Lewis, Mail
A fascinating and involving angle on history

Choice
When it comes to (armchair-based) time travel, he's your man. If you have yet to experience his in-the-now approach to history, I envy you. What strange words and weird customs you will learn. Our guide's treatment of the past is, as ever, a case of great knowledge worn lightly. He is by turns funny, scholarly, poignant and almost always fascinating. As a way of meeting our ancestors almost face to face, there is something magical about his writing

Rebecca Armstrong
Everything you wanted to know about these fair isles between 1660 and 1700... Exciting times.

John Lewis-Stempel, Sunday Express
Entertaining and demotic rather than a work of scholarly nitpicking

Robbie Millen, The Times
Thoroughly entertaining. It is crammed with insights, facts and enjoyable anecdotes, which create a sense of the experience of living in Britain between 1660 and 1700. This is a compelling book and one of considerable erudition. This is the book that will provide the most richly colourful account of Britain in this period

William Gibson, History Today
Mortimer composes his vivid mosaic of life between 1660 and 1700 through the fancied experience of a time traveller

Christopher Howse - summer read, Telegraph
Words of contemporaries including Pepys, Mariner Edward Barlow and Celia Fiennes bring to life the changes of the period

Kirsty Woods, Who Do You Think You Are?
Irreverent, witty and beautifully democratic, this is a delight.

Rebecca Armstrong
A superb period to read about. Mortimer describes London brilliantly with its old walls and teeming streets.

William Leith, Evening Standard
History at its most entertaining.

PD Smith, Guardian
Intriguing, informative and entertaining.

Jane Shilling, Daily Mail