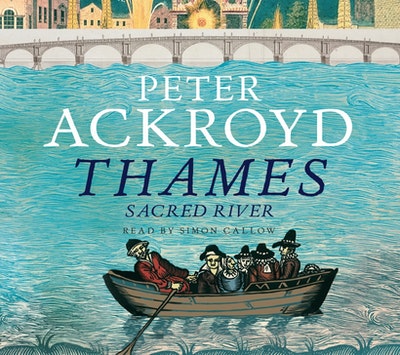 Published:

15 September 2007

ISBN:

9781846570551

Imprint:

Audiobooks

Format:

Audio CD

Length:

9 hr 58 min

Narrator:

Simon Callow

RRP:

$110.00
The Thames Box Set
---
---
The Thames displays the same qualities as London: The Biography: scholarship, wit, discursiveness, lovely descriptive writing, anecdotes, spirit of place, narrative and character. This hugely enjoyable book is packed with fascinating facts and insights: it will be another mammoth bestseller.
The Thames has been a highway, a frontier and an attack route; it has been a playground and a sewer, a source of water and a source of power. Every stretch has its own character, atmosphere and stories. Idealised images of English life – thatched cottages, village greens and hedged fields – were born from the landscape of the Thames.
Thames: Sacred River explores the river from source to sea – from flora and fauna, hauntings and suicides to paintings and photographs it has inspired. Peter Ackroyd, bestselling author of London: The Biography, tells the story of the river and the people who have lived on and by it over the centuries, uncovering fascinating and sometimes surprising facts and details as he delves into the river's geology, history, trade, weather and architecture as well as its people, literature, landscapes, mythology and magic.
Published:

15 September 2007

ISBN:

9781846570551

Imprint:

Audiobooks

Format:

Audio CD

Length:

9 hr 58 min

Narrator:

Simon Callow

RRP:

$110.00
Praise for The Thames Box Set
Biographer, novelist and poet Peter Ackroyd has now written a comprehensive study of the city's liquid heart. Simon Callows beautifully enuciated accent is just right for this evudite yet accessible work providing an appropriate blend of gravitas and congeniality.

Financial Times Magazine
This Biography of the great river seems even more Protean than the Thamse itself. Every minute is packed with multi-layered musings, explorations and anecdotes that range from sacrificial severed heads to Dodgson taking Alice Liddell boating. Ackroyd's facts can become lists; his etymology intriguing rather than convincing (Thames linked to the Indian river Tamasa, 'dark and holy' in Sanskirt?); his vocabulary precious (piscators; his insistent use of the adjective riverine). His writing is as gorgeous as a Persian carpet. And what a stylish partnership is Ackroyd and Callow! Callow's voice makes splendid theatre, complementing Ackroyd's flamboyance.

Rachel Redford, The Observer