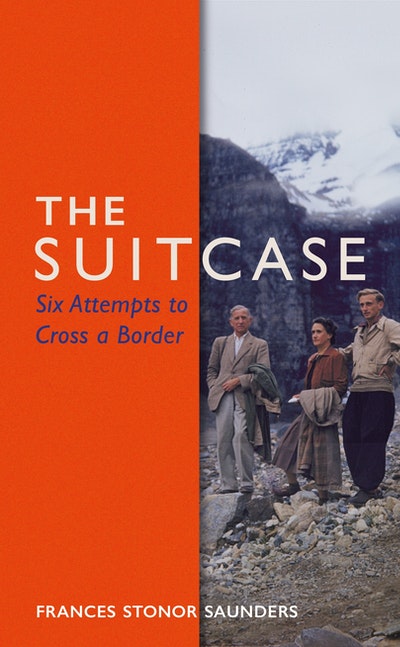 Published:

17 August 2021

ISBN:

9781787330542

Imprint:

Jonathan Cape

Format:

Hardback

Pages:

240

RRP:

$39.99
The Suitcase
Six Attempts to Cross a Border
---
---
---
A captivating family history and a meditation on memory, borders and loss from the prizewinning historian and writer.
'Frances Stonor Saunders is one of those writers you read no matter what she writes. She is that good... This is family history at its best... the words fizz off the page and flutter in the mind' Sunday Times
Ten years ago, Frances Stonor Saunders was handed an old suitcase filled with her father's papers. 'If you open that suitcase you'll never close it again,' warned her mother. Her father's life had been a study in borders - exiled from Romania during the war, to Turkey then Egypt and eventually Britain, and ultimately to the borderless territory of Alzheimer's. The unopened suitcase seems to represent everything that had made her father unknowable to her in life. Now she finds herself with the dilemma of two competing urges: wanting to know what's in the suitcase, and wanting not to know.
So begins this captivating exploration of history, memory and geography, as Frances Stonor Saunders unpicks her father's and his family's past. Is it possible to bring her father back, to summon once more someone who was distant and elusive when alive? The past is always the history of loss, of black holes, of things gone missing. Life is a long forgetting, even as we live it. The Suitcase is an extraordinary, heroic effort of retrieval, driven by the ache for completion. It is about the silences and stories that protect us, and the borders we construct, literally and figuratively, to fortify our sense of who we are.
Published:

17 August 2021

ISBN:

9781787330542

Imprint:

Jonathan Cape

Format:

Hardback

Pages:

240

RRP:

$39.99
Intimate, affecting, elegiac - a remarkable exploration in the hands of a special writer.

Philippe Sands
Frances Stonor Saunders is one of those writers you read no matter what she writes. She is that good... this is family history at its best... the words fizz off the page and flutter in the mind... [The Suitcase] will haunt you.

James McConnachie, Sunday Times
Stonor Saunders...has a magpie-eye for the telling detail... [and] a vivid turn of phrase.

Robbie Millen, The Times
Frances Stonor Saunders vividly captures the horror and absurdity of life in the theatre of conflict, and human versatility... The Suitcase is...a study in the meaningful artifice of human experience.

Katherine Backler, Tablet
Absolutely compelling... It's an extraordinary achievement.

Edmund de Waal
[An] intimate and enquiring family history... Sympathetic, erudite, mournful

Matthew Janney, Financial Times
Excellent... The Suitcase intrigues and fascinates and causes the reader to reflect on the uneven fates of those families that survived the Holocaust and those that did not.

Timothy W. Ryback, Literary Review
Frances Stonor Saunders has almost single-handedly started off a branch of sub-history... An extraordinarily good book, and I recommend it to anyone.

Ian McEwan, BBC Radio 4 (WHO PAID THE PIPER?)
A hammer-blow of a book... Her research is formidable, her tone tenacious, her eye for a titbit vivid, her sense of humour lively.

Jeremy Isaacs, Spectator (WHO PAID THE PIPER?)
Simply the most vivid account of the late medieval world I have ever read.

Terry Jones, Monty Python and author of Chaucer's Knight, (HAWKWOOD)
Addictively readable...and compellingly intelligent, [Hawkwood] offers a mirror not only for the 14th century but for our own disturbing times.

Miranda Seymour, Sunday Times (HAWKWOOD)
A completely fascinating and disturbing story written with consummate elegance and unsettling power. A forgotten corner of twentieth-century history brilliantly revealed to us.

William Boyd, (THE WOMAN WHO SHOT MUSSOLINI)