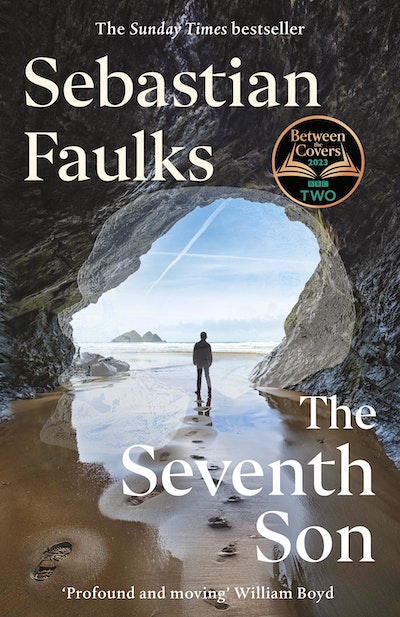 Published:

5 September 2023

ISBN:

9781529153217

Imprint:

Hutchinson Heinemann

Format:

Trade Paperback

Pages:

368

RRP:

$34.99
The Seventh Son
From the Between the Covers TV Book Club
---
---
---
The exhilarating new literary novel from the worldwide bestseller and master storyteller
THE INSTANT SUNDAY TIMES BESTSELLER
'A genuinely thought-provoking piece of fiction' THE TIMES
'Extraordinary' WILLIAM BOYD
'Profoundly moving . . . a wonderful and life-affirming love story' JAMES HOLLAND
'His greatest novel yet' ANTONY BEEVOR
'Original and enthralling' PETER JAMES
'A beautifully written novel. On the one hand you have love, kindness, responsibility; on the other monstrous arrogance and indifference to consequences' SCOTSMAN

A CHILD WILL BE BORN WHO WILL CHANGE EVERYTHING
When a young American academic Talissa Adam offers to carry another woman's child, she has no idea of the life-changing consequences.
Behind the doors of the Parn Institute, a billionaire entrepreneur plans to stretch the boundaries of ethics as never before. Through a series of IVF treatments, which they hope to keep secret, they propose an experiment that will upend the human race as we know it.
Seth, the baby, is delivered to hopeful parents Mary and Alaric, but when his differences start to mark him out from his peers, he begins to attract unwanted attention.
The Seventh Son is a spectacular examination of what it is to be human. It asks the question: just because you can do something, does it mean you should? Sweeping between New York, London, and the Scottish Highlands, this is an extraordinary novel about unrequited love and unearned power.
Published:

5 September 2023

ISBN:

9781529153217

Imprint:

Hutchinson Heinemann

Format:

Trade Paperback

Pages:

368

RRP:

$34.99
Praise for The Seventh Son
A stunning novel: profoundly moving, deeply unsettling, thought-provoking and prescient but also a wonderful and life-affirming love story too

James Holland
A stunning novel: profoundly moving, deeply unsettling, thought-provoking and prescient but also a wonderful and life-affirming love story too

James Holland
A stunning novel: profoundly moving, deeply unsettling, thought-provoking and prescient but also a wonderful and life-affirming love story too

James Holland
A stunning novel: profoundly moving, deeply unsettling, thought-provoking and prescient but also a wonderful and life-affirming love story too

James Holland
A stunning novel: profoundly moving, deeply unsettling, thought-provoking and prescient but also a wonderful and life-affirming love story too

James Holland
A stunning novel: profoundly moving, deeply unsettling, thought-provoking and prescient but also a wonderful and life-affirming love story too

James Holland
A stunning novel: profoundly moving, deeply unsettling, thought-provoking and prescient but also a wonderful and life-affirming love story too

James Holland
A stunning novel: profoundly moving, deeply unsettling, thought-provoking and prescient but also a wonderful and life-affirming love story too

James Holland
A stunning novel: profoundly moving, deeply unsettling, thought-provoking and prescient but also a wonderful and life-affirming love story too

James Holland
Once I had started I literally could not stop. It really is his greatest novel yet, and of course beautifully written in that wonderful, understated style

Antony Beevor
Once I had started I literally could not stop. It really is his greatest novel yet, and of course beautifully written in that wonderful, understated style

Antony Beevor
Once I had started I literally could not stop. It really is his greatest novel yet, and of course beautifully written in that wonderful, understated style

Antony Beevor
Once I had started I literally could not stop. It really is his greatest novel yet, and of course beautifully written in that wonderful, understated style

Antony Beevor
Once I had started I literally could not stop. It really is his greatest novel yet, and of course beautifully written in that wonderful, understated style

Antony Beevor
Once I had started I literally could not stop. It really is his greatest novel yet, and of course beautifully written in that wonderful, understated style

Antony Beevor
Once I had started I literally could not stop. It really is his greatest novel yet, and of course beautifully written in that wonderful, understated style

Antony Beevor
Once I had started I literally could not stop. It really is his greatest novel yet, and of course beautifully written in that wonderful, understated style

Antony Beevor
Once I had started I literally could not stop. It really is his greatest novel yet, and of course beautifully written in that wonderful, understated style

Antony Beevor
Faulks is one of the most original and compelling writers in the world. This enthralling novel is right up there among his very finest work

Peter James
Faulks is one of the most original and compelling writers in the world. This enthralling novel is right up there among his very finest work

Peter James
Faulks is one of the most original and compelling writers in the world. This enthralling novel is right up there among his very finest work

Peter James
Faulks is one of the most original and compelling writers in the world. This enthralling novel is right up there among his very finest work

Peter James
Faulks is one of the most original and compelling writers in the world. This enthralling novel is right up there among his very finest work

Peter James
Faulks is one of the most original and compelling writers in the world. This enthralling novel is right up there among his very finest work

Peter James
Faulks is one of the most original and compelling writers in the world. This enthralling novel is right up there among his very finest work

Peter James
Faulks is one of the most original and compelling writers in the world. This enthralling novel is right up there among his very finest work

Peter James
Faulks is one of the most original and compelling writers in the world. This enthralling novel is right up there among his very finest work

Peter James
A completely fascinating and extraordinary novel. A profound and moving examination of our complex human nature

William Boyd
A completely fascinating and extraordinary novel. A profound and moving examination of our complex human nature

William Boyd
A completely fascinating and extraordinary novel. A profound and moving examination of our complex human nature

William Boyd
A completely fascinating and extraordinary novel. A profound and moving examination of our complex human nature

William Boyd
A completely fascinating and extraordinary novel. A profound and moving examination of our complex human nature

William Boyd
A completely fascinating and extraordinary novel. A profound and moving examination of our complex human nature

William Boyd
A completely fascinating and extraordinary novel. A profound and moving examination of our complex human nature

William Boyd
A completely fascinating and extraordinary novel. A profound and moving examination of our complex human nature

William Boyd
A completely fascinating and extraordinary novel. A profound and moving examination of our complex human nature

William Boyd
This is a genuinely thought-provoking piece of fiction. You could devour it in a day and be wholly transported into the near future, then set it back down, dazed but enlightened, in the present day where you will see the world anew in all its wonders and frailties

The Times
This is a genuinely thought-provoking piece of fiction. You could devour it in a day and be wholly transported into the near future, then set it back down, dazed but enlightened, in the present day where you will see the world anew in all its wonders and frailties

The Times
This is a genuinely thought-provoking piece of fiction. You could devour it in a day and be wholly transported into the near future, then set it back down, dazed but enlightened, in the present day where you will see the world anew in all its wonders and frailties

The Times
This is a genuinely thought-provoking piece of fiction. You could devour it in a day and be wholly transported into the near future, then set it back down, dazed but enlightened, in the present day where you will see the world anew in all its wonders and frailties

The Times
This is a genuinely thought-provoking piece of fiction. You could devour it in a day and be wholly transported into the near future, then set it back down, dazed but enlightened, in the present day where you will see the world anew in all its wonders and frailties

The Times
This is a genuinely thought-provoking piece of fiction. You could devour it in a day and be wholly transported into the near future, then set it back down, dazed but enlightened, in the present day where you will see the world anew in all its wonders and frailties

The Times
This is a genuinely thought-provoking piece of fiction. You could devour it in a day and be wholly transported into the near future, then set it back down, dazed but enlightened, in the present day where you will see the world anew in all its wonders and frailties

The Times
This is a genuinely thought-provoking piece of fiction. You could devour it in a day and be wholly transported into the near future, then set it back down, dazed but enlightened, in the present day where you will see the world anew in all its wonders and frailties

The Times
This is a genuinely thought-provoking piece of fiction. You could devour it in a day and be wholly transported into the near future, then set it back down, dazed but enlightened, in the present day where you will see the world anew in all its wonders and frailties

The Times
A beautifully written novel. On the one hand you have love, kindness, responsibility; on the other monstrous arrogance and indifference to consequences

The Scotsman
A beautifully written novel. On the one hand you have love, kindness, responsibility; on the other monstrous arrogance and indifference to consequences

The Scotsman
A beautifully written novel. On the one hand you have love, kindness, responsibility; on the other monstrous arrogance and indifference to consequences

The Scotsman
A beautifully written novel. On the one hand you have love, kindness, responsibility; on the other monstrous arrogance and indifference to consequences

The Scotsman
A beautifully written novel. On the one hand you have love, kindness, responsibility; on the other monstrous arrogance and indifference to consequences

The Scotsman
A beautifully written novel. On the one hand you have love, kindness, responsibility; on the other monstrous arrogance and indifference to consequences

The Scotsman
A beautifully written novel. On the one hand you have love, kindness, responsibility; on the other monstrous arrogance and indifference to consequences

The Scotsman
A beautifully written novel. On the one hand you have love, kindness, responsibility; on the other monstrous arrogance and indifference to consequences

The Scotsman
A beautifully written novel. On the one hand you have love, kindness, responsibility; on the other monstrous arrogance and indifference to consequences

The Scotsman
Brilliant, original and unputdownable. An absolute cracker

Peter Frankopan
Brilliant, original and unputdownable. An absolute cracker

Peter Frankopan
Brilliant, original and unputdownable. An absolute cracker

Peter Frankopan
Brilliant, original and unputdownable. An absolute cracker

Peter Frankopan
Brilliant, original and unputdownable. An absolute cracker

Peter Frankopan
Brilliant, original and unputdownable. An absolute cracker

Peter Frankopan
Brilliant, original and unputdownable. An absolute cracker

Peter Frankopan
Brilliant, original and unputdownable. An absolute cracker

Peter Frankopan
Brilliant, original and unputdownable. An absolute cracker

Peter Frankopan
Brilliant

Matthew Parker
Brilliant

Matthew Parker
Brilliant

Matthew Parker
Brilliant

Matthew Parker
Brilliant

Matthew Parker
Brilliant

Matthew Parker
Brilliant

Matthew Parker
Brilliant

Matthew Parker
Brilliant

Matthew Parker
This elegant near-future novel about a daring scientific experiment explores the evolution of consciousness… Faulks is an enviably graceful and economical writer. The early chapters of the book rip along with clarity and elegance. He conjures up the various worlds, brings the central characters vividly to life and keeps the story moving intriguingly forward

Guardian
This elegant near-future novel about a daring scientific experiment explores the evolution of consciousness… Faulks is an enviably graceful and economical writer. The early chapters of the book rip along with clarity and elegance. He conjures up the various worlds, brings the central characters vividly to life and keeps the story moving intriguingly forward

Guardian
This elegant near-future novel about a daring scientific experiment explores the evolution of consciousness… Faulks is an enviably graceful and economical writer. The early chapters of the book rip along with clarity and elegance. He conjures up the various worlds, brings the central characters vividly to life and keeps the story moving intriguingly forward

Guardian
This elegant near-future novel about a daring scientific experiment explores the evolution of consciousness… Faulks is an enviably graceful and economical writer. The early chapters of the book rip along with clarity and elegance. He conjures up the various worlds, brings the central characters vividly to life and keeps the story moving intriguingly forward

Guardian
This elegant near-future novel about a daring scientific experiment explores the evolution of consciousness… Faulks is an enviably graceful and economical writer. The early chapters of the book rip along with clarity and elegance. He conjures up the various worlds, brings the central characters vividly to life and keeps the story moving intriguingly forward

Guardian
This elegant near-future novel about a daring scientific experiment explores the evolution of consciousness… Faulks is an enviably graceful and economical writer. The early chapters of the book rip along with clarity and elegance. He conjures up the various worlds, brings the central characters vividly to life and keeps the story moving intriguingly forward

Guardian
This elegant near-future novel about a daring scientific experiment explores the evolution of consciousness… Faulks is an enviably graceful and economical writer. The early chapters of the book rip along with clarity and elegance. He conjures up the various worlds, brings the central characters vividly to life and keeps the story moving intriguingly forward

Guardian
This elegant near-future novel about a daring scientific experiment explores the evolution of consciousness… Faulks is an enviably graceful and economical writer. The early chapters of the book rip along with clarity and elegance. He conjures up the various worlds, brings the central characters vividly to life and keeps the story moving intriguingly forward

Guardian
This elegant near-future novel about a daring scientific experiment explores the evolution of consciousness… Faulks is an enviably graceful and economical writer. The early chapters of the book rip along with clarity and elegance. He conjures up the various worlds, brings the central characters vividly to life and keeps the story moving intriguingly forward

Guardian
A high-concept page-turner… Pitched somewhere between Michael Crichton and Ian McEwan, it's a timely meditation on the whims of rich tycoon

Mail on Sunday
A high-concept page-turner… Pitched somewhere between Michael Crichton and Ian McEwan, it's a timely meditation on the whims of rich tycoon

Mail on Sunday
A high-concept page-turner… Pitched somewhere between Michael Crichton and Ian McEwan, it's a timely meditation on the whims of rich tycoon

Mail on Sunday
A high-concept page-turner… Pitched somewhere between Michael Crichton and Ian McEwan, it's a timely meditation on the whims of rich tycoon

Mail on Sunday
A high-concept page-turner… Pitched somewhere between Michael Crichton and Ian McEwan, it's a timely meditation on the whims of rich tycoon

Mail on Sunday
A high-concept page-turner… Pitched somewhere between Michael Crichton and Ian McEwan, it's a timely meditation on the whims of rich tycoon

Mail on Sunday
A high-concept page-turner… Pitched somewhere between Michael Crichton and Ian McEwan, it's a timely meditation on the whims of rich tycoon

Mail on Sunday
A high-concept page-turner… Pitched somewhere between Michael Crichton and Ian McEwan, it's a timely meditation on the whims of rich tycoon

Mail on Sunday
A high-concept page-turner… Pitched somewhere between Michael Crichton and Ian McEwan, it's a timely meditation on the whims of rich tycoon

Mail on Sunday
Engaging and thought-provoking … The Seventh Son straddles two worlds, encompassing the distant past as well as the future. In so doing, Faulks asks difficult questions about who and what we are, and whether we could ever justifiably alter our genes to remove the worst of our defects

Herald
Engaging and thought-provoking … The Seventh Son straddles two worlds, encompassing the distant past as well as the future. In so doing, Faulks asks difficult questions about who and what we are, and whether we could ever justifiably alter our genes to remove the worst of our defects

Herald
Engaging and thought-provoking … The Seventh Son straddles two worlds, encompassing the distant past as well as the future. In so doing, Faulks asks difficult questions about who and what we are, and whether we could ever justifiably alter our genes to remove the worst of our defects

Herald
Engaging and thought-provoking … The Seventh Son straddles two worlds, encompassing the distant past as well as the future. In so doing, Faulks asks difficult questions about who and what we are, and whether we could ever justifiably alter our genes to remove the worst of our defects

Herald
Engaging and thought-provoking … The Seventh Son straddles two worlds, encompassing the distant past as well as the future. In so doing, Faulks asks difficult questions about who and what we are, and whether we could ever justifiably alter our genes to remove the worst of our defects

Herald
Engaging and thought-provoking … The Seventh Son straddles two worlds, encompassing the distant past as well as the future. In so doing, Faulks asks difficult questions about who and what we are, and whether we could ever justifiably alter our genes to remove the worst of our defects

Herald
Engaging and thought-provoking … The Seventh Son straddles two worlds, encompassing the distant past as well as the future. In so doing, Faulks asks difficult questions about who and what we are, and whether we could ever justifiably alter our genes to remove the worst of our defects

Herald
Engaging and thought-provoking … The Seventh Son straddles two worlds, encompassing the distant past as well as the future. In so doing, Faulks asks difficult questions about who and what we are, and whether we could ever justifiably alter our genes to remove the worst of our defects

Herald
Engaging and thought-provoking … The Seventh Son straddles two worlds, encompassing the distant past as well as the future. In so doing, Faulks asks difficult questions about who and what we are, and whether we could ever justifiably alter our genes to remove the worst of our defects

Herald
Thought-provoking and chilling

I Paper
Thought-provoking and chilling

I Paper
Thought-provoking and chilling

I Paper
Thought-provoking and chilling

I Paper
Thought-provoking and chilling

I Paper
Thought-provoking and chilling

I Paper
Thought-provoking and chilling

I Paper
Thought-provoking and chilling

I Paper
Thought-provoking and chilling

I Paper
Fabulously compelling… a provocative, poignant and disturbing examination of what it is to be human… Who says a novel of ideas can't be as thrilling as a holiday beach read? The Birdsong author's novels invariably examine big, bold ideas yet are beautifully told with a gossamer light touch. The Seventh Son is no exception

Express
Fabulously compelling… a provocative, poignant and disturbing examination of what it is to be human… Who says a novel of ideas can't be as thrilling as a holiday beach read? The Birdsong author's novels invariably examine big, bold ideas yet are beautifully told with a gossamer light touch. The Seventh Son is no exception

Express
Fabulously compelling… a provocative, poignant and disturbing examination of what it is to be human… Who says a novel of ideas can't be as thrilling as a holiday beach read? The Birdsong author's novels invariably examine big, bold ideas yet are beautifully told with a gossamer light touch. The Seventh Son is no exception

Express
Fabulously compelling… a provocative, poignant and disturbing examination of what it is to be human… Who says a novel of ideas can't be as thrilling as a holiday beach read? The Birdsong author's novels invariably examine big, bold ideas yet are beautifully told with a gossamer light touch. The Seventh Son is no exception

Express
Fabulously compelling… a provocative, poignant and disturbing examination of what it is to be human… Who says a novel of ideas can't be as thrilling as a holiday beach read? The Birdsong author's novels invariably examine big, bold ideas yet are beautifully told with a gossamer light touch. The Seventh Son is no exception

Express
Fabulously compelling… a provocative, poignant and disturbing examination of what it is to be human… Who says a novel of ideas can't be as thrilling as a holiday beach read? The Birdsong author's novels invariably examine big, bold ideas yet are beautifully told with a gossamer light touch. The Seventh Son is no exception

Express
Fabulously compelling… a provocative, poignant and disturbing examination of what it is to be human… Who says a novel of ideas can't be as thrilling as a holiday beach read? The Birdsong author's novels invariably examine big, bold ideas yet are beautifully told with a gossamer light touch. The Seventh Son is no exception

Express
Fabulously compelling… a provocative, poignant and disturbing examination of what it is to be human… Who says a novel of ideas can't be as thrilling as a holiday beach read? The Birdsong author's novels invariably examine big, bold ideas yet are beautifully told with a gossamer light touch. The Seventh Son is no exception

Express
Fabulously compelling… a provocative, poignant and disturbing examination of what it is to be human… Who says a novel of ideas can't be as thrilling as a holiday beach read? The Birdsong author's novels invariably examine big, bold ideas yet are beautifully told with a gossamer light touch. The Seventh Son is no exception

Express
A resonant hint of Frankenstein's wretched monster about Seth who, functional, capable and literate as he is, stands at the book's emotional centre, desperate for a companionship he can never find

Daily Mail
A resonant hint of Frankenstein's wretched monster about Seth who, functional, capable and literate as he is, stands at the book's emotional centre, desperate for a companionship he can never find

Daily Mail
A resonant hint of Frankenstein's wretched monster about Seth who, functional, capable and literate as he is, stands at the book's emotional centre, desperate for a companionship he can never find

Daily Mail
A resonant hint of Frankenstein's wretched monster about Seth who, functional, capable and literate as he is, stands at the book's emotional centre, desperate for a companionship he can never find

Daily Mail
A resonant hint of Frankenstein's wretched monster about Seth who, functional, capable and literate as he is, stands at the book's emotional centre, desperate for a companionship he can never find

Daily Mail
A resonant hint of Frankenstein's wretched monster about Seth who, functional, capable and literate as he is, stands at the book's emotional centre, desperate for a companionship he can never find

Daily Mail
A resonant hint of Frankenstein's wretched monster about Seth who, functional, capable and literate as he is, stands at the book's emotional centre, desperate for a companionship he can never find

Daily Mail
A resonant hint of Frankenstein's wretched monster about Seth who, functional, capable and literate as he is, stands at the book's emotional centre, desperate for a companionship he can never find

Daily Mail
A resonant hint of Frankenstein's wretched monster about Seth who, functional, capable and literate as he is, stands at the book's emotional centre, desperate for a companionship he can never find

Daily Mail
Cutting-edge science and big, meaty ideas aside, it's the minute details of everyday life and the bursting-from-the-page characters that make this thought-provoking novel come alive

Johanna Thomas-Corr, The Times
Cutting-edge science and big, meaty ideas aside, it's the minute details of everyday life and the bursting-from-the-page characters that make this thought-provoking novel come alive

Johanna Thomas-Corr, The Times
Cutting-edge science and big, meaty ideas aside, it's the minute details of everyday life and the bursting-from-the-page characters that make this thought-provoking novel come alive

Johanna Thomas-Corr, The Times