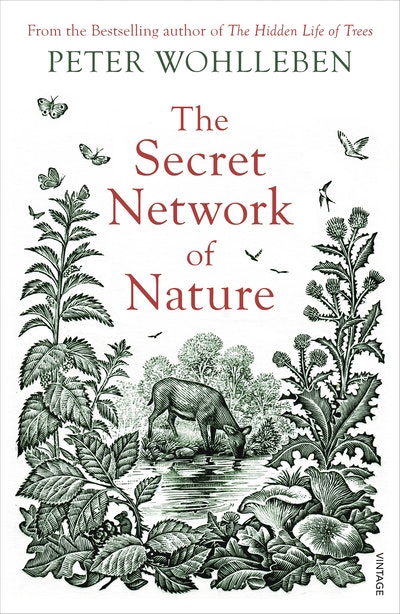 Published:

17 September 2019

ISBN:

9781784708498

Imprint:

Vintage

Format:

Paperback

Pages:

272

RRP:

$24.99
The Secret Network of Nature
The Delicate Balance of All Living Things
---
---
From the bestselling author of The Hidden Life of Trees comes an exploration of the invisible connections sustaining the entire natural world

An exploration of the invisible connections sustaining the entire natural world from the bestselling author of The Hidden Life of Trees
Did you know that trees can influence the rotation of the earth?
Or that wolves can alter the course of a river?
Or that earthworms control wild boar populations?
The natural world is a web of intricate connections, many of which go unnoticed by humans. But it is these connections that maintain nature's finely balanced equilibrium.
Drawing on the latest scientific discoveries and decades of experience as a forester, Peter Wohlleben shows us how different animals, plants, rivers, rocks and weather systems cooperate, and what's at stake when these delicate systems are unbalanced.
'Peter Wohlleben doesn't merely look, he sees. Let's all learn as much from him as we can, and quickly' Rosamund Young, author of The Secret Life of Cows
Published:

17 September 2019

ISBN:

9781784708498

Imprint:

Vintage

Format:

Paperback

Pages:

272

RRP:

$24.99
Praise for The Secret Network of Nature
Peter Wohlleben doesn't merely look, he sees. Let's all learn as much from him as we can, and quickly.

Rosamund Young, author of THE SECRET LIFE OF COWS
Peter Wohlleben doesn't merely look, he sees. Let's all learn as much from him as we can, and quickly.

Rosamund Young, author of THE SECRET LIFE OF COWS
Fascinating… Wohlleben is right to remind us that everything is joined up

Julian Glover, Evening Standard
Fascinating… Wohlleben is right to remind us that everything is joined up

Julian Glover, Evening Standard
A fascinating read

BBC Wildlife
A fascinating read

BBC Wildlife
Praise for The Hidden Life of Trees: 'Marvellous'

John Banville, Irish Times
Praise for The Hidden Life of Trees: 'Marvellous'

John Banville, Irish Times
Praise for The Inner Life of Animals: 'Always fascinating… Wry, avuncular, careful and kind'

Richard Kerridge, Guardian
Praise for The Inner Life of Animals: 'Always fascinating… Wry, avuncular, careful and kind'

Richard Kerridge, Guardian
Startling and delightful

Ann Pettifor, ExecReview
Startling and delightful

Ann Pettifor, ExecReview