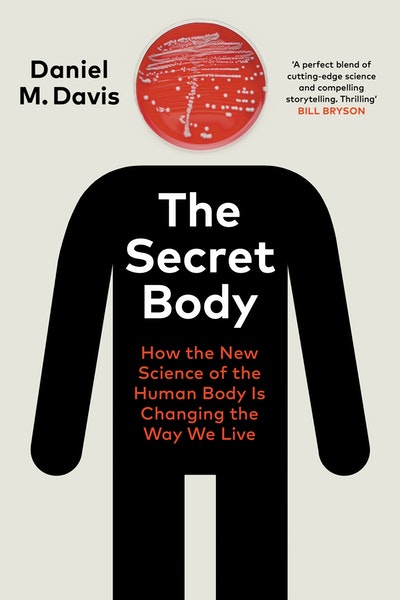 Published:

2 July 2021

ISBN:

9781847925701

Imprint:

Bodley Head

Format:

Trade Paperback

Pages:

224

RRP:

$35.00
The Secret Body
How the New Science of the Human Body Is Changing the Way We Live
---
---
---
One of our most lauded scientist-writers shows how astonishing breakthroughs in medical science are changing previously immutable aspects of humanity
Welcome to a revolution in the science of human health.
This book takes us to the frontier of medical research and reveals stunning recent advances that are changing our understanding of how human body works, how we combat and prevent disease and how we understand what it means to be human.
We see how super-resolution nano-scopes are revealing hitherto hidden operations within our cells and opening up new new ways of manipulating the immune system; how human embryos can now be preserved alive long enough to see how genetic abnormalities can be corrected during the early stages of foetal development; how light is being used to excite pathways in the brain allowing us to understand and manipulate thoughts and feelings; how our rapidly increasing understanding of the microbiome is radically changing every aspect of human biology.
These and many more astonishing discoveries are related as gripping dramas of discovery by an award-winning scientist at the very forefront of this adventure.
Published:

2 July 2021

ISBN:

9781847925701

Imprint:

Bodley Head

Format:

Trade Paperback

Pages:

224

RRP:

$35.00
Praise for The Secret Body
As David Attenborough opens our goggling eyes to the natural world without, so Daniel Davis brings us face to face with the stunningly clever and, yes, beautiful world within ... One of those books that makes you look at everything human in a new, challenging and thrilling way

Stephen Fry on The Beautiful Cure
One of the best accounts I have yet come across of the nature of biological science and discovery

Henry Marsh on The Beautiful Cure
Lucid and entertaining . Much as Siddhartha Mukherjee did in his book The Gene, Davis expertly weaves together human stories and scientific endeavour

The Times on The Beautiful Cure
A terrific book by a consummate storyteller and scientific expert

Guardian on The Beautiful Cure
A perfect blend of cutting-edge science and compelling storytelling. Daniel Davis has a rare knack for making complex science comprehensible and thrilling

BILL BRYSON
An extraordinary journey that reveals the magnificence, intricacy and beauty of the human body, fundamentally changing the way we see ourselves. Masterful

ALICE ROBERTS
A beautifully rendered picture of the startling new discoveries in human biology which are radically altering our understanding of how we function and what our future holds

BRIAN COX
Reading The Secret Body is like spending time with an eloquent, well-connected and entertaining enthusiast who has intimate knowledge of the secret worlds that lie within all of us

Roger Highfield
A big-picture forecast of how medicine stands on the threshold of a revolution that will radically change all of our lives ... Davis is a polar opposite of the typecast propeller-hatted futurologist. He is beguilingly informal and affably humorous

The Times
An elegantly written and splendidly concise Cook's Tour of the frontiers of medical biology. It is also an engrossing account of the progress of science

Wall Street Journal
A brilliant deep-dive into the latest discoveries of human health. An inspiration!

TIM SPECTOR, No.1 bestselling author of Spoon-Fed
With this stunning book Daniel M. Davis joins the pantheon of truly great science communicators. It will change the way you think about your self and the people around you. Everyone who has a body will love it

CHRIS VAN TULLEKEN
What we now know about the human body would seem magical to people just a hundred years ago... It often reads like a detective story and anyone interested in biology will learn much from this enjoyable book

VENKI RAMAKRISHNAN, Nobel Prize Winner in Chemistry and author of Gene Machine