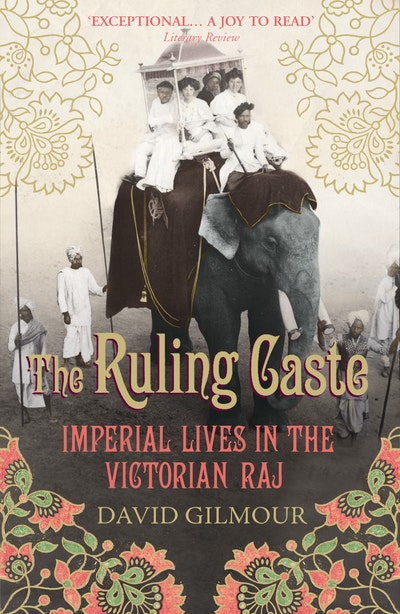 Published:

1 March 2007

ISBN:

9780712665650

Imprint:

Pimlico

Format:

Paperback

Pages:

432

RRP:

$27.99
The Ruling Caste
Imperial Lives in the Victorian Raj
---
---
Acclaimed historian David Gilmour gives us a compelling account of the public and private lives of the Britons who ruled colonial India.
In 1900 just over a thousand British civil servants ruled a population of nearly 300 million people spread over a territory now covered by India, Pakistan, Burma and Bangladesh. In its time, the Indian Civil Service was regarded as efficient, benevolent and incorruptible, but revisionist historians have recently questioned its competence and derided its altruism.
In this absorbing, extensively researched new book, David Gilmour traces the lives of its officials, from recruitment to retirement, from jungle to Government House, from a bungalow in Burma to a residency in Rajputana. He describes their work and their leisure, their intellectual and their private lives. The result is a portrait more varied and complicated than that painted by their old admirers, and yet fairer and subtler than those routinely produced by their post-colonial detractors.
Published:

1 March 2007

ISBN:

9780712665650

Imprint:

Pimlico

Format:

Paperback

Pages:

432

RRP:

$27.99
Praise for The Ruling Caste
Beautifully written and endlessly diverting... Excellent.

Denis Judd, Times Literary Supplement
A book that is not only informative, but also lucid, witty, and extremely well-written.

Daily Telegraph
Based on stunningly exhaustive research in official archives and family papers, and written with tremendous wit, style and sense of pace, Gilmour's book is a masterful account of British life in India. If you have ever wondered what it would have been like to run the Raj, The Ruling Caste has all the answers.

Dominic Sandbrook, Scotsman
Masterly and fascinating.

Sunday Times