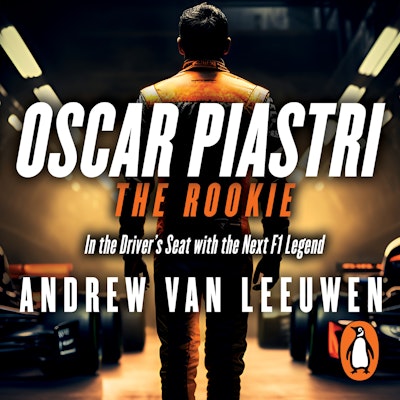 Published:

5 March 2024

ISBN:

9781761346026

Imprint:

Penguin Random House Australia Audio

Format:

Audio Download

Pages:

352

RRP:

$36.99
Oscar Piastri: The Rookie
Year One in the Driver's Seat of the Next F1 Legend
---
---
---
A riveting account of motorsport phenom Oscar Piastri's first season in Formula 1, The Rookie charts his meteoric rise through the ranks to become McLaren's chosen young gun and takes us behind the scenes in his mission to triumph in the do-or-die world of the Fastest Show on Earth.
The meteoric rise of motorsports phenom Oscar Piastri has been the stuff of legends – so far. Three years and a record-breaking three straight titles across Formula Renault, Formula 3 and Formula 2 set up one of the most anticipated F1 rookie seasons ever when the 21-year-old Melburnian joined the famous McLaren team. Being wooed over from Alpine to replace a struggling Daniel Ricciardo and help turn the team's fortunes around only added to the weight of expectation.

The grid was set, the world's cameras were rolling, rabid fans filled the stands, but could the rookie deliver? What version of Oscar Piastri would emerge from the crucible?
The storylines that unfolded during the 2023 F1 season only added to Piastri's growing legend. He not only proved he deserved his seat alongside Lando Norris in McLaren papaya, but also that he could go toe to toe with the best drivers on the planet. Clawing his way up the driver standings with his signature poise and focus, and jaw-dropping comebacks, Oscar tallied an impressive points haul, two podium finishes and a budding rivalry with his teammate. Most of all, he let his growing legion of fans and F1 diehards around the world know they were witnessing the making of a future champion.

Premier motorsport journalist Andrew van Leeuwen gives us an insider's look into Oscar's rise to F1 stardom – from the moment his racing roots first took hold to the ups, downs and inevitable controversies that led to his arrival at McLaren – while also exploring the pressure of fame and fortune, the pageantry and rich history, that goes hand in hand with life on the biggest motorsports stage in the world.
Published:

5 March 2024

ISBN:

9781761346026

Imprint:

Penguin Random House Australia Audio

Format:

Audio Download

Pages:

352

RRP:

$36.99