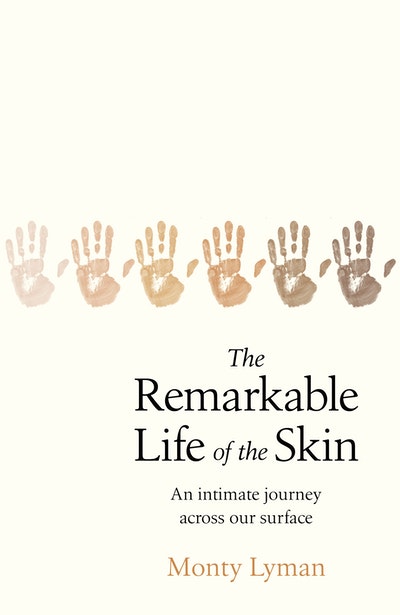 Published:

16 July 2019

ISBN:

9781787632080

Imprint:

Bantam Press

Format:

Trade Paperback

Pages:

304

RRP:

$35.00
The Remarkable Life of the Skin
An intimate journey across our surface
---
---
---
The Remarkable Life of the Skin is a user's guide to the physical, psychological and social importance of the body's largest, most visible and yet most misunderstood organ.
How does our diet affect our skin? What makes the skin age? And why can't we tickle ourselves?
Providing a cover for our delicate and intricate bodies, the skin is our largest and fastest growing organ. We see it, touch it and live in it every day. It's a habitat for a mesmerizingly complex world of micro-organisms and physical functions that are vital to our health and our survival. It's also one of the first things people see about us and is crucial to our sense of identity. And yet how much do we really know about it?
Through the lenses of science, sociology and history, Dr Monty Lyman leads us on a journey across our most underrated and unexplored organ and reveals how the skin is far stranger and more complex than you've ever imagined.
Published:

16 July 2019

ISBN:

9781787632080

Imprint:

Bantam Press

Format:

Trade Paperback

Pages:

304

RRP:

$35.00
Praise for The Remarkable Life of the Skin
An extraordinary insight into the fascinating world of the skin, explaining how it both protects and connects us... [the book] delves into the science behind the skin's microbiome and explores the history of anti-aging treatments. A must read for all of those curious about why our skin is the first to show our emotions, and how it has the power to both divide and unite communities around the world.

Professor the Lord Darzi of Denham, director of the Institute of Global Health Innovation at Imperial College, London
This microsopic look at skin is crawling with revelations, from tiny mites to cellulite and skin care... An exciting introduction to a little-known universe and to a talented new writer.

Sunday Times
Fascinating ... takes us beneath the surface of our largest and least-known organ.

Daily Express
Lyman peels back the science on human skin in this absorbing, fact-packed study.

Nature
A seriously entertaining book... Here are things you wish you'd known about the skin years ago... Clever, optimistic.

Melanie Reid, The Times
This book's a gem.

Irish Examiner
An unexpectedly great adventure.

Gillian Reynolds, Sunday Times
Imaginatively told... knowledgeable and enthusiastic.

The Spectator
Not since GCSE Biology has my reading material been so scientific. As I approach my late twenties, I've increased my skincare routine tenfold, and now I'm taking it up a notch by learning how our largest organ actually works.The Remarkable Life of the Skin will make you scratch, squirm, inspect and neglect, but what a read it is. If those aforementioned textbooks had been written by the highly entertaining Dr Monty Lyman, I might have paid more attention. Plus, no other Tube read has ever garnered so many double-takes.

Vogue
Beautifully written, revealing and surprising, this is a fascinating guide to the secret life of the skin.

Daily Mail